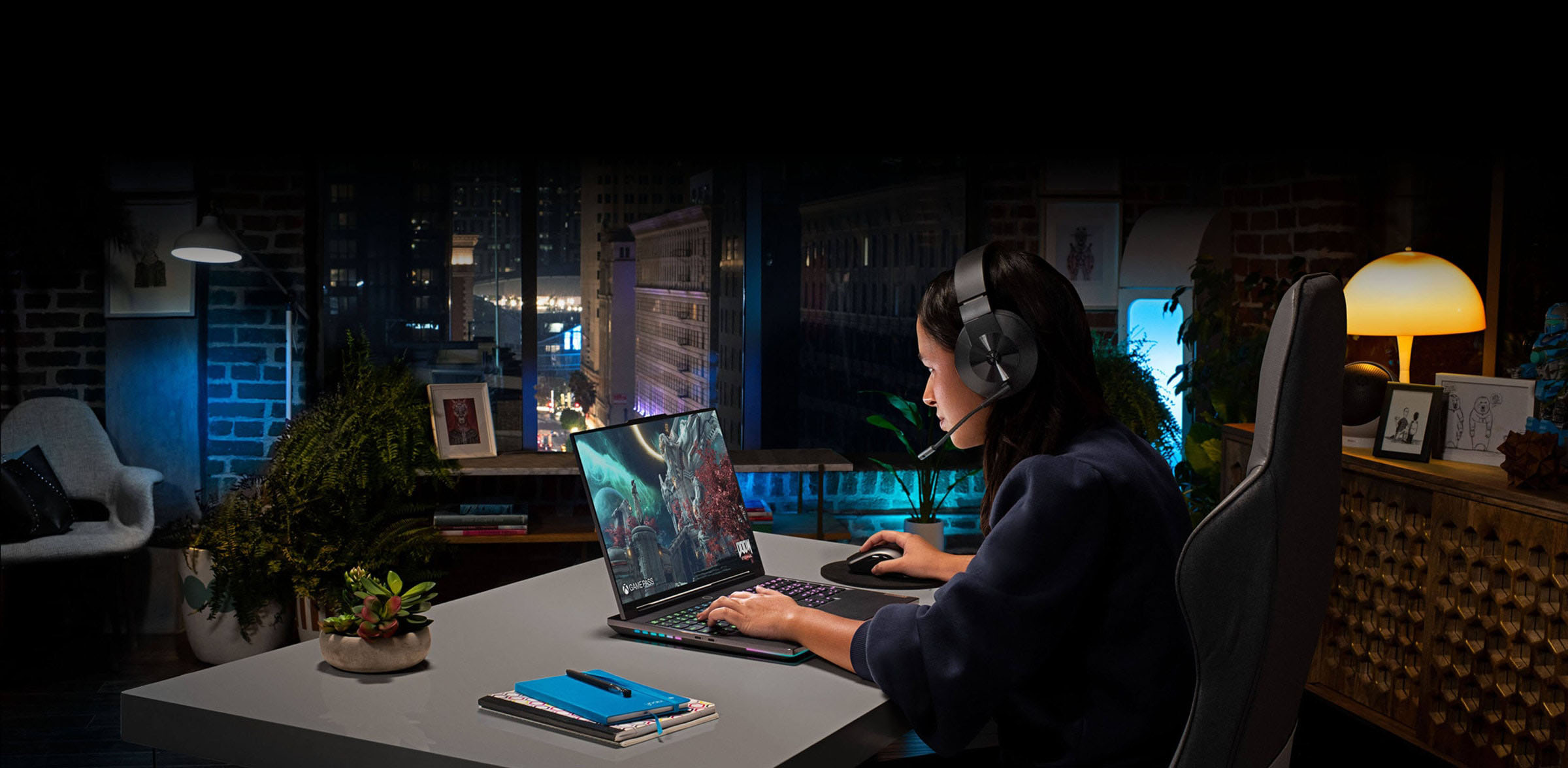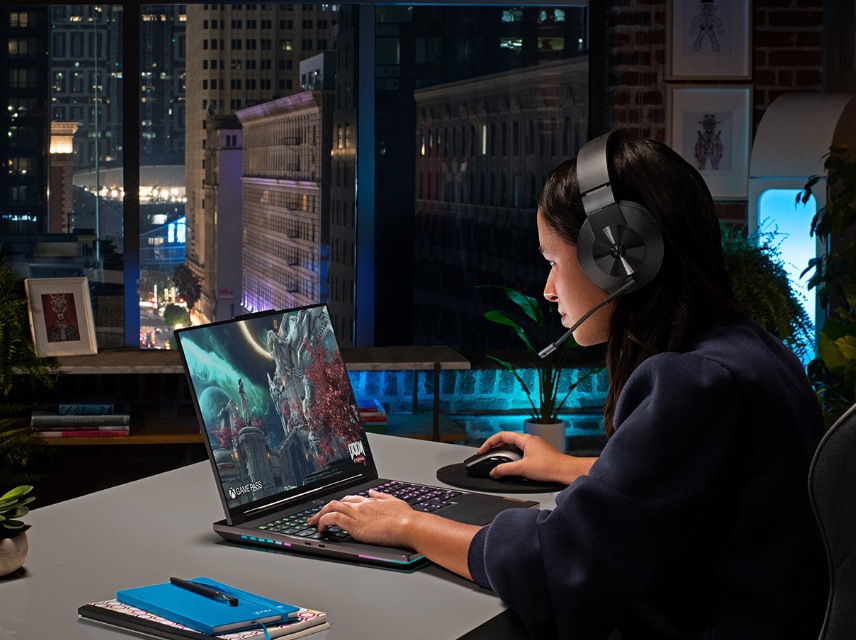 Style and savagery pushed to the limit
The prowess you showcase… The foes you overcome… The teammates you inspire… The awe-inspiring things you make happen when gaming lead directly to the incredible things you do in life. Lenovo Legion celebrates that, and serves as the epic conduit bridging both worlds – the irrepressibly Stylish, and the indomitably Savage.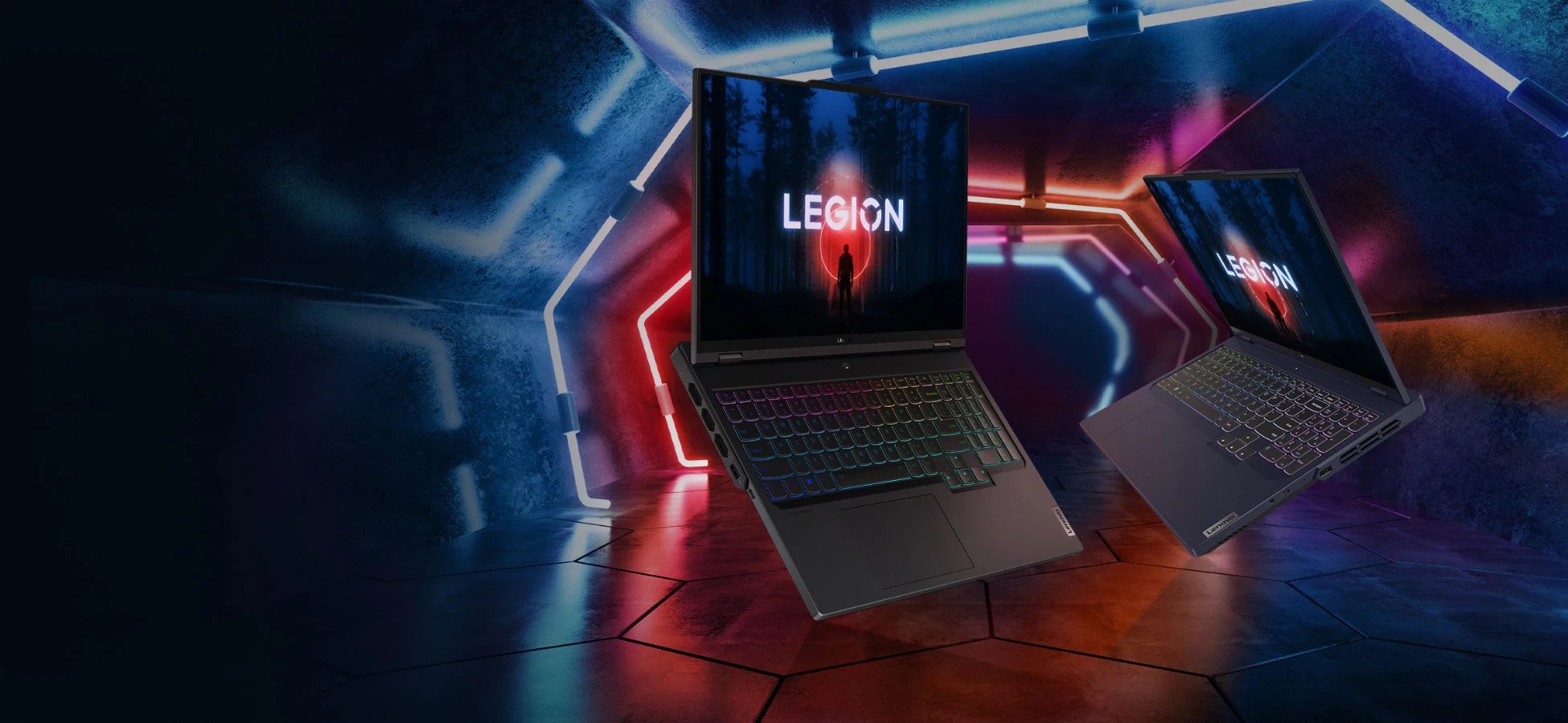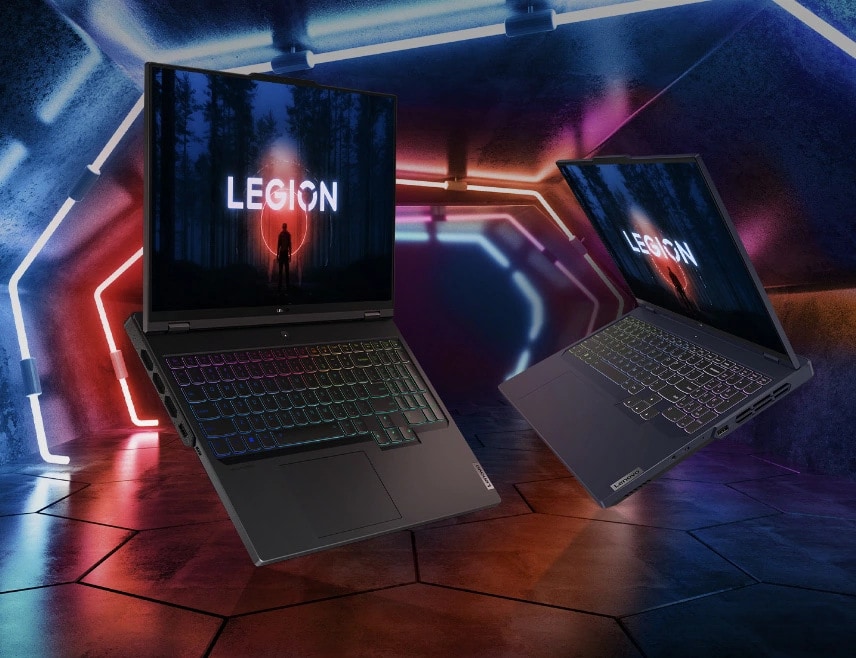 Legion Pro 7i & 7

Legion Pro 5i & 5

Lenovo Legion Pro Series
Embrace the future of gaming with new Legion Pro Series laptops
Leave your enemies reeling with the brand-new 8th Generation Legion Pro Series laptops – AI-enhanced for maximum gaming performance. Our flagship Legion Pro 7 machines let you experience gaming at its apex on dazzling 16" WQXGA displays. Legion Pro 5 laptops are crafted to be esports-ready, with AI-tuning letting you simply outclass the competition.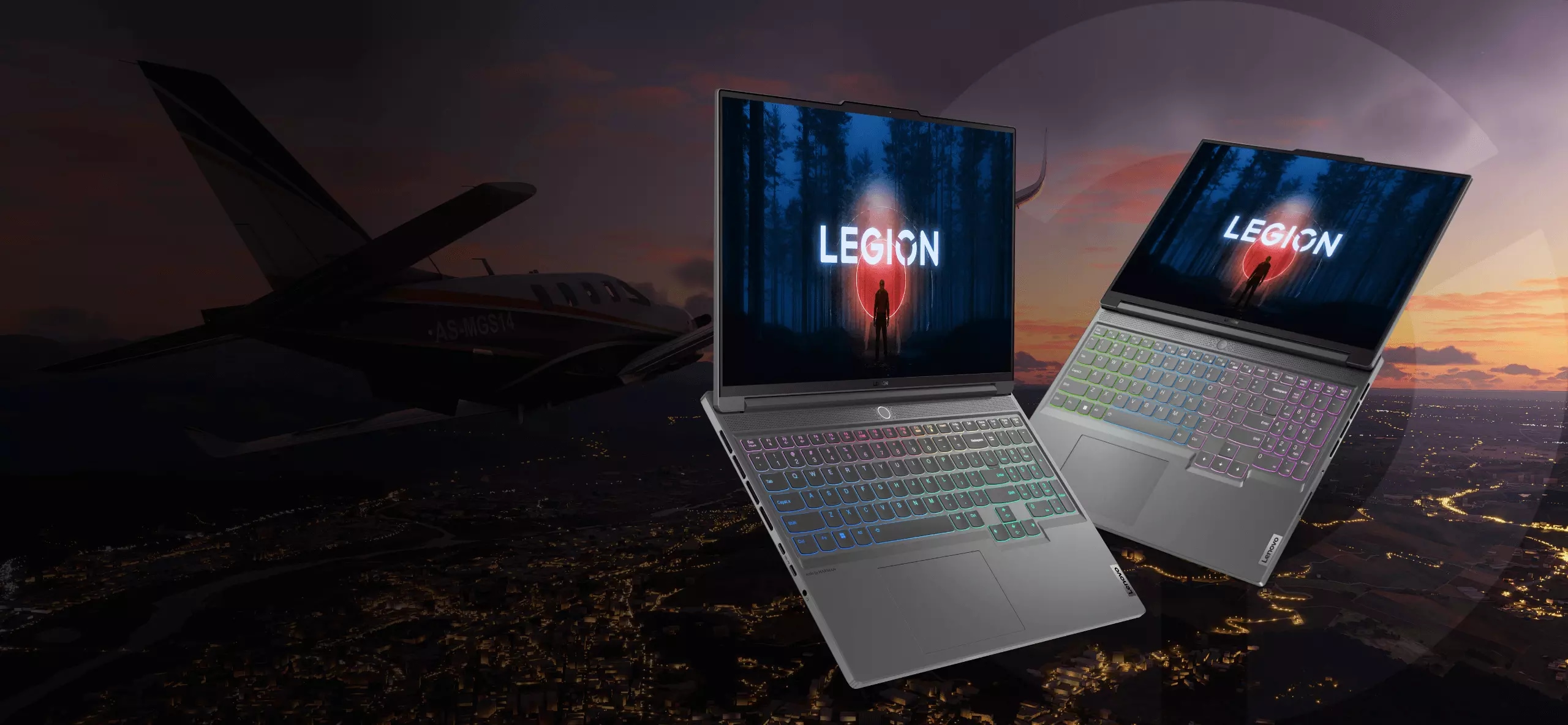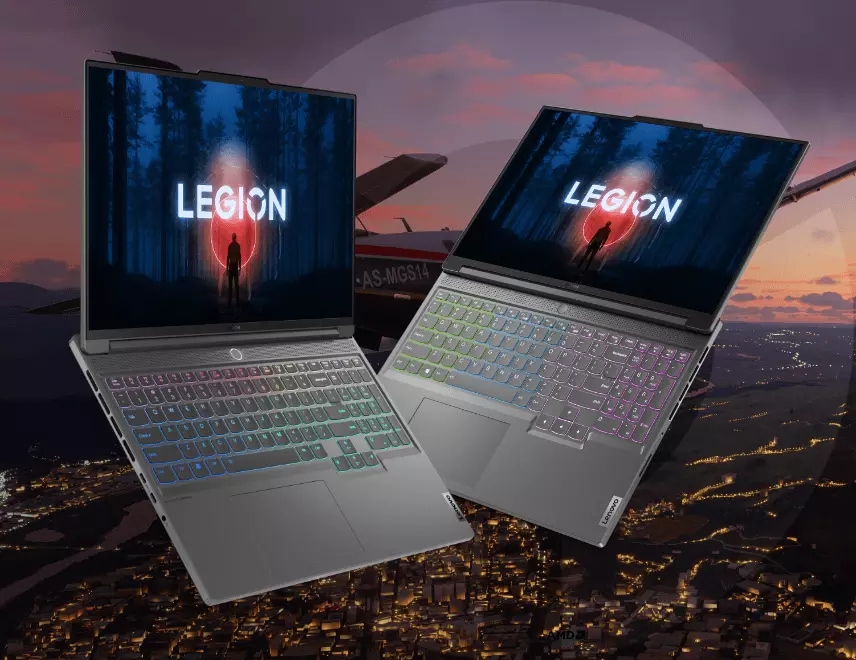 Legion Slim 7i & 7

Legion Slim 5i & 5

Lenovo Legion Slim Series
Game and create in style with the new Lenovo Legion Slim Series laptops
Designed for gamers searching for power and grace, our 8th Generation Legion Slim Series laptops are AI-tuned for uncompromised performance and flexibility when you're on the go. Dazzle the opposition with the Legion Slim 7 Series, with up to 3.2k resolution displays offering stunning graphical precision and realism. Whether you're gaming, creating, or both, enjoy the sweet spot between performance and portability on our Legion Slim 5 Series.
* Lenovo Legion Slim 5 Series includes multiple laptops varying in size; photo depicts Lenovo Legion Slim 5 Series with NVIDIA® GeForce RTX™ 4060 or 3050 laptop GPU. Please scroll down to 'Laptops' to view all specifications of the Lenovo Legion Slim 5 Series laptops.
Laptops
NEW ARRIVALS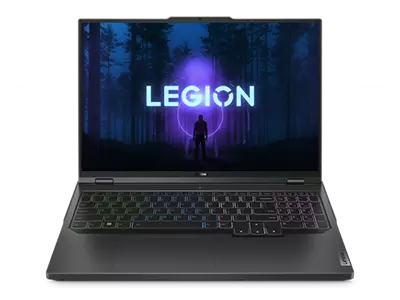 Our flagship lineup of gaming laptops boasting new NVIDIA® GeForce RTX™ 40 Series GPUs.

NEW ARRIVALS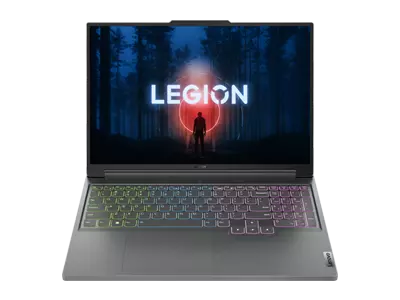 Premier gaming laptops made slimmer & lighter. Boasting new NVIDIA® GeForce RTX™ 40 Series GPUs.

NEW MODELS AVAILABLE
Shop all Legion laptops, including the best of Gen 7 now at attractive prices. Compare prices, specs & more!

Desktops
NEW MODELS AVAILABLE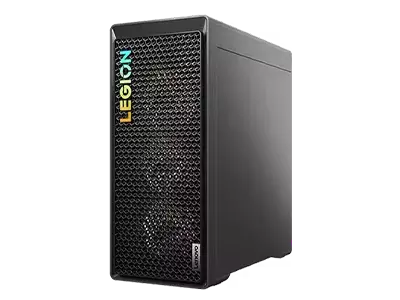 The most customizable prebuilt gaming desktops around. Start with the best & upgrade as desired.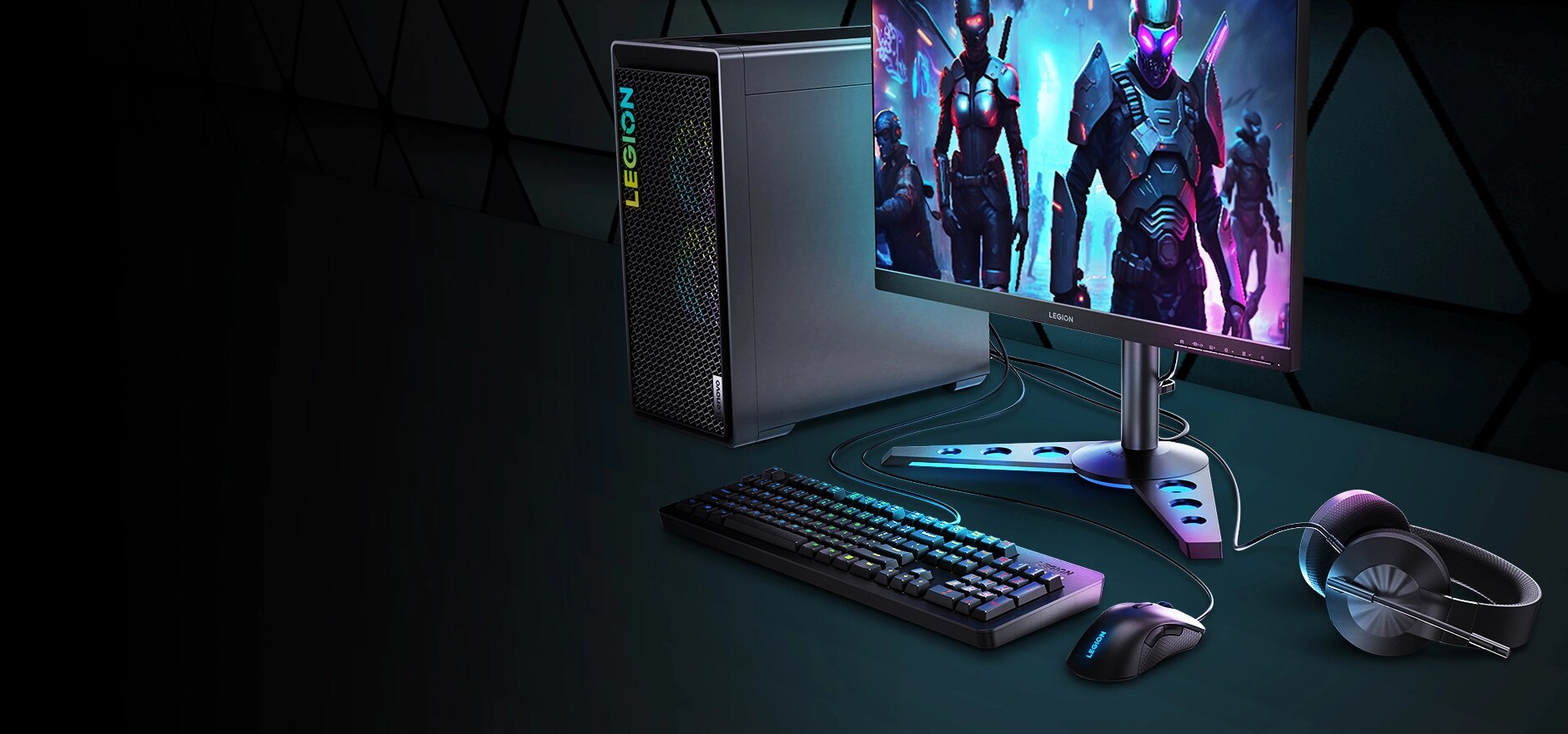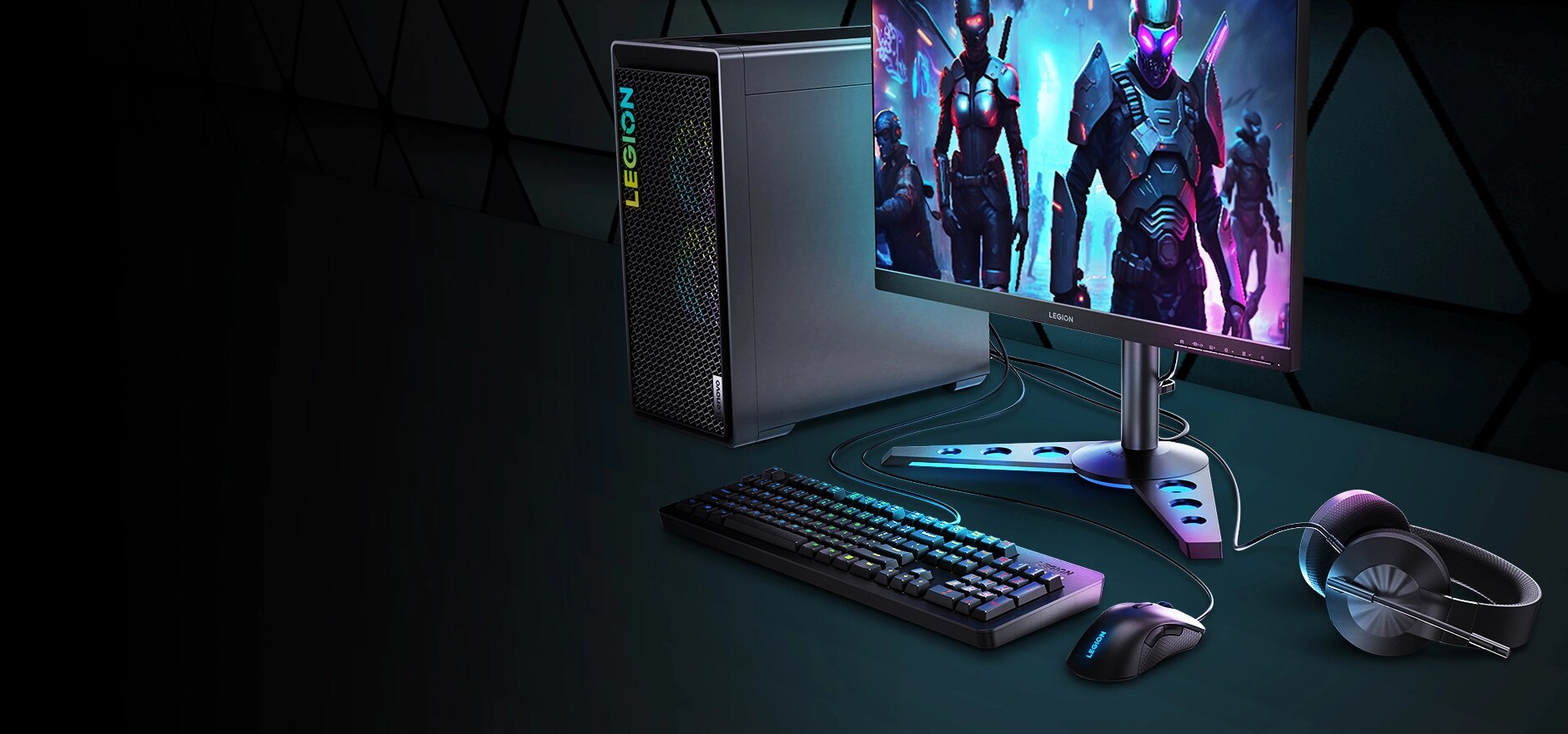 Legion Gaming Accessories
Precision tools for the battle ahead.
Shop competition-ready Legion gaming accessories to truly complete your gaming setup. Stay precise, accurate, and one step ahead of the competition with Legion gaming headsets, mice, keyboards, monitors, and more.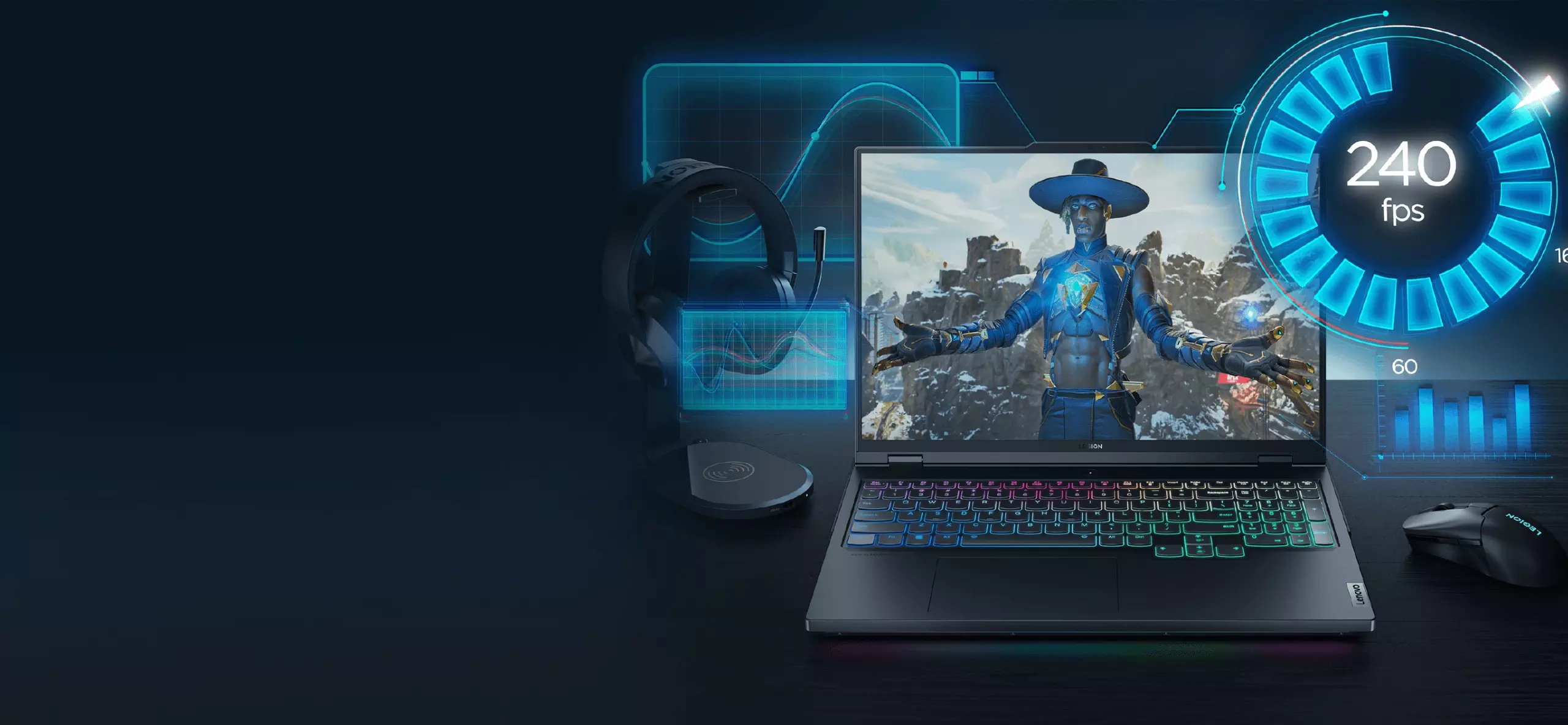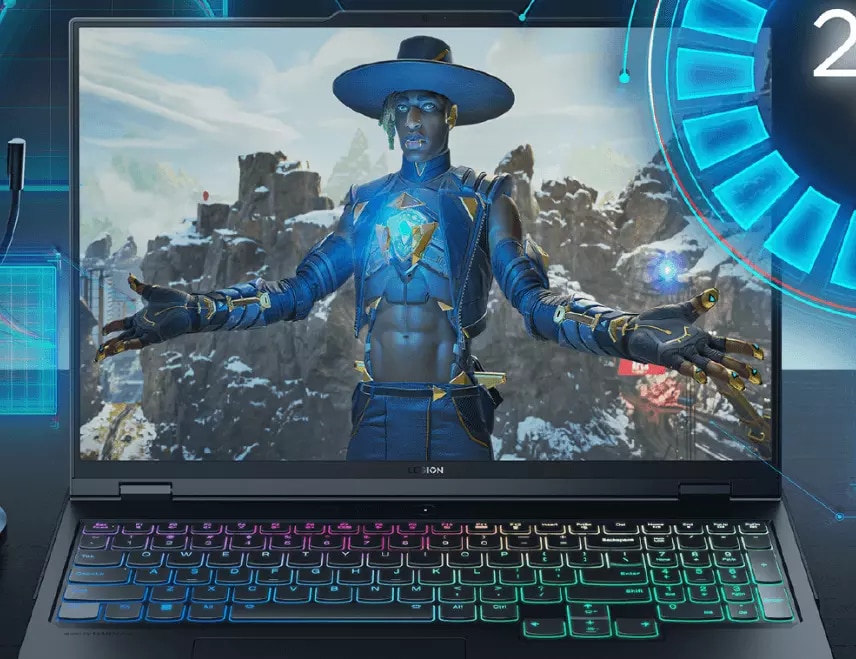 Legion Pro 7 Series
Play to perfection with next-gen intelligence
Leap into a revolutionary future with the power of Lenovo AI Engine+, smarter and stronger than ever before. Optimize your games and frames via system sensors spanning GPU, CPU, thermals, tactile components, and so much more. Lenovo's masterful new LA-2Q AI chip will have you playing to perfection.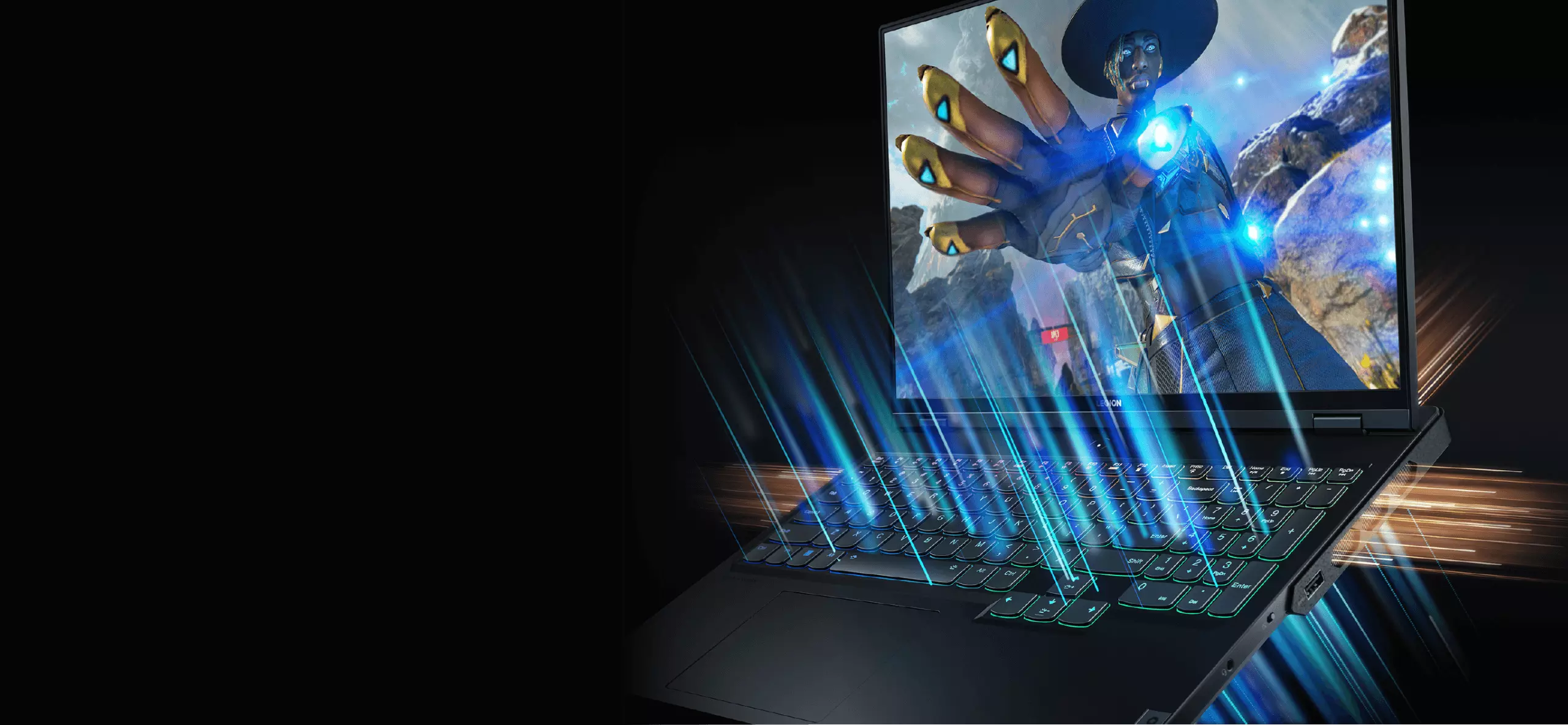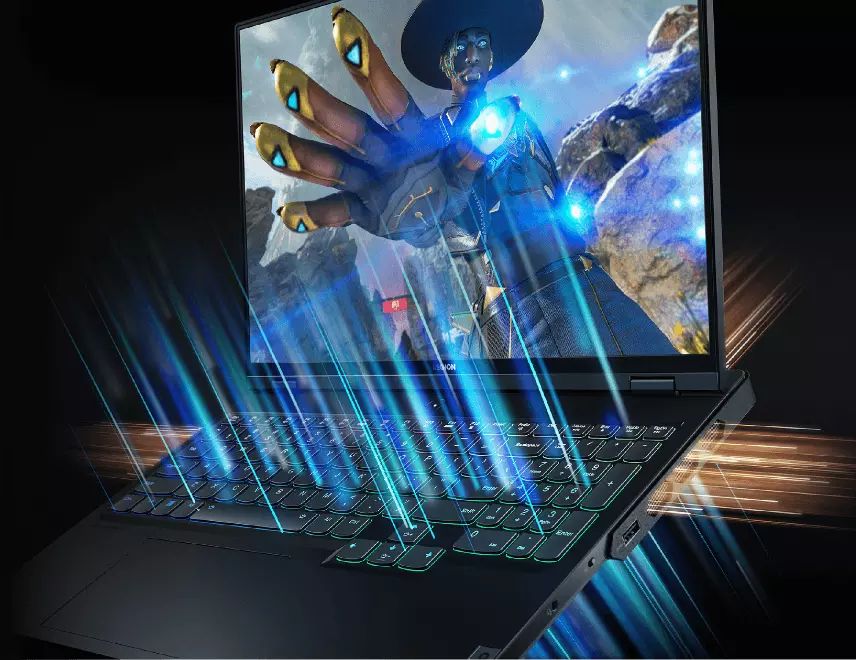 Legion Pro 7 Series
Cool, collected, competitive
Lenovo Legion ColdFront 5.0 delivers cutting-edge cooling to key components to keep you competitive at the highest level. Go slim and stealthy with .1mm thin 3D fan blades flanked by expansive intake and exhaust systems for optimum thermal efficiency. Get cool and collected with peak performance on power-intensive games and programs. Beat the heat with liquid metal infusion technology that takes your CPU to icy-cool levels. And never, ever throttle.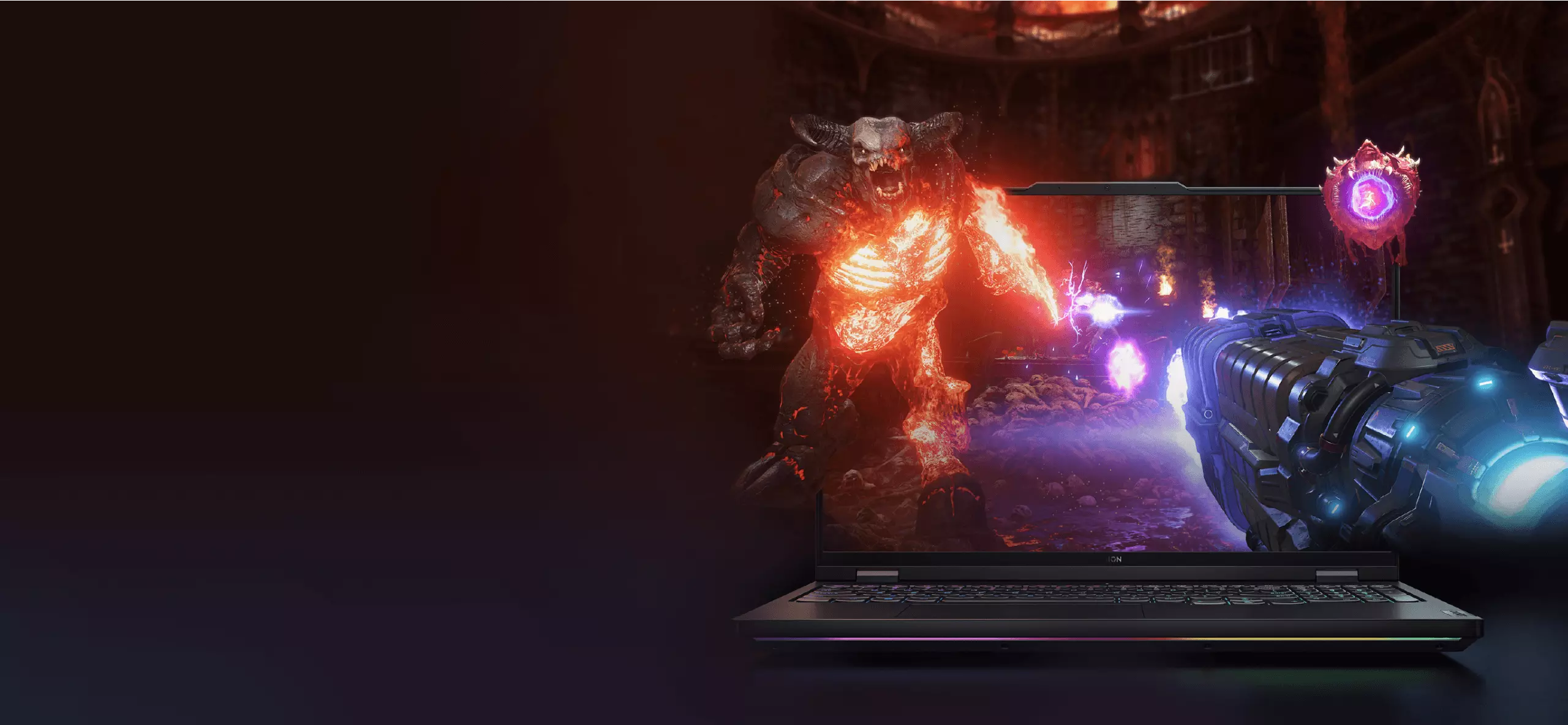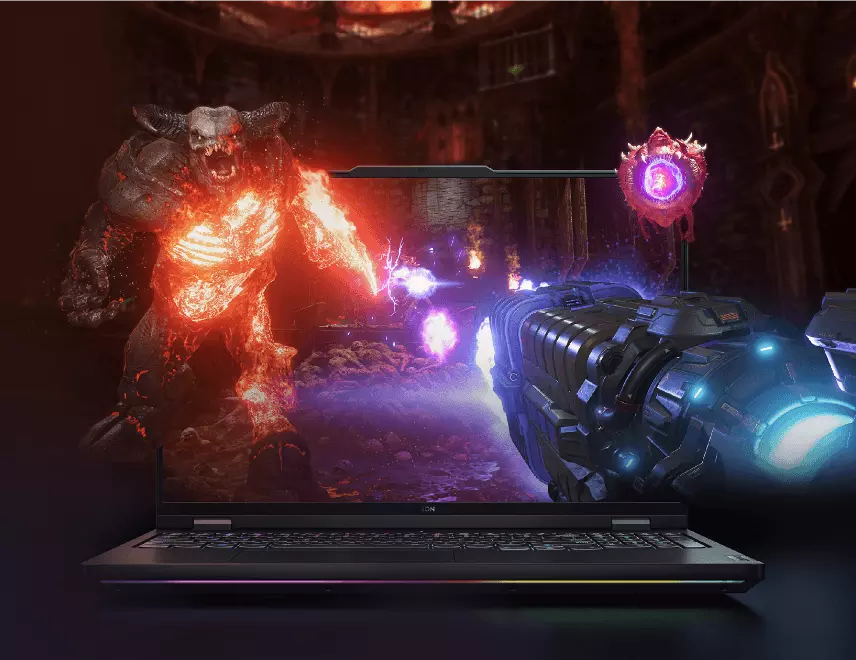 Legion Pro 7 Series
As real as it gets.
Bigger, brighter, bolder, better. Lenovo PureSight Gaming Displays are your window to the world. Factory calibrated for incredible color accuracy, HDR enhanced with brilliant brights and deeper darks, and stocked with a 240hz variable refresh rate, the Legion Pro 7 series's 16" WQXGA 16:10 display is the x-factor you need for your game. Now X-Rite Pantone certified.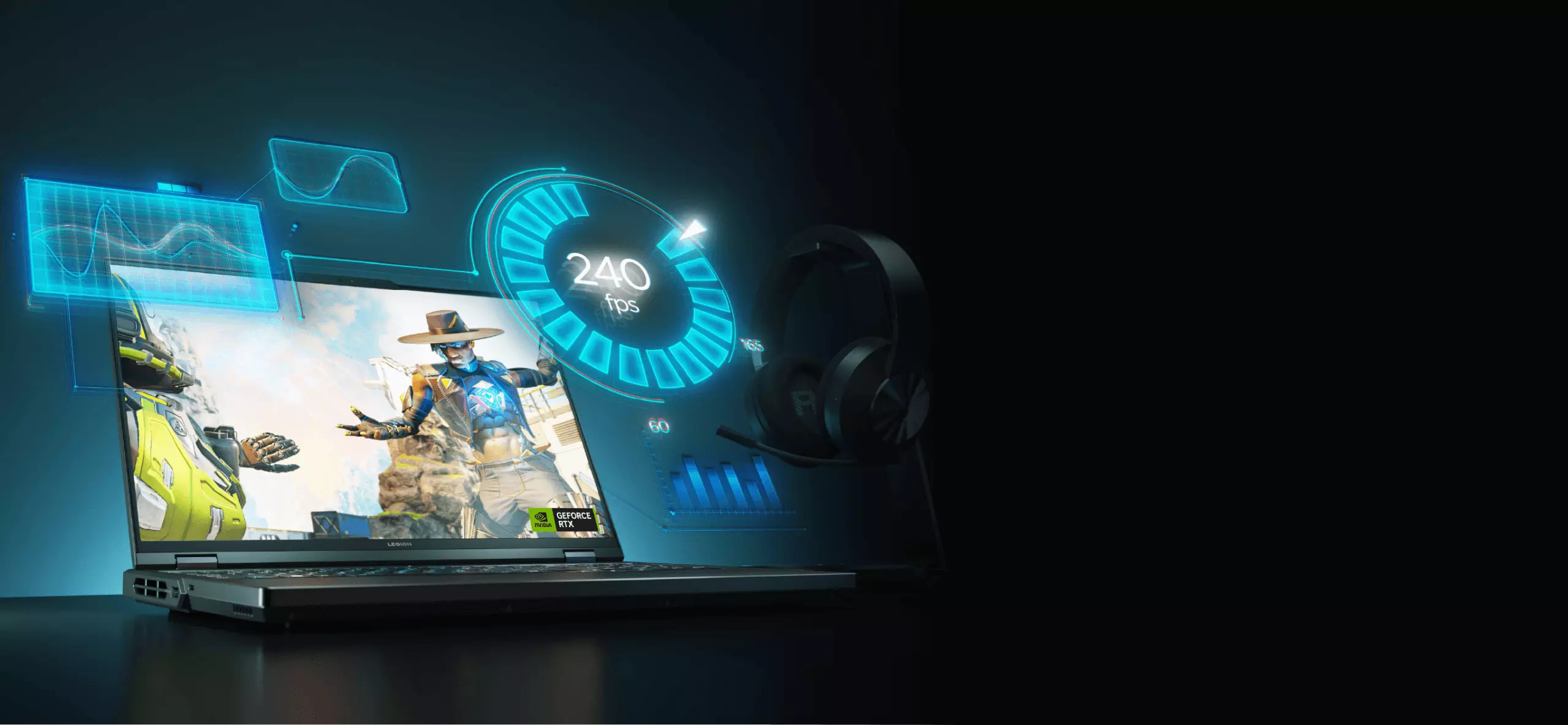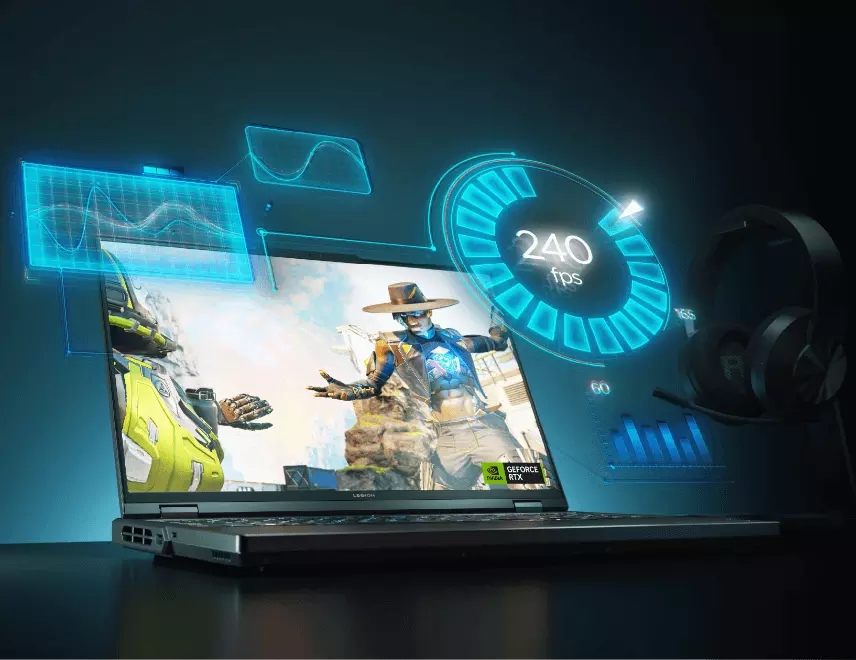 Legion Pro 5 Series
Optimizes, leverages, and learns without limits
Powered by our brand new LA1 AI chip, Lenovo AI Engine+ is on its own level. A series of system sensors scans critical components before deploying Smart Engine technology to customize and optimize your experience and keep you ahead of the game. Leveraging key components, learning, and improving over time, to leave the competition in the dust—that's Lenovo AI Engine+.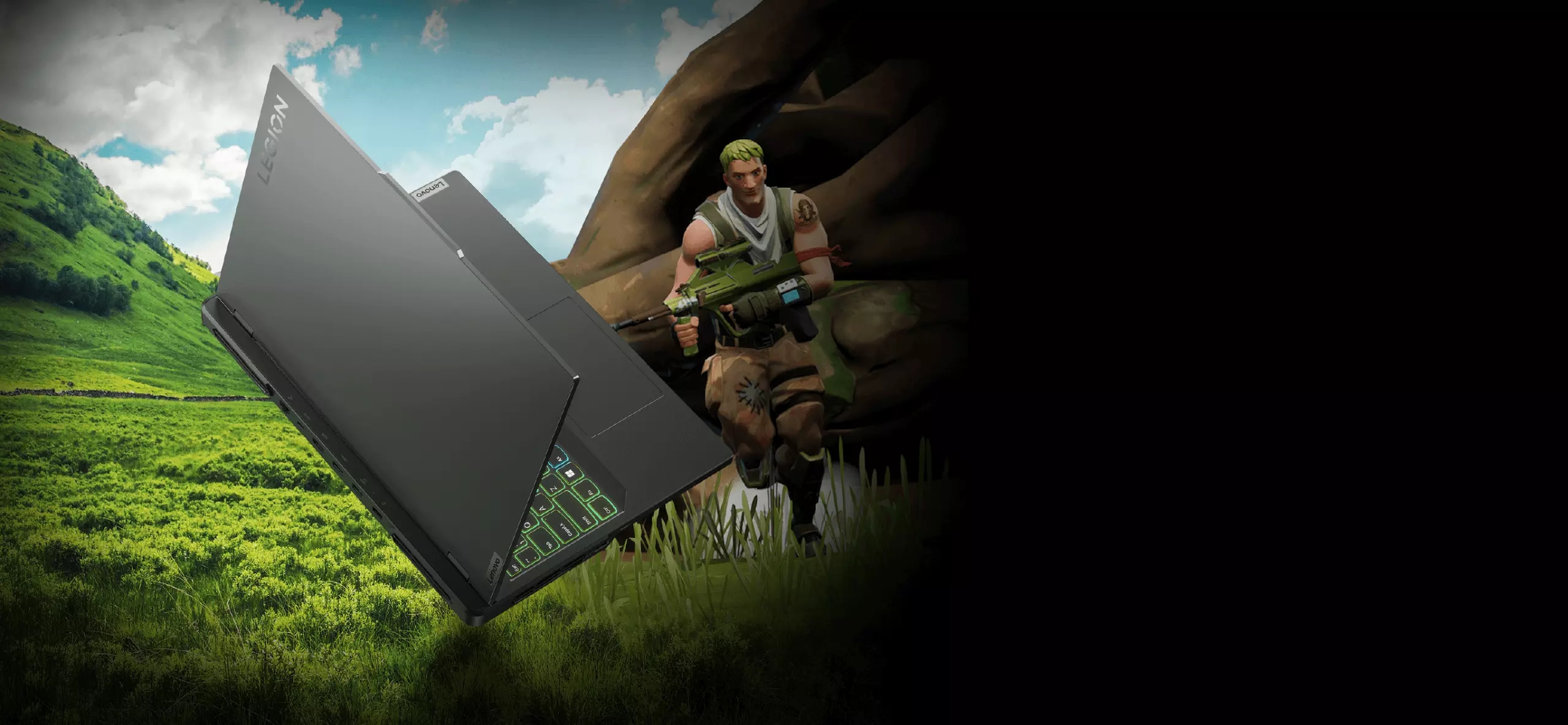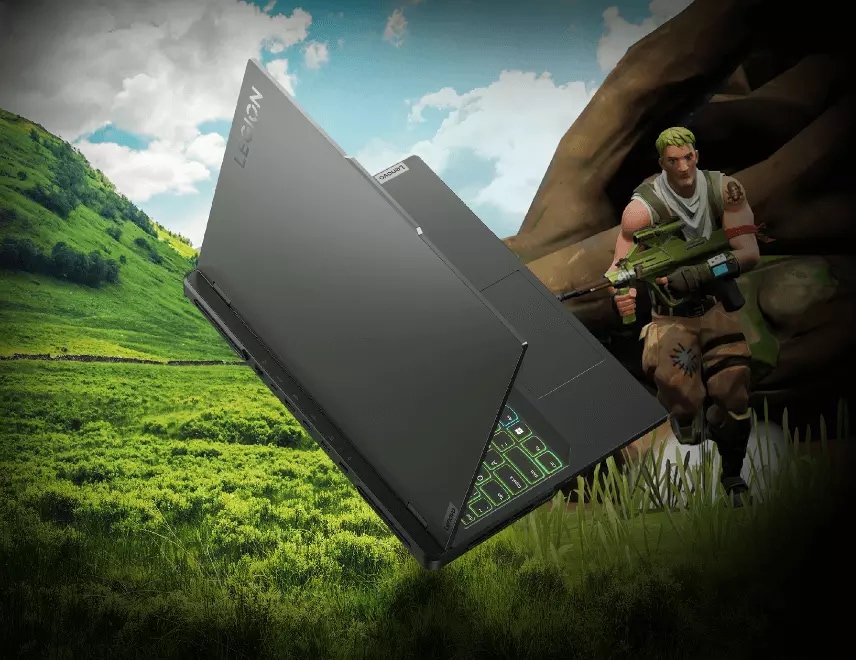 Legion Pro 5 Series
Sustain your game with Lenovo's commitment to sustainability
Play your part with our commitment to sustainability and responsibility. Our Legion Pro 5 series design features 30% PCC materials on the chassis lid, alongside Lenovo's CO2 Carbon Offset Service support, to bring sustainability, proactivity, and transparency to your gaming. Make a clear choice for a cleaner world for everyone.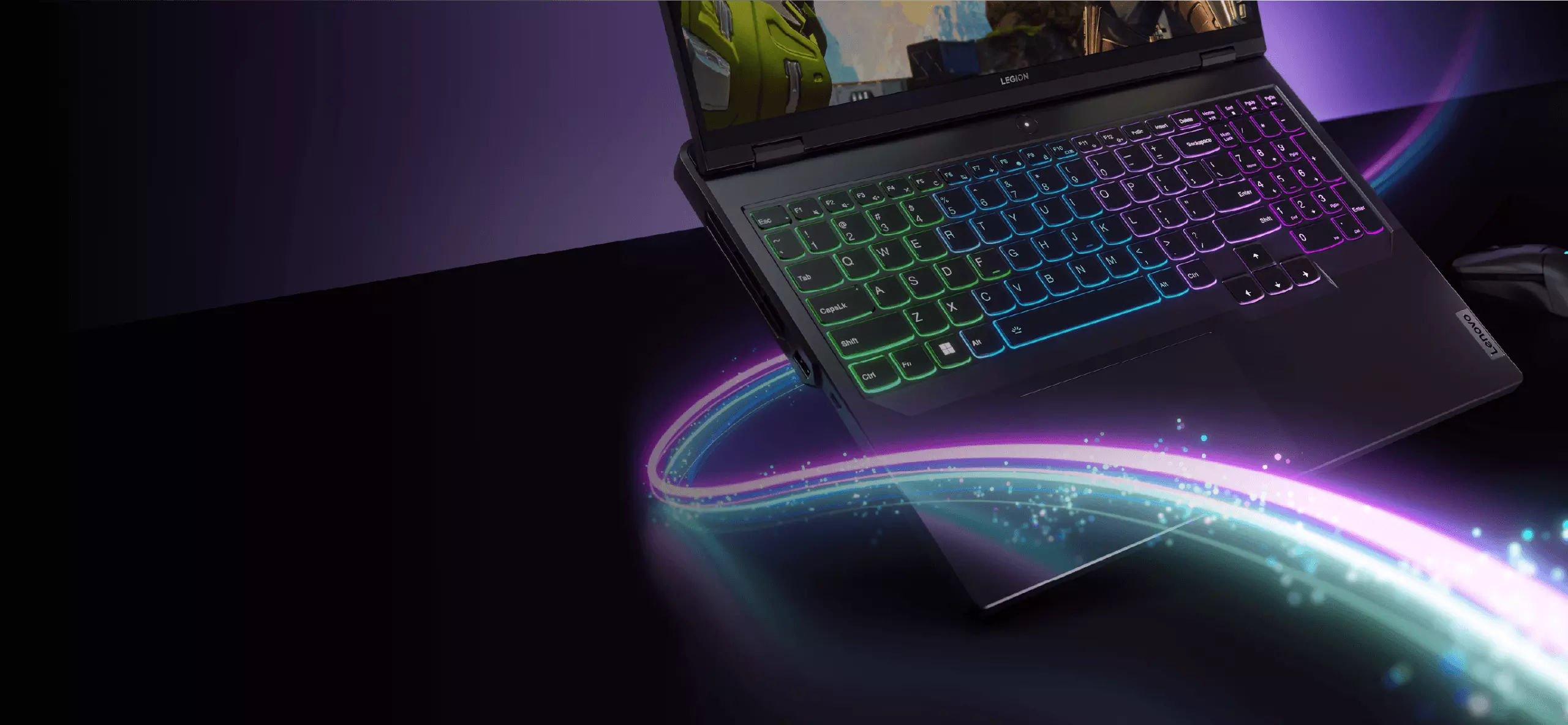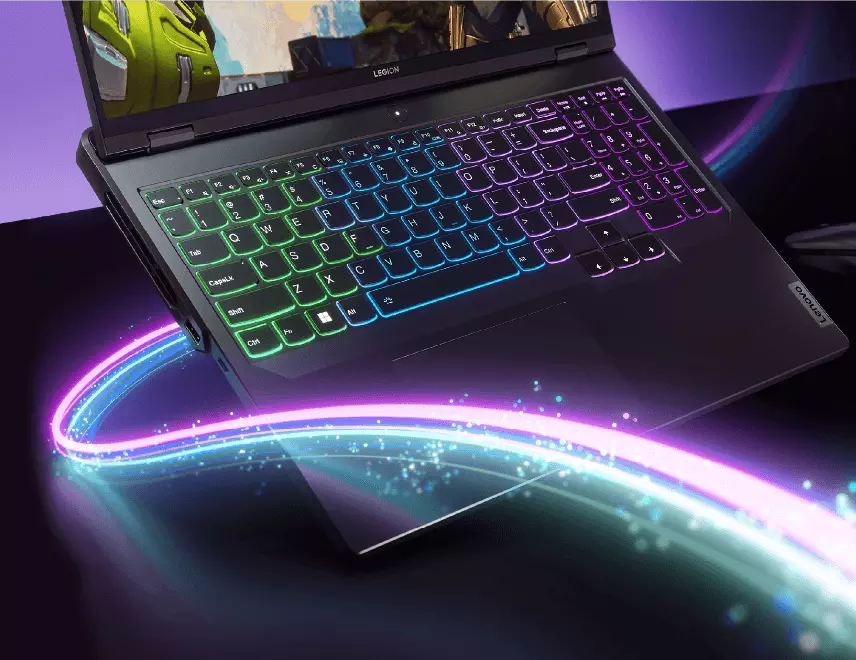 Legion Pro 5 Series
Pinpoint precision with full-sized features
Don't settle for less. Flaunting a full-sized numpad and arrow keys, alongside an expansive Mylar touchpad for pinpoint precision and decision-making, the TrueStrike experience is curated for customization and control. Swappable keycaps, 4-zone RGB, and 1.5mm key travel make the cut on this cutting-edge keyboard experience. The Legion TrueStrike gaming keyboard delivers the most precise, tactile, customizable experience in Lenovo keyboards yet.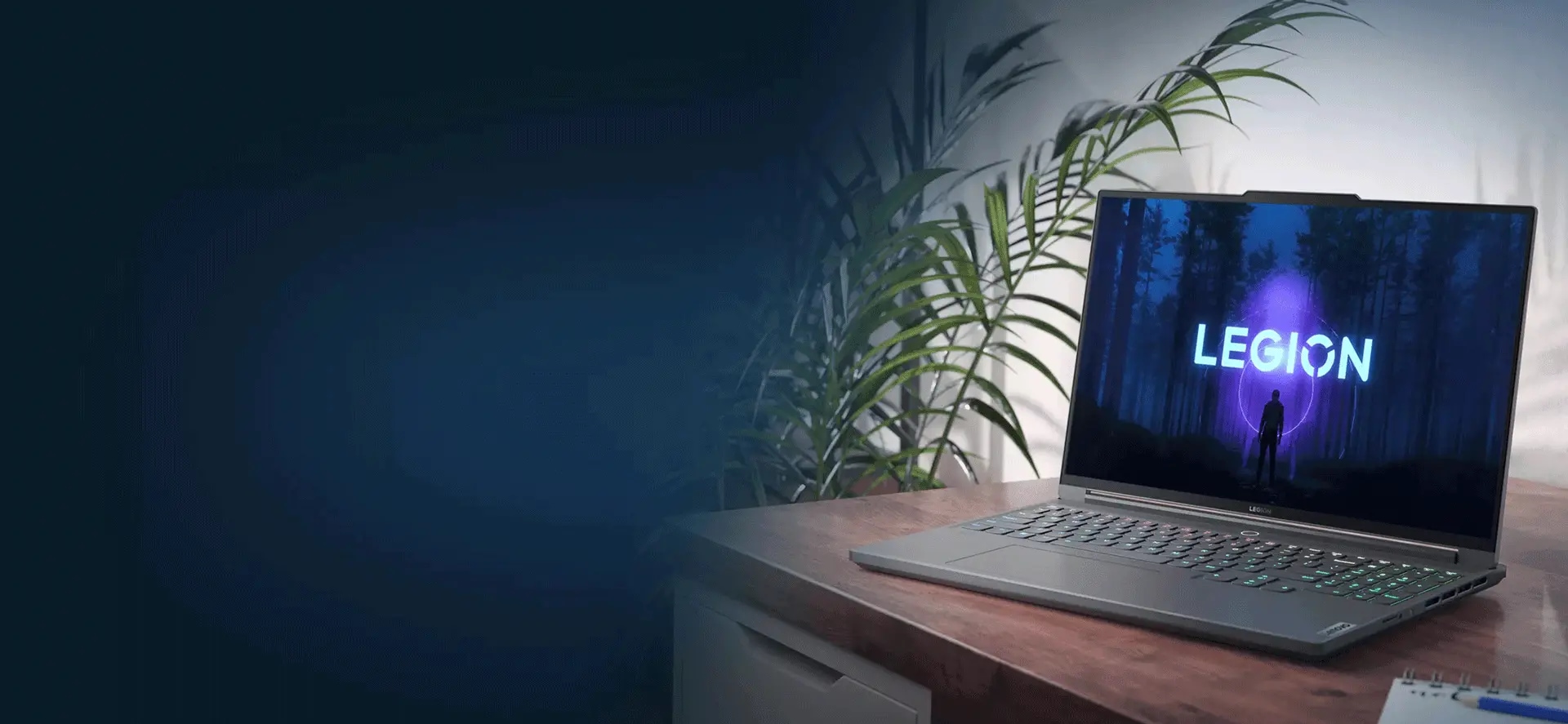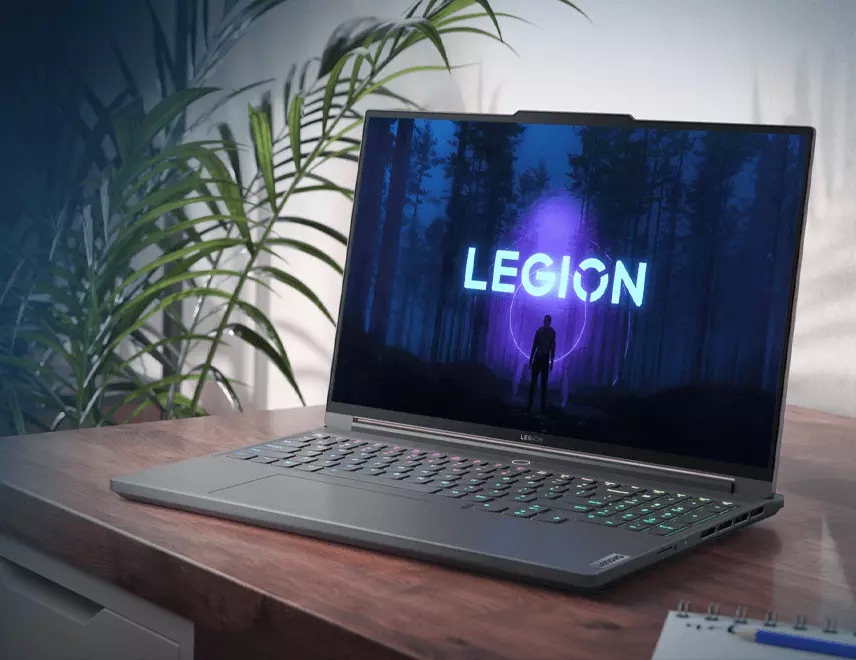 Lenovo Legion Slim 7
Designed to wow
Stylish and stealthy yet undeniably powerful, Legion Slim 7 devices are crafted from premium materials and designed to elicit gasps. The all-metal design is made from anodized, sandblasted aluminum and magnesium to deliver a lightweight and durable experience. Sporting new light-up ports on the rear I/O dashboard, make a statement with our uber-alluring Legion Slim 7 Series laptops.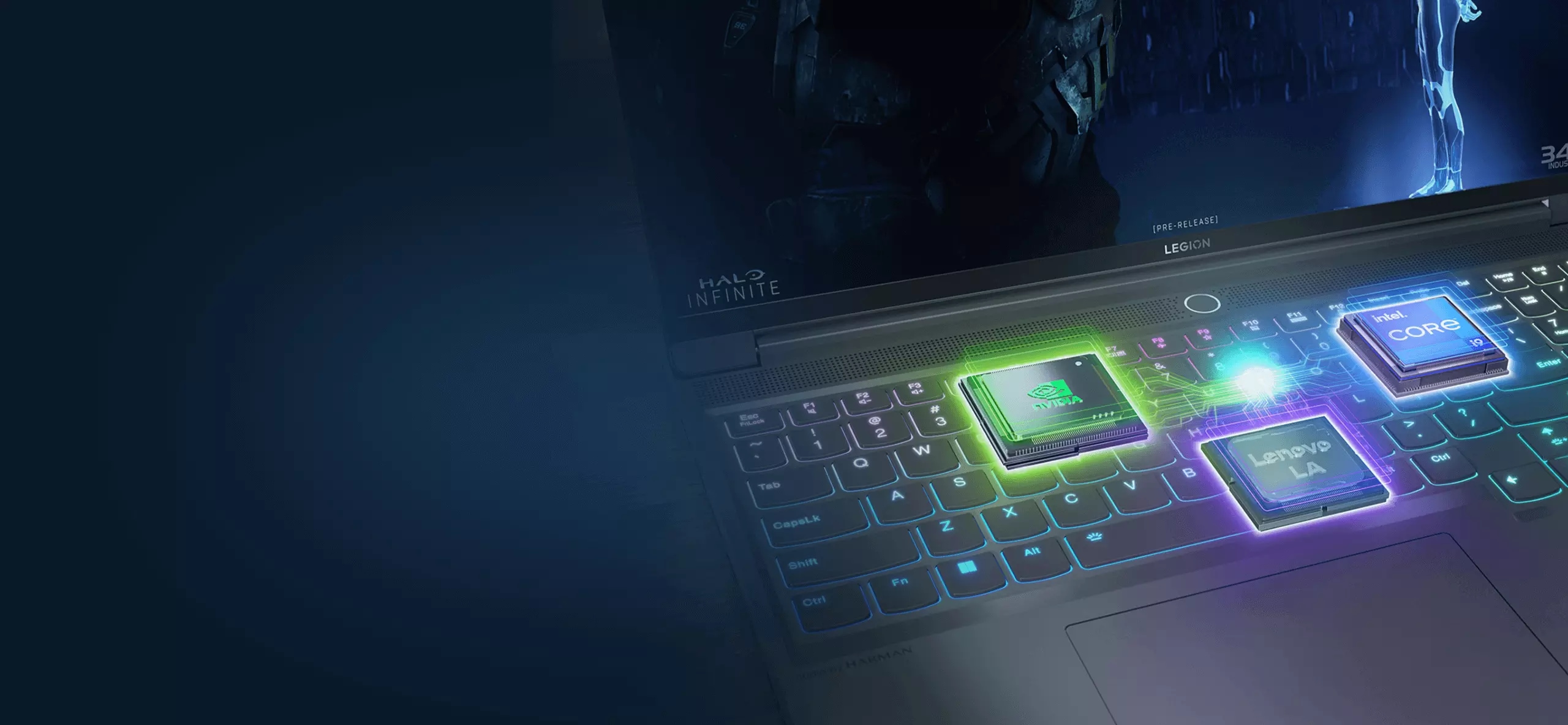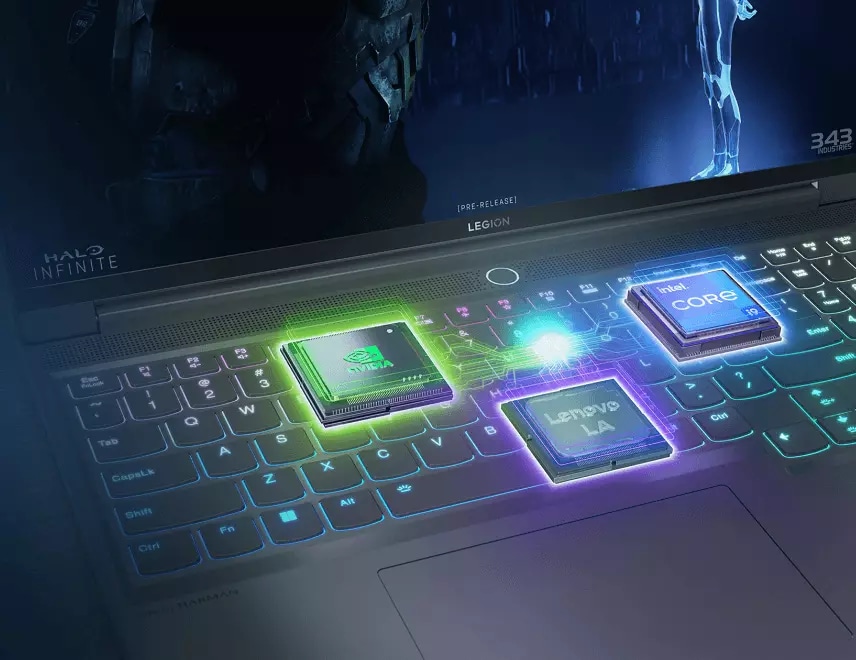 Lenovo Legion Slim 7
Lenovo AI Engine+ - your gateway to greatness
Lenovo AI Engine+ puts you out in front. Smarter than ever, our Legion Slim 7 Series devices' hyper-intelligent performance optimizations and customizations bring gaming to another level. Powered by the Lenovo LA2-Q and LA1 AI Chips, Smart Engine technologies engage sensors across key computing components to learn, optimize, and power max performance over time. Wherever you're gaming, rely on your Legion Slim 7 Series devices to stay ahead of the curve.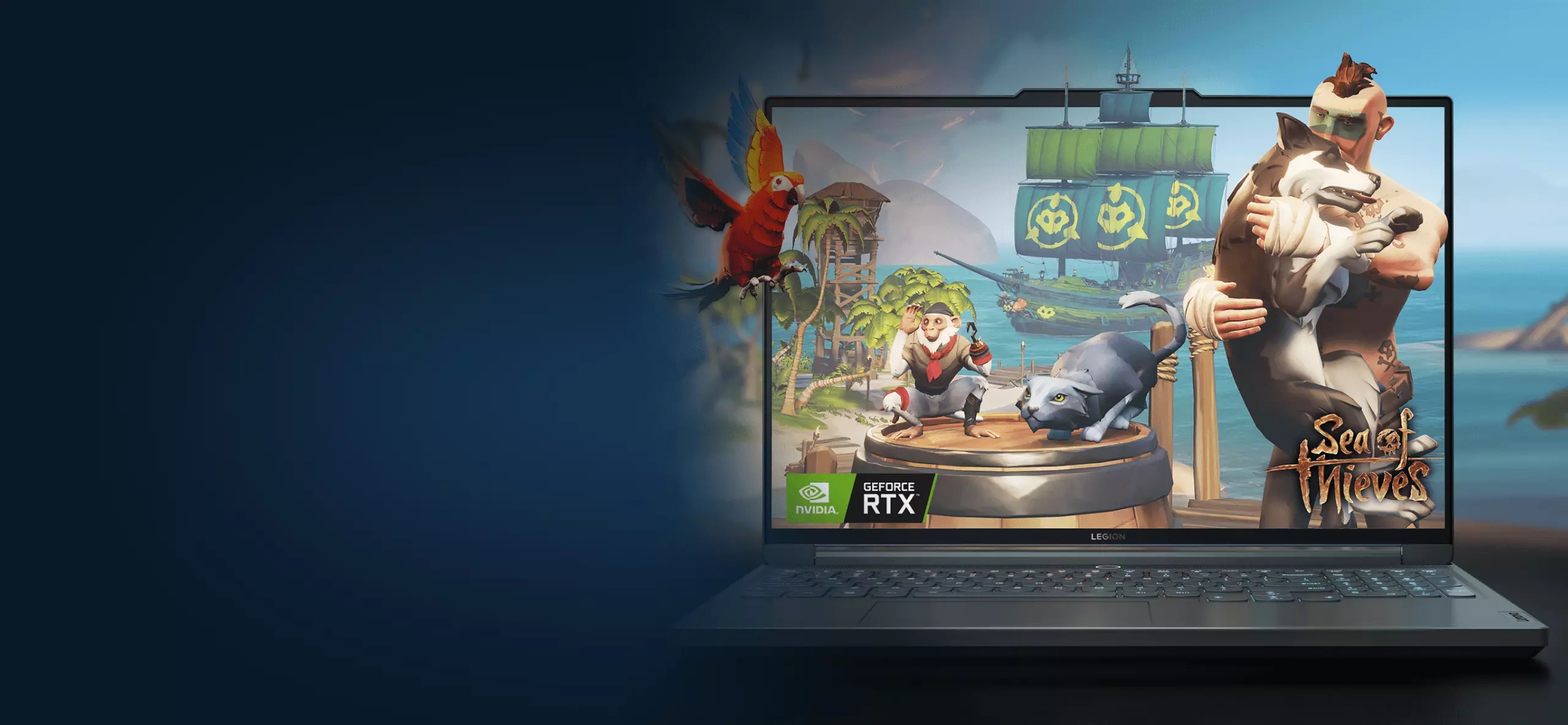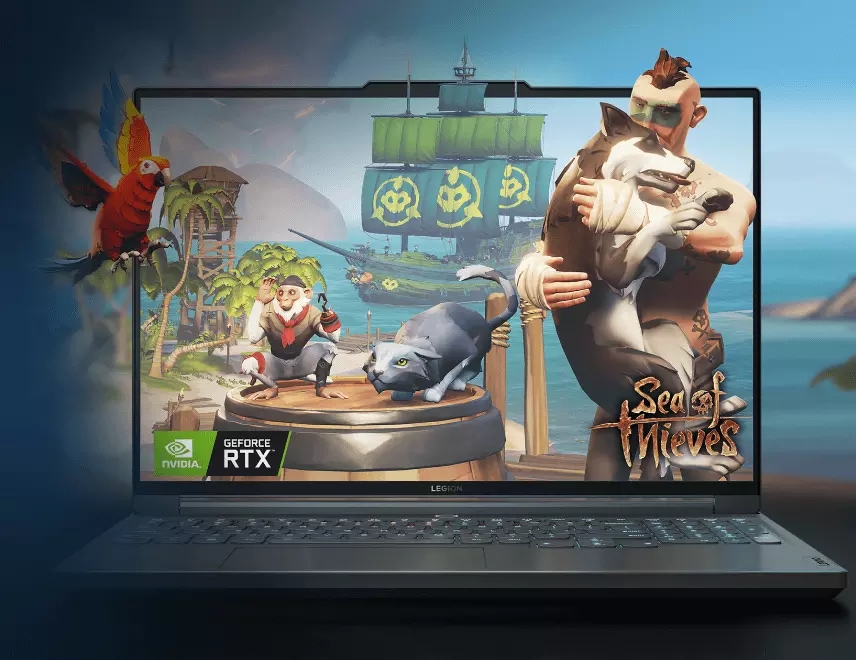 Lenovo Legion Slim 7
Gorgeous graphics with PureSight gaming displays
Experience epic action in dazzling detail on Legion Slim 7 Series devices with the graphical prowess of Lenovo's PureSight Gaming Displays. Explore gaming vistas in sprawling 16:10 aspect ratios showcasing mind-blowing specs with up to 240 Hz variable refresh rate, 500 nits brightness, and 100% sRGB. Go beyond gaming with spec choices like 3.2k resolution and 100% DCI-P3 with X-Rite color accuracy to bring you sharper images, higher contrasts, and more precise colors for an unbeatable creative experience.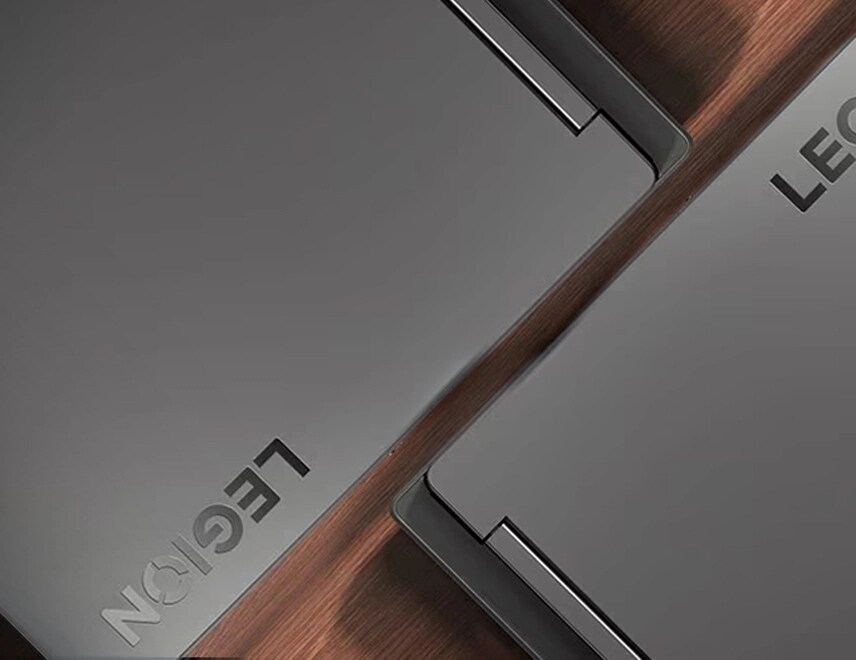 Lenovo Legion Slim 5
Form and function for the fearless
Our Legion Slim 5 series devices dare to push the boundaries of style and strength in a beautiful example of form and function. Made of materials that are selected for increased durability and mechanical resistance, these gaming devices are ready for anything. They feature stunning performance with NVIDIA® GeForce RTX™ 40 Series graphics. And are perfect for gamers who want a laptop as portable as it is powerful.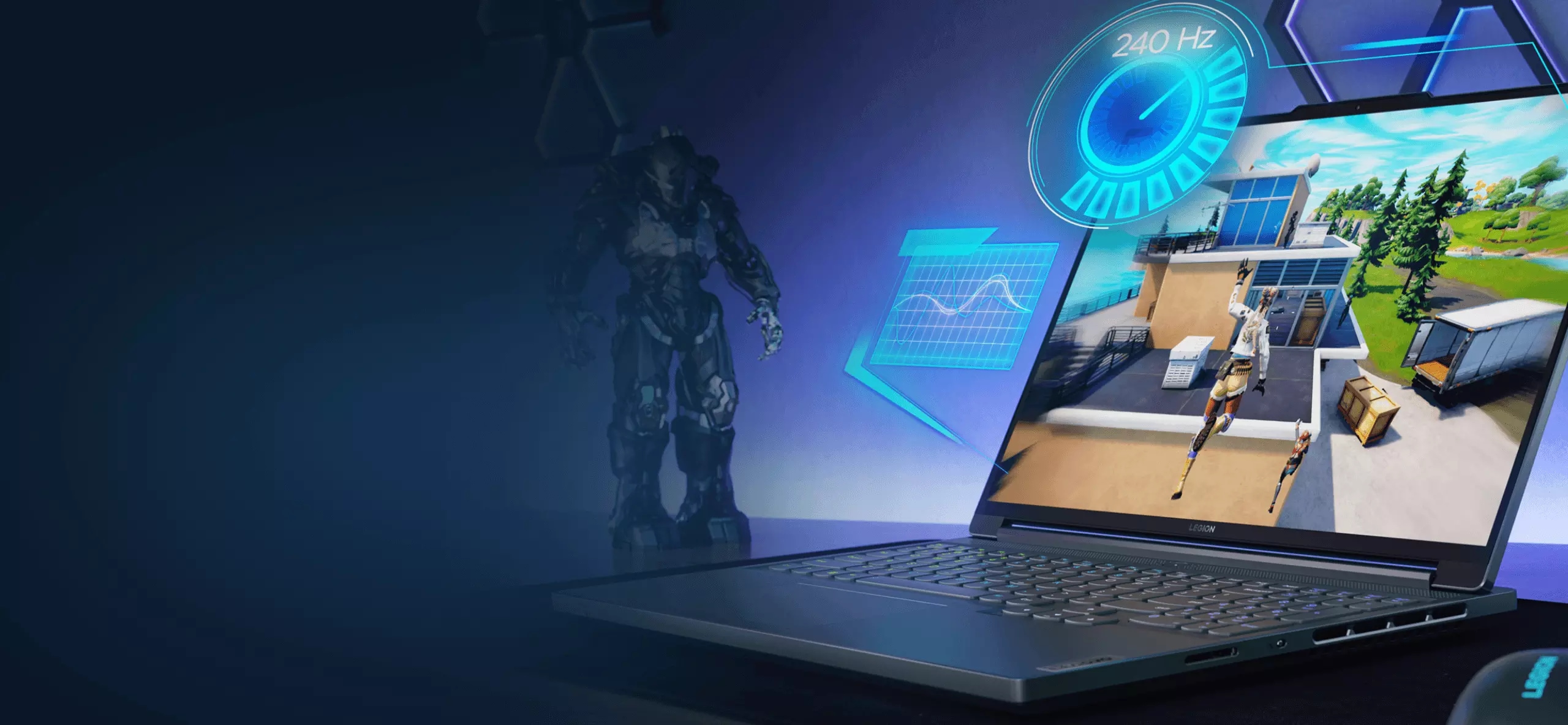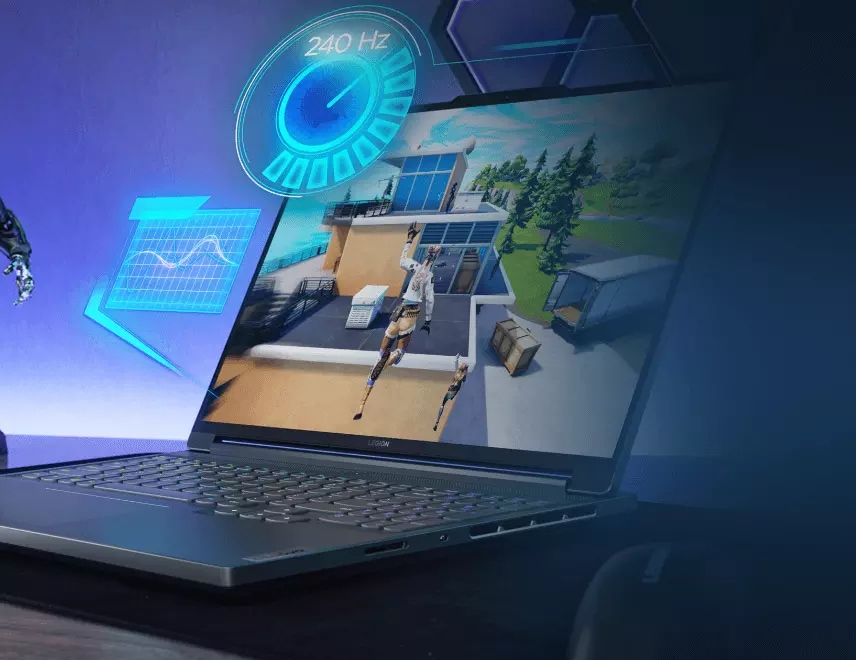 Lenovo Legion Slim 5
AI to maximize, optimize, and revolutionize your gaming
Go fearlessly into the future with the power of Lenovo AI Engine+. Our revolutionary new LA1 AI Chip is designed for domination both at home and on the road. System sensors and Smart Engine technology monitor key components, allocating power where you need it most – and then logs improvements and learns on the go to deliver enhanced performance over time. Max out framerates, compile and implement crucial data points, and supercharge your gaming speeds with Legion AI Engine+ on Lenovo Legion Slim 5 Series devices.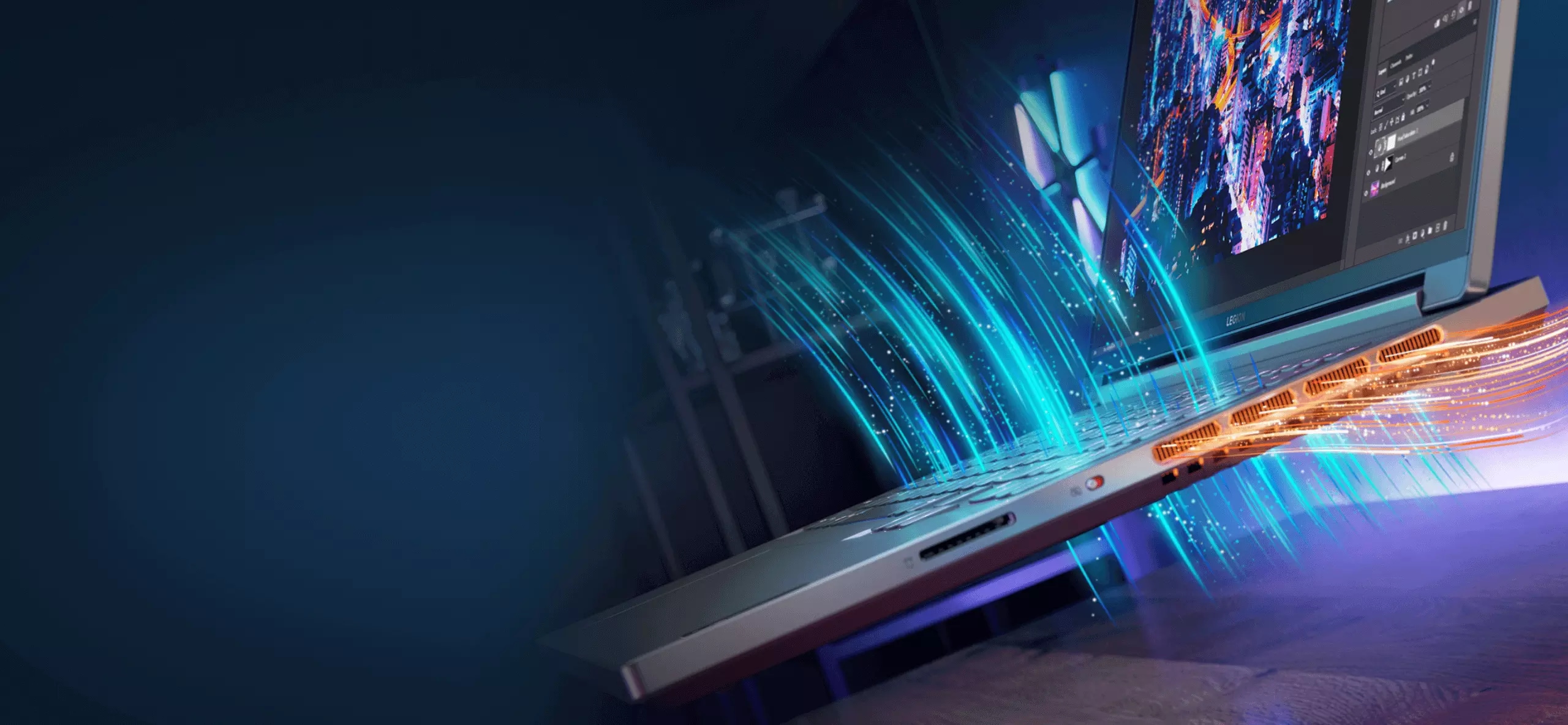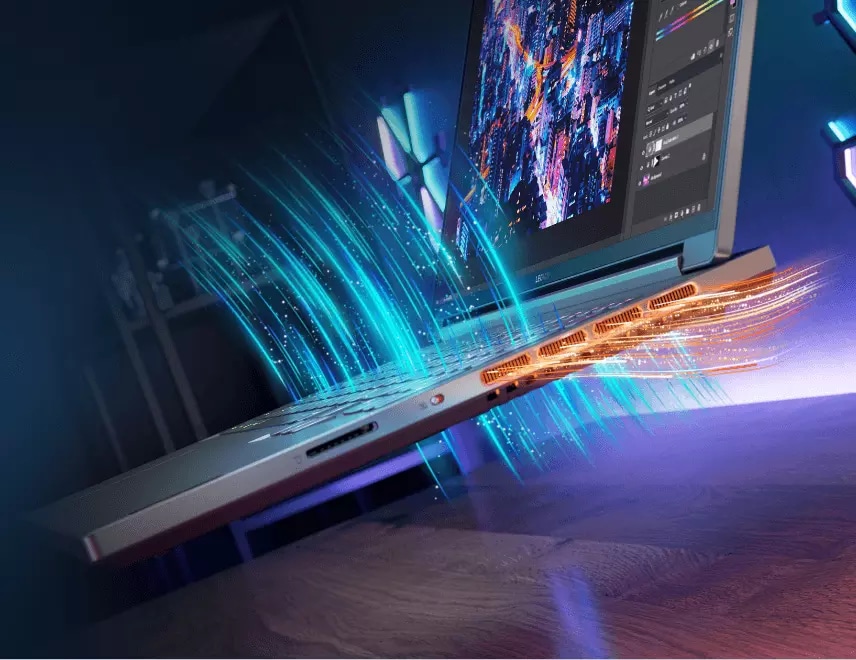 Lenovo Legion Slim 5
Say farewell to thermal throttling
Ready to experience a thermal system that handles whatever you throw at it and then some? Meet the piercingly cold Legion ColdFront 5.0 that can remain under 48db voice level in performance mode to help you stay inconspicuous during intense gaming sessions. Ensure your Legion Slim 5 Series devices will run the latest hit titles flawlessly, for years to come, with new and improved hybrid copper heat pipes, air intake and exhaust systems, and 12V dual liquid crystal polymer fans.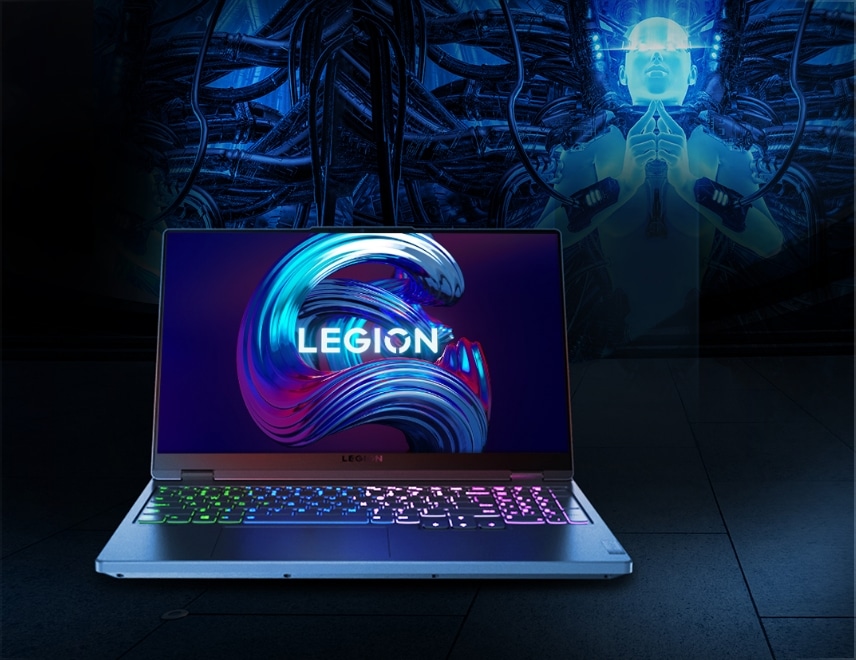 Stay on task, and on target
Legion Ultimate Support is the new META perk for Legion devices to keep you on top of your game at work during the day, and unbeatable in any lobby at night. Upgrade your warranty to Legion Ultimate Support, a customer support service geared toward gamers specifically.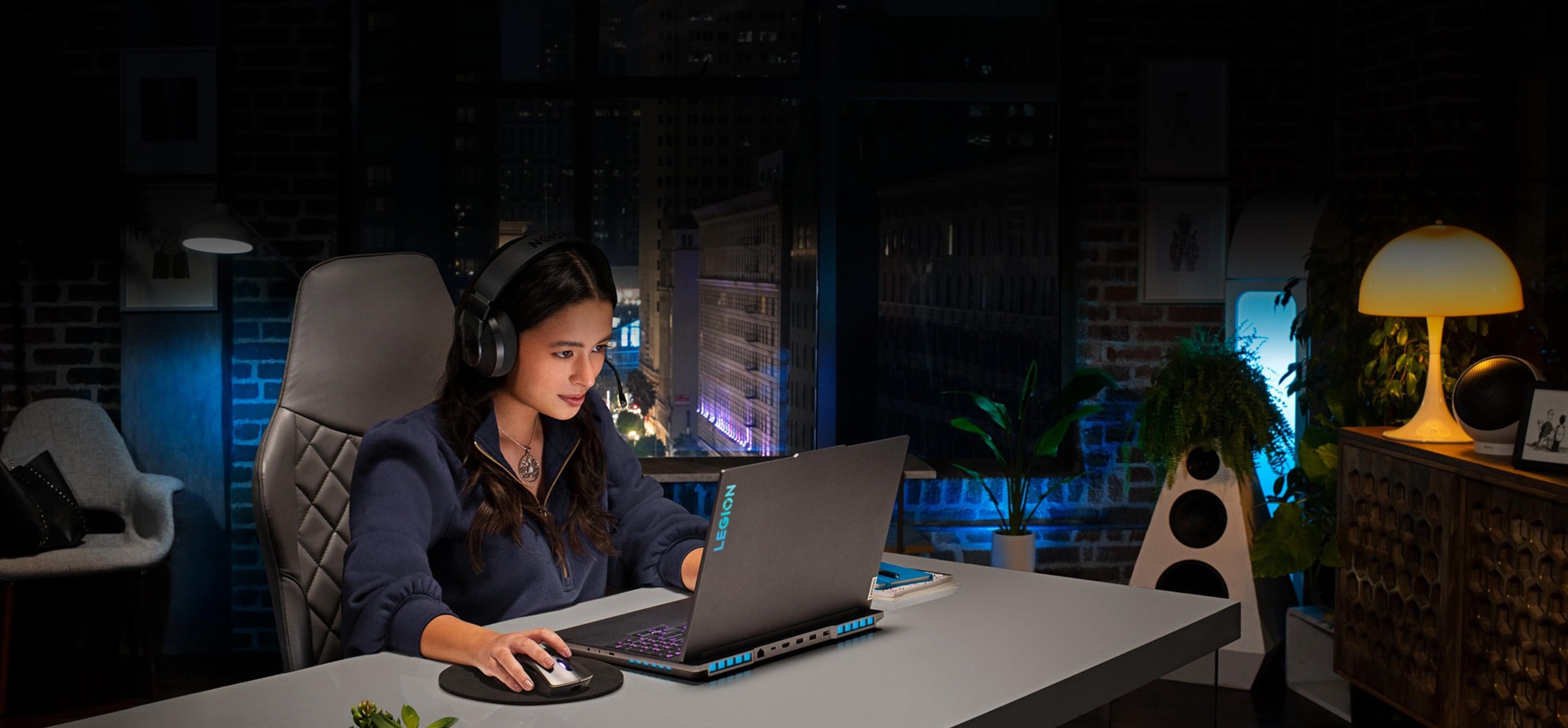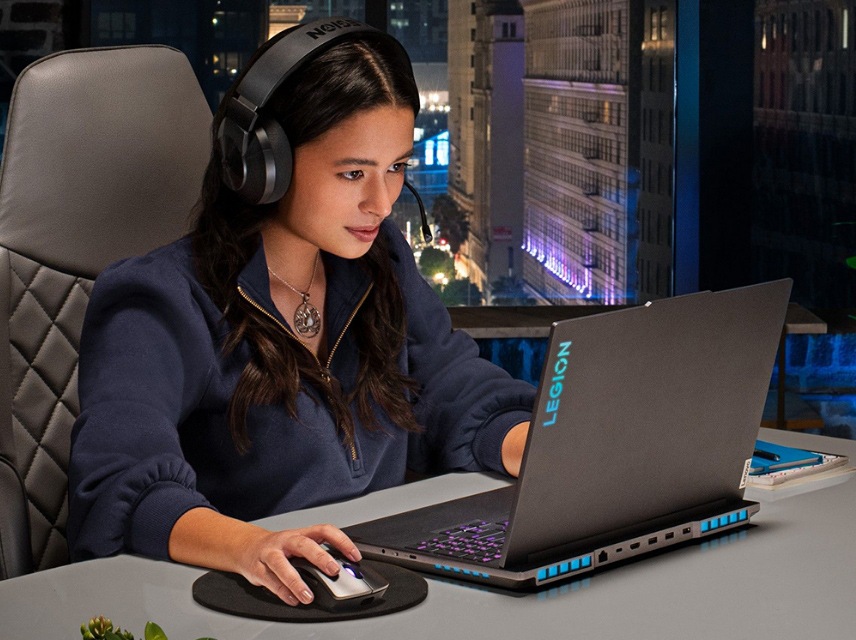 Game-changing gameplay
With models featuring Windows 11, you can unlock the full potential of your system's hardware. Get advanced graphics performance via DirectX 12 Ultimate* and the compatibility to play thousands of games—there's a reason why Windows is the most popular and versatile gaming platform on the planet.
*DirectX 12 Ultimate available with supported games, graphics chips, and requires the latest Windows 11 update with updated hardware drivers.
Lenovo Legion Gaming Community