Business laptops
for work of all types, and companies of all sizes
Call a Small Business Specialist: 1800 433 272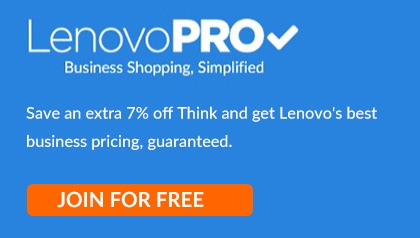 Business Laptops: Workstations, 2 in 1 laptops, Budget laptops
Lenovo commercial laptops are more reliable, more durable, and a favorite among small- and medium-sized businesses. Lenovo is known for the best business laptops, including:
Best Business Laptop : Lenovo ThinkPad X1 Carbon
Year after year, industry experts and trusted publishers recognize Lenovo ThinkPad X1 Carbon as the best laptop for business for its sheer power and business-friendly features. The 7th Generation is the world's lightest commercial 14 inch laptop at under 2.5 lb., vibrant 4K display options, long battery life, and excellent keyboard.
Whether you're working remotely from your home office or while on-the-go for business travel; if shopping for your employees or for yourself, Lenovo has top business laptops for your need, style, and budget. More on Lenovo's best business laptops.
Check out the new Lenovo ThinkPad X1 Carbon Gen 8.
Choosing the right laptop for work
We know that your small business feels anything but small to you, so our business laptops give you the tools you need to keep things humming, at prices that won't keep you up at night.
We also know that no two businesses are alike. That's why we've spent more than 25 years building a laptop selection for all types of applications, end-users, and budgets. Find the model that works seamlessly for your growing business.
A top-tier professional laptop must have robust security, strong build quality, and a comfortable keyboard that delivers a smooth typing experience. It also needs to be compact enough to carry on business trips.
At Lenovo, we offer a wide array of business laptops and workstations, including the renowned ThinkPad, versatile IdeaPad, and ThinkBook for productivity without the expensive price tag.
ThinkPad
Our family of ThinkPad laptops Our family of ThinkPad laptops is legendary in the industry. Known for being "the world's #1 best laptop for business," ThinkPad laptops and workstations present an unmatched level of quality and reliability.
For instance, the impressive battery life comes in handy when working on the road. The ThinkPad T Series (with dual battery) can last up to 30.3 hours on a single charge, which is unimaginable for most computer brands. Durable, ultralight, and blazing fast, ThinkPad is the ideal laptop for work.
IdeaPad
Looking for a truly outstanding multimedia experience? Our IdeaPad series can handle everyday work with ease, from basic day-to-day tasks to rich media. These laptops offer the latest Intel® processors, integrated graphics cards, SSD storage, and plenty of memory.
ThinkBook
For a laptop that blends robust SMB security with undeniable style, look no further than the ThinkBook series. Wake up your laptop in less than 0.5 seconds using the Modern Standby feature, but still keep your data safe with the built-in fingerprint reader. The all-aluminum design and FHD display look incredible, adding some panache to your work life. Whether you're catching up on emails, hosting a video conference, or editing a video project, the ThinkBook series is built for productivity, without the expensive cost.
Types of business laptops
When it comes to business laptops, your choices also extend to different form-factors:
Ultrabook laptops
Traditional business laptops are perfect for day-to-day portable computing, but Ultrabook is a traveler's best friend. Extremely thin and light, Ultrabook is a higher-end laptop built with premium components, maxed out performance, and superior battery life. It's also enriched with the latest technology and security features, so you can keep your industry secrets safe.
2 in 1 laptop tablets
2 in 1 laptops marry the best features of a laptop and a tablet into one versatile device – an ideal design for employees that give frequent presentations or take notes on the fly.
Built for reliable performance
Every Lenovo laptop houses components you can count on for top performance, like Intel Core and Celeron CPUs, DDR4 memory, PCIe solid-state drives (SSD), and AMD or NVIDIA graphics. Some models, like the ThinkPad X1 Carbon, offer advanced features like fingerprint and facial recognition, so your company's security never comes at the cost of convenience.
Ultimately, you get to decide how to run your business. Choose models that run Windows 10 for maximum program compatibility, or go cloud-based with a Chromebook that runs Chrome OS for on-the-go flexibility. If you need more info to make that choice, start with this comprehensive guide on Chromebook vs. Laptops. Either way, you can be sure you're getting a reliable, business-ready computer.
Best laptops for accounting
Accountants need a dependable machine with a numerical keypad and enough hard drive space to store all that data. Fortunately, most of our ThinkPad and IdeaPad laptops are designed with a numerical keypad that feels great to use for marathon sessions. These laptops also boast a secure fingerprint reader that logs you into Windows in less than two seconds, so you can get right to business.
Best laptops for IT
IT workers analyze tremendous amounts of data, design complex networks, and develop software that can meet the company's digital goals. The best laptops for IT have speedy processors, as much RAM as possible, and an SSD that can access data quickly. Of course, IT work needs to be undertaken in a secure environment, and our ThinkPads excel in that regard. Models like the ThinkPad X1 Extreme offer robust biometric and encryption security in a lightweight package, making it the laptop of choice for IT admins.
Upgrade to a Windows 10 laptop
Business laptops should always be up to date with the latest security protections to safeguard your valuable data. If you're still using a Windows 7 laptop, your system is now vulnerable. Windows 7 no longer receives any new patches or software updates. You're still able to use the OS, but it's a prime target for hackers looking to exploit security weaknesses.
Don't let your customer data and trade secrets be compromised. Upgrade to a Windows 10 business laptop today. It's super easy to transition from Windows 7 to Windows 10, and your files should transfer over seamlessly during the installation process. Employees familiar with Windows 7 will feel right at home with Windows 10. In fact, they'll probably wonder why you didn't upgrade sooner.
For Windows 10 to run smoothly, we recommend a laptop with at least 4GB of RAM and a 2GHz processor. Some Windows 7 users will need to upgrade to a new business laptop to run Windows 10, and the ThinkPad laptop line is an excellent choice. Known as the #1 best-selling business laptop of all time, ThinkPad laptops boast powerful specs, robust security features, and the latest version of Windows. Dive into Windows 10 and see where it takes your business.
Lenovo for your small business
Lenovo aims to be your businesses' trusted partner in supporting your IT needs from start-up to enterprise. To help retain more of your budget for making your company goals a reality, we offer special deals on laptops, 2 in 1 laptops, and more. We also have a variety of bundles tailored for specific applications, from creators to managers.
Shop affordable deals on business laptops
Lenovo aims to be your businesses' trusted partner in supporting your IT needs from start-up to enterprise. To help retain more of your budget for making your company goals a reality, we offer special laptop deals on business laptops, 2 in 1 laptops, and more. We also have a variety of bundles tailored for specific applications, from creators to managers.
With discount pricing offered through the LenovoPRO store for small- to medium-sized businesses, you can get the tech your company needs within your budget. We also provide advantages like competitive financing options. Learn more about the benefits of joining LenovoPRO.
Remote workforce management
As an employer, you may be managing from a different position than your predecessors. As workforces shift their duties to the home, those in charge must manage and delegate from a distance. And what many employers will consider a top priority is ensuring their employees have the technology they need to be proficient in their responsibilities in their home office.
Lenovo deals on business PCs & computer accessories are a great start to outfitting your remote employees. Combine these business deals with up to an additional 7% off Think products through your FREE LenovoPRO membership, and you'll see the savings really start to add up.
Lenovo is your one-stop shop for any home office need. Prepare your employees for remote work success with the latest tech, like laptops for business, Lenovo ThinkVision business monitors, laptop docking stations, keyboard and mouse combos and headsets for all those important conference calls.
LenovoPRO also makes management and maintenance of your tech easier for managers and employees with exclusive one-on-one technical support from our specialists.
Want to know even more about successful work from home practices? Review our Lenovo FAQ for general tips on remote learning, as well as recommendations on the technology you'll need for remote learning, like the
Remote learning
Working from home isn't relegated to just the business world. Students are also increasingly learning (and working) from home rather than on campus or in classrooms. If you need tips on how to make your remote learning efforts more successful, Lenovo has them. Review our Lenovo FAQ for general tips on remote learning, as well as recommendations on the technology you'll need for remote learning, like the best student laptops & essential accessories for your home learning environment.
How to work from home
Working from home has never been easier with the amount of supportive technology now available for your home office setup. However, working remotely does still present some unique challenges.
Small business financing
Work today. Pay tomorrow. Lenovo's flexible business finance options can help you finance the latest tech. Laptop finance options can help get premium business tools – like the latest ThinkPad laptops – to you or your employees without delay. Many other PC on finance options are also available!