Improve your flexibility while facing new obstacles
Your business' success depends on your employees, who are working remotely more frequently. The challenge lies in ensuring they have the latest devices in what's already a tough economy, as well as deploying and securing those devices remotely. Lenovo DaaS faces those challenges head-on.
Here's how Lenovo DaaS can help:
Do more with less

Free up internal resources
Align expenses with revenues
Untether cash flow

Get support wherever & whenever it's needed

Keep employees connected, supported, & productive from any location
Avoid costly downtime
Resolve security concerns—onsite and remotely

Focus on what you do best

Single point of accountability
Single contact & invoice
Reliable, stable, & fully customized solutions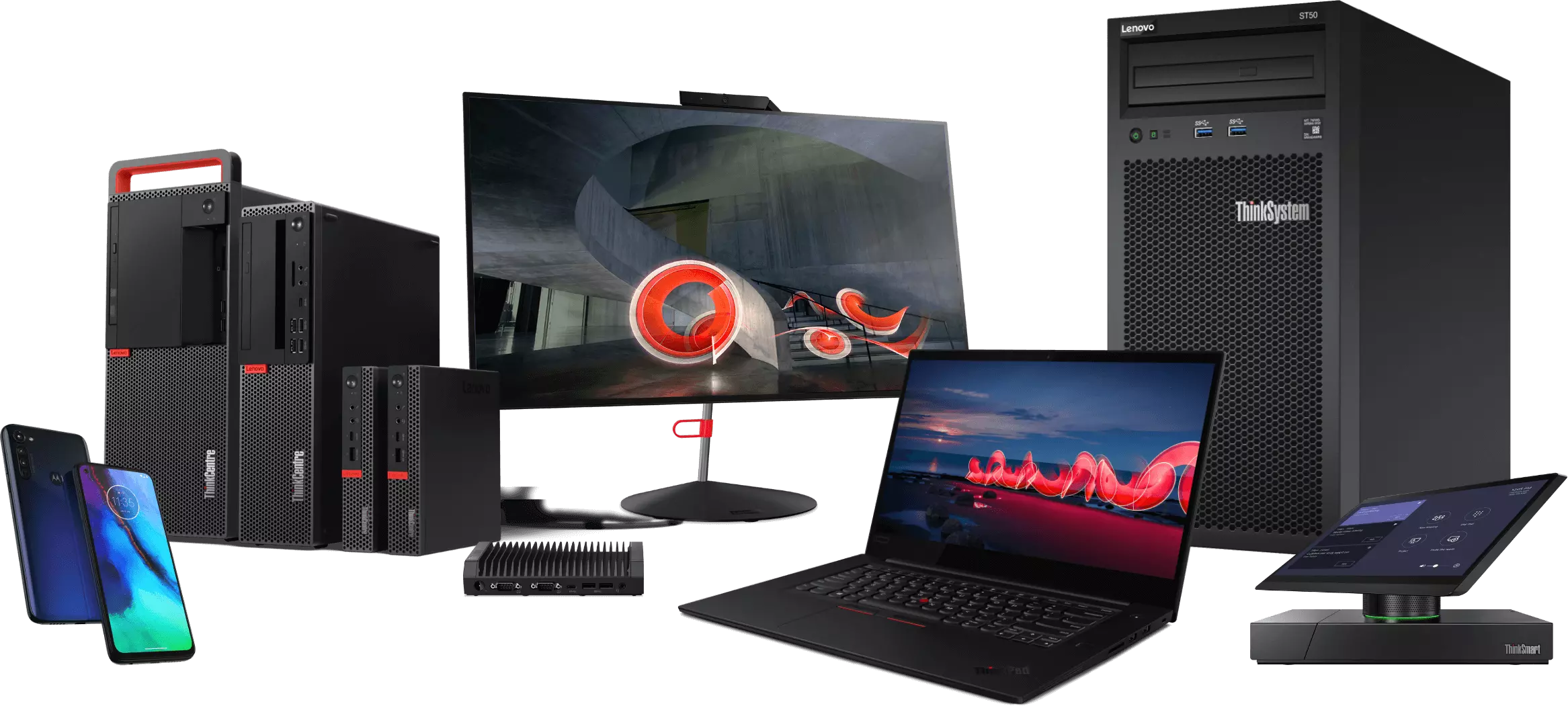 Smart, customizable solutions across a gamut of devices
Lenovo offers a wide array of award-winning devices—from mobile devices like phones and tablets, to personal computers, to the data center. Lenovo DaaS can even incorporate other OEM hardware to meet your specific business needs, allowing you to control IT costs and boost productivity.
With Lenovo DaaS, the IT buck stops with us.

One source of
accountability

One predictable
monthly invoice
Efficiency across the lifecycle
Let us streamline your transition to a user-driven, digital environment. Our flexible approach to services, support, device management & configuration, and other modern IT solutions takes the burden of lifecycle management off your shoulders. With Lenovo DaaS, each stage is more cost-effective and efficient.
Work happens everywhere—empower it there
In today's changing digital world, your employees are no longer working in the office. Some might not come back full-time. Lenovo DaaS will help your organization face the challenges of the work-from-anywhere (WFA) model—such as how to deploy and secure devices offsite—and transform the modern workplace experience to your advantage.
Our managed services will give you the resources you need to:
Ensure employee productivity & security
give them devices critical for uptime when working remotely
Outsource services & support
alleviate burden of IT, ensure fast resolution for UX
Operate with flexibility
scale options to meet business needs
Free up capital
adopt predictable payments with no upfront investment
Accelerate digital transformation initiatives
without overburdening IT budgets
Consider these Lenovo DaaS Work-from-anywhere Solutions:
Zero-touch deployment solutions procure devices for productivity and get them delivered to employees
Cloud-based management solutions provision devices and ensure their compliance on and off the corporate network
Lenovo Support Services solutions support and train remote users in mixed environments
Ship directly to the employee's home
Exchange devices via centralized depot or locker
Cloud-based recovery immediately restores a PC to its last known healthy state
Lenovo Device Intelligence ensures devices are maintaining peak performance and stability
With more and more work taking place remotely, let Lenovo DaaS accelerate your organization's change to support the WFA lifecycle and accommodate mixed user environments.
Download WFA Brochure
Lenovo DaaS Solutions, for improved flexibility, productivity, and cost management
To succeed, your business must get the best from each employee. Today more than ever, IT has to empower your employees to stay focused—no matter where they're located. Whether you're an up-and-coming small business or a global enterprise, our services portfolio offers a Device as a Service solution to keep your operations leaner, your costs lower, and your employees more productive.
Download PDF
5 easy steps to greater productivity and efficiency:
1

Device

Select devices from the latest high-performance hardware.

2

Solutions

Choose your Lenovo DaaS solution: Simplify, Accelerate, or Transform.

3

Customization

Customize your solution with DaaS features and service levels that fit your organization.

4

Finance

Finance with Lenovo Financial Services for flexible options and an affordable, predictable monthly fee.

5

Benefits

Reap the benefits of a Modern IT environment with expert support and end-to-end, smart, lifecycle services.
Simplify
Optimize your device catalog with no upfront investment and predictable monthly payments.
Accelerate
Supplement the Simplify solution with streamlined configuration and deployment.
Transform
Complete your IT transformation with a tailored solution from our comprehensive portfolio.
Multi-OS, multi-vendor hardware

Premier Support

Built-in security (ThinkShield)

Reporting: Device tracking / utilization / health reports

Secure asset disposition at end of agreement

Custom BIOS settings

Asset tag

Imaging / enterprise ready preload

Microsoft Autopilot registration

Service delivery manager
Optional Flex up / down / pause (device count variability)

Encryption

Cloud deploy / recovery

Accidental damage protection

Technician-managed break fix

Keep your drive

Multi OS app deployment

OS patch management

Whitelist and blacklist

Custom deployment

Unified endpoint management
No matter your IT challenges, Lenovo DaaS has a solution for you
The Lenovo DaaS solution has been a great service for Venerable and we are very happy with our decision to select Lenovo as our provider. The procurement automation, process, and management that the Lenovo solution offers directly supports our growth through acquisition model. Onboarding new remote employees during COVID-19 was seamless and is a testament to Lenovo's exceptional service and partnership.

Rely on Lenovo DaaS comprehensive support to help you do more with less and focus on your core business.
Dig deeper into how Lenovo DaaS can help you save time, reduce costs, and focus on your customers.
Device as a Service, DaaS, Lenovo Device as a Service, Lenovo DaaS, DaaS service, DaaS solution, DaaS companies, Device as a Service definition, Device as a Service model, DaaS service providers, Device as a Service market, what is Device as a Service, DaaS applications, DaaS for personal use, Device as a Service providers, Device as a Service Daas, Device as a Service (Daas), Device as a Service benefits, Device as a Service pricing, benefits of Device as a Service, Device as a Service contract, Device as a Service cost, Device as a Service market size, Lenovo Device as a Service pricing, DaaS for small business, DaaS plans, DaaS service model, DaaS service partner, Device as a Service accounting, Device as a Service business model