Lenovo OEM Solutions

OEM Solutions
Get on-demand OEM that lives up to your product standards. You'll have award-winning global support, innovative technology, and flexible programs that deliver at low cost.
Team up with an industry-leading global partner for your OEM solution
Let our innovation work for you
Bring your solutions to market rapidly and efficiently with complementary services, resources, and capabilities from Lenovo representatives you can trust. We offer dedicated resources to manage your product from concept to launch to lifestyle, as well as financing options.
Lenovo is a global supplier of IT products and solutions. With the most reliable x86 servers in the industry, as well as the best-selling brand of laptops in history, Lenovo truly is world-class. We've shipped more than 20M servers to 160+ markets, and work with over 2000 vetted suppliers.
Lenovo OEM solutions works across numerous verticals with some of the world's largest brands around the globe to help them go to market with their products and solutions built on a solid foundation of Lenovo technology. This is why you can depend on Lenovo to be your trusted OEM partner.
Service and support
Lenovo offers transferable global warranty support, FRU management, and four levels of services, from Next Business Day to 2-hour response. We also offer Premier Support Services for OEM customers who desire exceptional "white glove" service.
Security
Trust Lenovo to protect your business with security built-in to every facet of our design, manufacturing, logistics and delivery processes. This helps to prevent, detect, and recover from cyberattacks. See our infographic and Trifold for details.
Long life products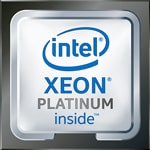 ThinkSystem servers powered by Intel® Xeon® Scalable processors