Smarter partners with business innovations
Over the years, our Think commercial products have become synonymous with innovation—not just for the devices we engineer, but more importantly, for what you create with them. Our technology thinks big. From destroying cancer cells with precise real-time feedback in the operating room to feeding future generations through AI, we're building smarter solutions for things that matter. Whether you're looking to grow a large enterprise or a small-to-mid sized business—or you simply want the reliability and design quality that our Think products deliver—we help you succeed every step of the way.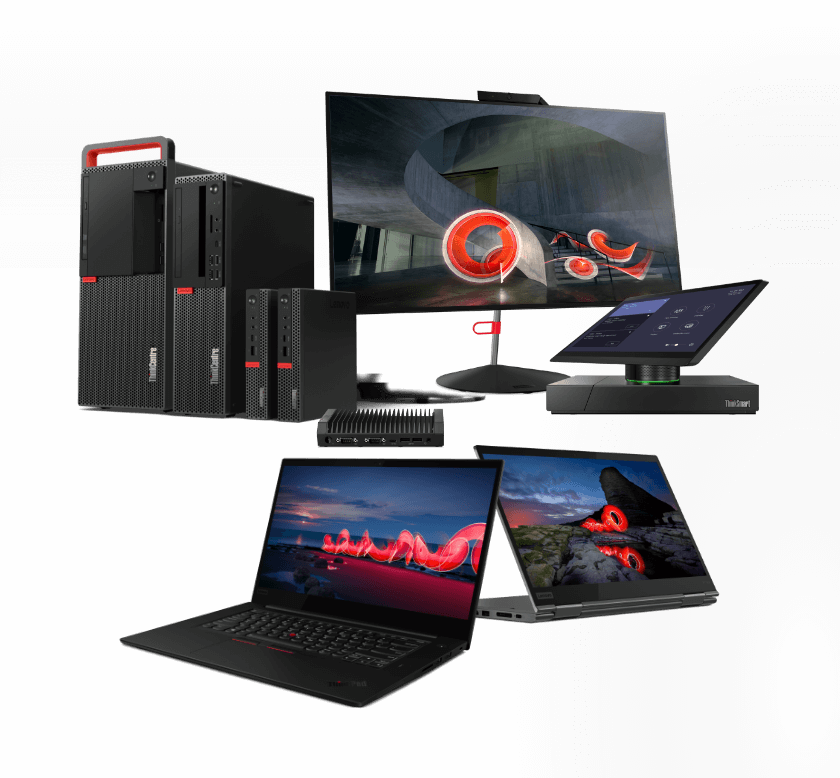 Relentless innovation. Trusted quality. Purposeful design.
Featuring first-to-market technology that works smarter for you, our ThinkPad portfolio delivers reliability you can count on. All of our devices are MIL-SPEC tested against extreme conditions. We offer remote manageability options, as well as advanced security solutions with ThinkShield, an integrated suite of hardware and software. Enterprise-level support available to keep you up and running.

Discover ThinkPad
Built for business, designed for you
Lightweight and stylish, Lenovo ThinkBooks offer seamless security and efficiencies. Features like Modern Standby and Smart Power On help to boost performance and improve productivity. Plus voice control, dual-screen designs, and enhanced audio put technology to work for your business. Includes SMB-grade support offerings.

Discover ThinkBook
Industry-leading desktop innovation
We've engineered ThinkCentre desktops to accommodate the reality of shrinking office space. Our innovative designs include the phone-sized Nano, the industry-first 1L Tiny and Tiny-in-one, traditional tower PCs, and our all-in-ones. These PCs deliver superior performance, lifecycle stability, robust security, and premium support offerings.

Discover ThinkCentre
Superior reliability & performance
ThinkStation P Series workstations deliver powerful performance with the latest generation of Intel® Xeon® processors and NVIDIA® Quadro® professional graphics in dual- and single-processor systems. Independent software vendor (ISV) certified, energy-efficient, and highly versatile, our ThinkStations feature the superior reliability you expect from Think.

Discover ThinkStation
The evolution of reality
Meet the powerful and flexible AR/VR products and software platform that will transform the enterprise. See beyond what's there as you use AR products to create virtual workspaces and expand collaboration. Create new possibilities with scalable solutions and a software platform based on versatility, reliability, and innovation. Smarter evolves.
Smart office devices
Combining innovative technology with personalized services, our ThinkSmart solutions will redefine your meeting space. Make collaboration more productive and efficient with devices that offer flexible platforms and room sizes. Plus, built-in security keeps your data safe and your privacy intact. Take your business to the next level.
Superbly designed monitors
Equipped with features that enhance productivity for the modern workforce, ThinkVision monitors also boast sleek, ergonomic designs. Whether it's factory calibration and sRGB color gamut, USB-C one-cable solutions, energy-efficiency, built-in audio, or the ease of configuring multi-display setups, these monitors are engineered with your comfort, convenience, and security in mind.
Security is in our DNA
At Lenovo, we take security seriously. ThinkShield is our comprehensive portfolio of security offerings based on the latest technology innovations. It's your foundation of defense to help you prevent, detect, and recover from security attacks.