ThinkPads that changed the world
The way we compute. The way we do business. The way we live our lives. Every time business has gone somewhere new, discovered something different, or done something revolutionary, chances are, ThinkPad was there.
>
Love it. Admire it. Beat the hell out of it.
We test Think systems against 12 military-grade requirements and more than 200 quality checks to ensure they function in extreme conditions. From the arctic wilderness to desert dust storms, from zero-gravity to spills and drops, you can trust ThinkPad and ThinkCentre to handle whatever life throws your way—even if it's a grizzly bear!
Lenovo presents: Bear vs Box Watch the video >
The journey's as important as the destination
We strive to better serve our customers. We focus on process improvement, so you can focus on achieving results. That legendary little red dot, for example, saves your hand from reaching for a mouse and moving nearly the distance of an Olympic swimming pool over the course of a day.
Practical, Powerful & Purposeful. Never Showy. Watch the video >
Think heritage
The world's #1 business laptop of all time*
Loyal customers have pushed the number of ThinkPad laptops sold to more than 100‑million, while ThinkCentre desktops support professionals across all industries.
1992 ThinkPad 700C

The beginning of everything

The 700C features the world's first TrackPoint, the now renowned little red dot that makes it possible to navigate and use a keyboard without a mouse.

1993 ThinkPad 750C

Zero gravity, zero problem

In December 1993, the 750C becomes the first ThinkPad to blast-off into outer space on a ground-breaking, zero-gravity mission.

1995 ThinkPad 701C

MOMA design masterpiece

The 701C's Butterfly Keyboard is widely considered a design masterpiece and has become part of the permanent collection at the Museum of Modern Art in New York City.

1997 ThinkPad 770

Portable cinema,
popcorn not included

In 1997, the ThinkPad 770 becomes the first portable PC to feature an integrated DVD-ROM drive, resulting in improved access to more data and high-quality video right in your lap.

2004 ThinkPad T42

Swipe. Login. Simple.

The ThinkPad T42 is the industry's first ThinkPad laptop to feature biometric security with an integrated fingerprint reader and embedded security chip.

2005 ThinkPad X41 Tablet

Tablet with a twist

With its full-sized keyboard and twistable screen, the ThinkPad X41 demonstrates an ability to adapt to new ways of working and becomes the world's first 2-in-1.

2005 ThinkCentre E50

ThinkCentre desktops debut

SMB ThinkCentre E Series announces, with the E50 available in both tower and SFF. ThinkCentre M52 and A52 also launch—incorporating dual processors and 64-bit technology for the first time.

2006 ThinkPad X60

Detach & go

The ThinkPad X60 becomes the first modular laptop. Detach from built-in dock, and carry a lighter-weight system into the field. Leave the ports behind at your desk.

2008 ThinkCentre M57 / M57p

Green PCs = greener planet

The ultra-small Eco M57/ M57p become the first desktops to achieve GREENGUARD® certification, along with EPEAT® Gold and Energy Star ratings.

2009 ThinkPad W700ds

One computer, two screens

The ThinkPad W700ds features a dual screen—along with the 17" display, a 10.6" screen slides out from the side, expanding the desktop.

2012 ThinkPad X1

Ultra-thin. Ultra-light. Ultra-tough.

The first generation of the X1 Carbon Ultrabook™ debuts at CES. With carbon fiber chassis, the X1 offers professionals a powerful yet lightweight alternative to the laptop.

2014 ThinkCentre M53 Tiny

Tiny desktop, big performance

The enterprise-level ThinkCentre M53 Tiny launches, becoming the industry's first 1-liter desktop. Includes built-in wireless, advanced thermal design, and robust security features.

2016 Award-winning Think X1 family debuts

Powerful performance, premium experience

Along with the 4th generation of the X1 Carbon, the ground-breaking X1 Yoga, X1 Tablet, and ThinkCentre X1 PC debut at CES, sweeping up Best of CES Awards, Reddot Awards, IF Gold Award, and IF Product Design Awards.

ThinkPad goes retro

Commemorating 25 years of ThinkPad, we launch ThinkPad 25 special anniversary edition that pays homage to the original aesthetics of that first 1992 model.

2019 ThinkPad unveils the world's first foldable laptop

The new foldable PC joins the premium ThinkPad X1 family, promising that the unprecedented portability will in no way compromise productivity and reliability. This is not a phone, tablet, or familiar hybrid; this is a full-fledged laptop with a foldable screen.
Featured Laptop
Laptops
X1 Carbon Gen 7
Styled for premium performance
A sleeker and lighter version of itself, the ThinkPad X1 Carbon Gen 7 laptop kicks up the style quotient with an optional Carbon-Fiber Weave top cover. We've also amped up protection with our built-in suite of ThinkShield security features to safeguard your data. Powered by Intel® Core™ technology, this device delivers high performance—while the 18.3-hour battery life enables easy productivity on the fly.
Learn More
Featured Laptop
View All ThinkPad & ThinkBook Laptops
View More
Close
Learn more
Featured Yoga Laptop
Yoga
X1 Yoga Gen 4
The ultimate in flexibility
Thinner. Lighter. More secure. The ThinkPad X1 Yoga Gen 4 features the renowned 360-degree hinge to accommodate your style. This 14" 2-in-1 laptop features a built-in suite of ThinkShield security features to protect all your critical data. And with the choice of a 4K display with Dolby Vision™ and Dolby Atmos™ sound system, you can take your creativity—and your entertainment—to new levels.
Learn More
Featured Yoga Laptop
View All ThinkPad Yoga
View More
Close
Learn more
Featured Tablet
Tablets
X1 Tablet
Tablet. Laptop. Canvas. You decide.
Redesigned from the ground up, ThinkPad X1 Tablet (3rd Gen) delivers power, productivity, and portability in an ultrapremium 2-in-1. From the enlarged 13" display to the detachable keyboard, from the enhanced security, to the responsive voice experience that quickly wakes your device, the X1 Tablet provides the perfect solution for professionals on the go.
Learn More
Featured Tablet
View All Think Tablets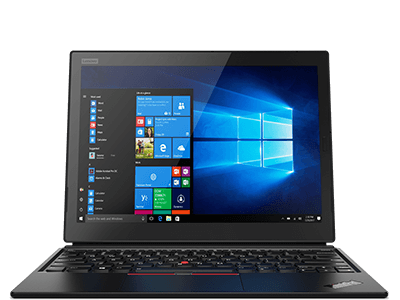 13" 2-in-1 premium tablet for business
Full-sized detachable keyboard with fingerprint reader
Enhanced security, far field voice-responsiveness
Learn More
View More
Close
Desktops
ThinkCentre Desktops
Enterprise-ready. Secure & reliable.
Available in a range of shapes and sizes, ThinkCentre PCs are powerful workhorses with unique designs. From the 1.1-pound nano to tiny desktops, to traditional towers and small form factor (SFF) desktops, to our elegant all-in-ones (AIO), they're perfect for work in any environment. And now, featuring our nano IoT desktop with 4G and I/O Box functionality.
Learn More
View All Think Desktops
View More
Close
Accessories

Think your data is secure? Think again.
In 2017, data breaches cost businesses an average of $3.62 million, with companies losing around 23 days to resolve ransomware attacks. Your company needs a level of security you can count on to safeguard sensitive data and protect against online and identity-based threats. ThinkShield by Lenovo delivers the most comprehensive end-to-end security offerings in the market.
Learn more