How to setup dual monitors
Dual monitor setups are all the rage these days. As more and more of us start working from home, we're realizing just how important it is to have a sustainable working environment. Working your nine to five from a small laptop screen just isn't going to cut it. Even a single monitor can be restrictive when we've got multiple tabs on the go. Luckily, the solution is a simple one. Dual monitor setups are relatively inexpensive and easy to get up and running.
And the benefits are many. From increased productivity to optimized workflows. We guarantee you won't regret investing in that second monitor.
If you've been wondering how to connect two monitors or how to add a monitor to a laptop then you've come to the right place.
In this article we'll be teaching you howto connect dual monitors and how to use two monitors for better workflows, outputs, and overall results.
Let's dive in.
What is a dual monitor setup?
Chances are you've seen a dual monitor setup before. Either in a friend's home or perhaps in your own workplace. Perhaps you've even experienced the wonder of a multi-monitor setup with three, or even four screens in arrangement.
A dual monitor is simply two computer screens operating from a single computer. With a dual monitor setup, you get to spread out your workflows across two screens instead of one. Lenovo has an array of computer monitors to choose for gaming, home, office and more.
In fact, some people choose to extend their computer work across even more screens. With the right components it is possible to achieve a multiple monitor setup. For most of us, however, two monitors should suffice.
It's not just a matter of showing off. Oh-no. Quite the contrary. Spreading workflows over multiple screens is better for productivity, efficiency, and overall workflow.
Do I need a second monitor?
Although a second monitor doesn't change your computers' functionality, many people swear by their dual monitor setup. Having more than one monitor to spread out across can make a huge difference to productivity. There are so many situations – both professional and recreational- in which a dual monitor setup is guaranteed to make a big difference.
Whether you're working in-office or from home, you'll need to create efficient, productive, comfortable workspaces. And a dual monitor setup is a simple and affordable way to achieve this.
At the other end of the spectrum, dual monitors are also absolutely fantastic for gaming. Dual monitors create an enhanced gaming experience and allow gamers to multitask by having alternative windows open at the same time. Game, livestream, and chat all at the same time.
7 benefits of using a dual monitor setup
If you're still wondering how a dual monitor setup can help you then look no further than these seven fantastic benefits. From productivity to organization, two monitors are almost always better than one.
Increase your productivity

Staying productive while working on a single small screen can be challenging during the best of times. With two displays in front of you, you'll be able to get tasks done faster and with fewer headaches along the way. Switching between tabs might not seem like a time-consuming activity, but it adds up – not to mention those frustrating moments when you can't find exactly what you're looking for.

Keep your desktop organized

If you're currently splitting one small screen in four, just so that you can have multiple windows open at once stop right there. I'm staging an intervention. You need a second monitor and fast. Dual monitor setups give you double the desktop space and reduce on-screen clutter. And that's better for your productivity and your sanity.

Maintain focus

I'm telling you now. Having two monitors is going to transform your ability to focus. Everything you need is going to be right there in front of you. Emails to the left, word doc. to the right. You get the general idea. You can really focus on the task at hand confident that you won't miss that email or instant message you've been waiting all day for. And if you're an A* multitasker then you'll be in your own personal paradise.

Think of it as backup

Aside from the other advantages, your second monitor is essentially a backup display screen. If one monitor stops working, you'll still have the other. And during a busy working day that can be a godsend. You'll still be able to continue working without any significant productivity loss.

Increase collaboration & communication

Dual monitor setups are ideal for working and collaborating with teammates remotely. You can have one screen for your video meeting and the other for your workflow or reference resources. If you're working on team projects that's an invaluable resource. You'll be able to move your project forward as if you were in the same room together.

Accessibility

Setting up a second monitor is accessible for everyone. There are plenty of affordable monitors on the market fit for purpose. Plus, setting up a dual monitor arrangement is very simple. You won't need any complex software. All you have to do is purchase your second screen of choice and go through a simple setup process (we'll be covering this in just a moment).

Compare and reference

You might have noticed that many data analysts are well acquainted with the dual monitor setup already. And here's why. It's not just for show. Having two or more screens is really helpful if you need to compare critical data. You'll be able to compare files, projects, graphs, charts, and spreadsheets without having to constantly switch between screens.
A step-by-step guide to setting up your dual monitor
Ready to set up your new dual monitor arrangement? Wondering how to connect two monitors? Luckily, this is a very simple implementation process. You'll be done and dusted in minutes. In fact, if you want to know how to connect two monitors to a laptop, there's only one additional step.
First things first, you're going to need the following:
Your main PC or laptop computer
Your new monitor(s)
Sufficient desk space
HDMI, VGA, or DVI cable
You're ready to go.
There are loads of combinations to choose from when it comes to setting up a dual monitor workstation. The tips below are for those of you who need to know:
how to connect laptop to a monitor
how to connect monitor to laptop
How to set up two monitors
Step 1: Connect
Connect your second monitor to a power outlet and the available port on your PC or laptop (this is usually an HDMI port). If you're connecting a third, make sure that there is an additional port on your PC or laptop (otherwise you may require an extension).
Step 2: Set your display settings
Instruct your operating system how to manage multiple monitors. In Windows that means navigating to your desktop, selecting display settings, and choosing your preferred display arrangement. If you want your displays to function as one continuous screen, you'll need to select extend these displays.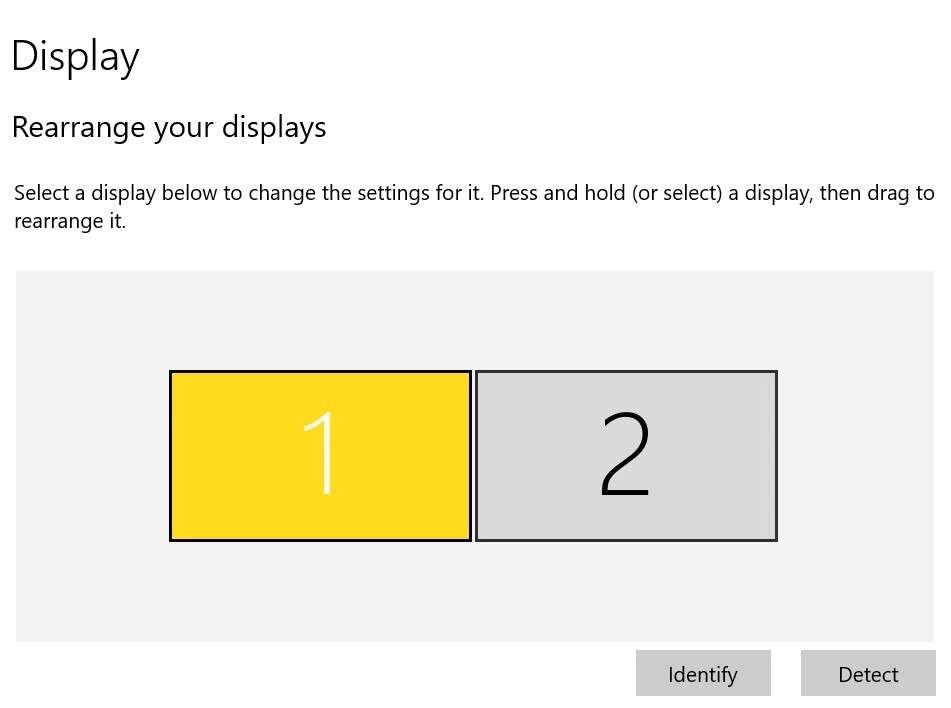 Screenshot
Step 3: Order your monitors
Select which monitor you want on the left and which you want on the right to avoid any complications when scrolling across screens with your mouse. You can do this by dragging the screen icons accordingly. If you get your monitors in a jumble your mouse will not work intuitively.
Make sure whichever screen you have to the left is identified as screen 1 and whichever screen you have placed to the right is identified as screen two. If, at a later date, you choose to switch around your desk set up, make sure you recalibrate your monitors accordingly.
Step 4: Set the resolution
You're almost there. It's time to set the screen resolution. Select on the numbered screen you wish to adjust and click advanced display settings at the bottom of the dialogue box. Drop down to resolution and set your desired screen resolution according to your personal preferences.
Step 5: Set the display style
Now set your display style. Do you want your secondary monitor to mirror your primary monitor, do you want to expand your desktop across each monitor, or do you want to temporarily disable one of your monitors? Simply select the monitor you wish to adjust and select your chosen option.
Step 6: Position
Last but not least, think about positioning. Most people will want their mouse to scroll left to right across your monitors. In this case, make sure that monitor 1 is on the left and monitor 2 is on the right. Once again you can do this by dragging the numbered monitors on the display screen.
How to optimize your dual monitor setup
You're ready to go. See how easy it is?
Now that your dual monitor setup is ready to use, it's time to start experimenting and getting used to the new arrangement. Needless to say, you'll start enjoying the benefits right away. But don't stop there. If you want to get even more out of your work setup then take a look at these top tips.
Here's how you can optimize your dual monitor setup for optimum efficiency and enjoyment.
Make the displays match
If you have two identical monitors, then they will automatically sync. However, if you're using two different monitors you will need to make some adjustments if you want the displays to match.
Extend your taskbar
Your Windows taskbar will automatically extend across multiple monitors. However, you may want another arrangement. In taskbar settings you'll be able to choose from a selection of display designs, remove the taskbar from your secondary display, adjust individual icons and labeling.
Enhance the aesthetics
This one is just a little extra. If you want your dual monitor setup to be as aesthetically pleasing as possible then listen up. Did you know that there are multi-monitor wallpaper options online? Find yourself an epic, super-wide wallpaper and impress everyone that passes by.
Get to grips with shortcuts
Here's a more practical suggestion. Chances are, if you're using multiple monitors, then you're going to want to have multiple windows open at once. Instead of dragging your screens every which way, you can dock each window to the edge of the display.
Monitor up
So, there we have it. Once you know how to hook up dual monitors there's no going back. Working becomes so much easier and more enjoyable. Gaming becomes that bit more immersive and interactive. Are multiple monitors worth it? Absolutely, they are.
Having a second, third, or fourth monitor is great for efficiency, focus, and all-around experience. Whether you're working hard at home, in the office, or just happen to be a self-proclaimed game-o-holic (or both – work hard, play hard and all that) it's time to monitor it!
This is definitely a time when two is better than one.
Shop Related Products