Browse NVIDIA Laptops | Shop Gaming Laptops & More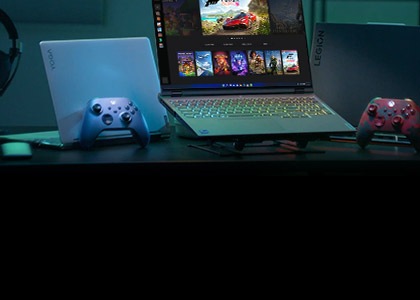 Laptops with NVIDIA GPUs
When you buy an NVIDIA® laptop -- that is, a laptop with a discrete NVIDIA graphics card -- you're getting a high-end system capable of rendering complex graphics quickly and smoothly. NVIDIA laptops may cost a bit more, but they are widely acclaimed for top performance, whether you're into competitive PC gaming, video content creation, or rendering immersive virtual reality (VR) environments.
Lenovo sells multiple laptops with NVIDIA graphics cards (more formally called graphics processing units or GPUs). In fact, this page is dedicated exclusively to NVIDIA laptops from Lenovo. You'll find NVIDIA graphics across our laptop lineup, from ThinkPad business systems to Legion gaming rigs, Yoga 2-in-1s and stylish IdeaPad models. We also offer NVIDIA graphics on our advanced mobile workstations.
Advantages of NVIDIA laptops
NVIDIA focuses on discrete or stand-alone graphics cards and is one of two major, intensely competitive GPU manufacturers. The other is AMD, which, unlike NVIDIA, also makes central processing units or CPUs, including so-called "integrated" CPUs that have their own, built-in graphics capabilities. Stand-alone GPUs (which AMD also makes) are generally considered superior to integrated graphics because they allow the CPU to focus on its main job of running the PC. They also have their own video memory and other features to create enhanced on-screen imagery.
NVIDIA is best known for its top-end graphics cards (with support for displays up to 4K resolution), although it has introduced more cards aimed at the broader consumer market in recent years. Its best known product lines are the highly popular NVIDIA GeForce® series and the more advanced NVIDIA Quadro® series, which is used mostly in powerful PC and laptop workstations. Within each line there are variations called GTX, based on the company's Pascal architecture, and RTX, based on the newer Turing architecture. Among other enhancements, the RTX variants add support for ray tracing, which is said to better simulate the way light rays really travel and can be influenced by the people and objects within each scene. Such capabilities are likely to play an increasing role in various graphics-intensive applications, especially when combined with compute methods that are involved in AI or deep learning.
The key advantage of a laptop with an NVIDIA GPU is that it will let you run more sophisticated, visually stimulating games and programs. The chip maker's GeForce Experience software analyzes your system components and recommends the best graphics settings for each game. For example, when playing a new action or racing game, a user might want to enable full-screen antialiasing and set the resolution to 1080p (1920 by 1080 pixels) and frame rate to high, for a faster-rendering frame rate. Newer games that are particularly graphics-intensive may require high resolution and frame rates of 60 fps or more. NVIDIA products come with a set of predefined profiles for each type of game in order to make the most out of your laptop's capabilities.
NVIDIA GPUs also enable you to render 3D objects in real time, whether they're simple shapes or highly detailed models, as well as animate complex graphics using shaders (specialized software instructions). They also support a wide range of video and audio formats.
Another popular feature to note is NVIDIA G-Sync®, an adaptive synchronization technology that helps the laptop display or external monitor match the specific, sometimes inconsistent frame output of your PC and software, such as a live-action game. G-Sync, which is similar to technologies from other GPU makers, helps reduce problems such as stuttering (when frames appear to repeat or be skipped) and tearing (when the frame shows parts of the previous or next frames or both).
Choosing The Right NVIDIA Graphics Card
When looking for an NVIDIA GPU laptop, there's a number of key specifications that one should aim to get. These include the size of the GPU (expressed in Watts), clock speed and memory bandwidth.
For example, you need to consider how much power your graphics card is using when viewing the max watts. The lower this is, the better your battery life will be. If you play games on low settings instead of high, it would make more sense to get a weaker card that uses less power with higher clock speeds (MHz). NVIDIA's latest technologies like Optimus and Battery Boost are designed to improve your laptop experience by managing these settings.
NVIDIA's Optimus Technology
NVIDIA Optimus technology can be a useful piece of technology for those looking to save battery life. As mentioned above, the less wattage being used by your GPU means that your battery will last longer before needing a recharge. This is because it switches from the integrated graphics card to the dedicated one as soon as you need to do some demanding work, allowing you to save power. This means that you can have a faster GPU for when you need it, but still be able to enjoy your laptop for longer.
NVIDIA Battery Boost Technology
This technology is designed to manage the settings on your laptop so that they are most efficient. When the battery reaches about 10% of its capacity, it will automatically up-scale your settings to improve the time you have left. This means that it will use less power, allowing you to save battery life when you need it most. It also automatically downscales settings on your laptop when the battery is full again so you can enjoy more demanding games or programs with high graphics without worrying about constantly recharging.
NVIDIA For Gaming
If you've heard of any NVIDIA gaming laptop, you're likely to be already familiar with the NVIDIA geforce laptop, NVIDIA quadro laptop and NVIDIA rtx laptop, which are just some of the revolutionary devices that have defined NVIDIA's capability in this realm. These computers are particularly noted for their ability to render games, being equipped with graphics cards that bring a particularly realistic experience. These computers are especially ideal for gaming, being designed with an emphasis on graphics.
NVIDIA has been keeping up with the needs of gamers during recent years by offering suitable GPUs for their graphic desires. The NVIDIA geforce gtx 1650 laptop, NVIDIA geforce gtx 1050 laptop and the NVIDIA geforce gtx 1660 ti laptop are all great examples of this. They have each had their run as state of the art graphics cards, and only allude to the ever developing and improving range of technology available from NVIDIA . With this diverse range of technology, the best NVIDIA graphics card for laptop will be different for everyone.
As with most pieces of technology, there are simple guidelines that can be followed to help you stay on top of your search. These include looking at the important hardware specifications such as the amount of RAM available and the graphics card.
The RAM will affect the laptop's ability to handle multiple tasks, meaning it is a great indicator of what you can expect from your device. Whether you're playing games or working on intensive graphics programs, you'll need enough RAM and a powerful graphics card to run them smoothly. The more RAM a computer has, the faster it can process information. This is particularly useful when playing graphically demanding games as it speeds up loading times and reduces stuttering.
A good NVIDIA external graphics card for laptops is especially important in games and other graphically heavy applications, allowing for more fluent gameplay without slowdowns. The graphics card has a huge impact on how well your laptop will play games, with the best NVIDIA laptop for gaming being that which has a powerful but cost effective GPU. When it comes to the performance of GPUs, the more powerful the card, the better. For a smoother gaming experience, look for a laptop with a GPU of at least 2GB if playing on medium settings and 4GB if you plan to play on high. A number lower than that might not be able to handle how demanding some games can be.
NVIDIA's specialty in visuals is so much more than just for gaming. While they do handle this realm particularly well, their ability to provide high quality graphics makes them a great choice when it comes to every other aspect of computing.
NVIDIA laptops from Lenovo
The great thing about shopping with Lenovo is that when you're looking for a particular feature, such as an NVIDIA GPU, you're not limited to just one or two laptop brands that have it. We build all kinds of laptops for different kinds of users.
You'll find NVIDIA graphics in each of these popular Lenovo laptop brands:
ThinkPad: The biggest name in laptops for business and home office.
IdeaPad Stylish, highly portable systems available at multiple price points.
Lenovo Legion: Portable gaming rigs with advanced processors and graphics.
Yoga: Versatile 2-in-1 laptop/tablet models that offer the best of both worlds.
Ready to shop for your new laptop? Every model on this page has an NVIDIA GPU. If you need great graphics, you're sure to find what you're looking for.