"At this time it is the best smart speaker with screen that you can buy."
- CNET. 2018, July 31
"… with its sharp display and screaming audio, this smart screen kills the entrance."
- Tech Radar. 2018, July 31
"It's hard to imagine a better screen/speaker combination than the Lenovo Smart Display."
- Wired. 2018, Aug 8th
"It's the elegant design and great sound that make it a clear recommendation."
- Android Central. 2018, July 26
Ok Google, show me avocado toast videos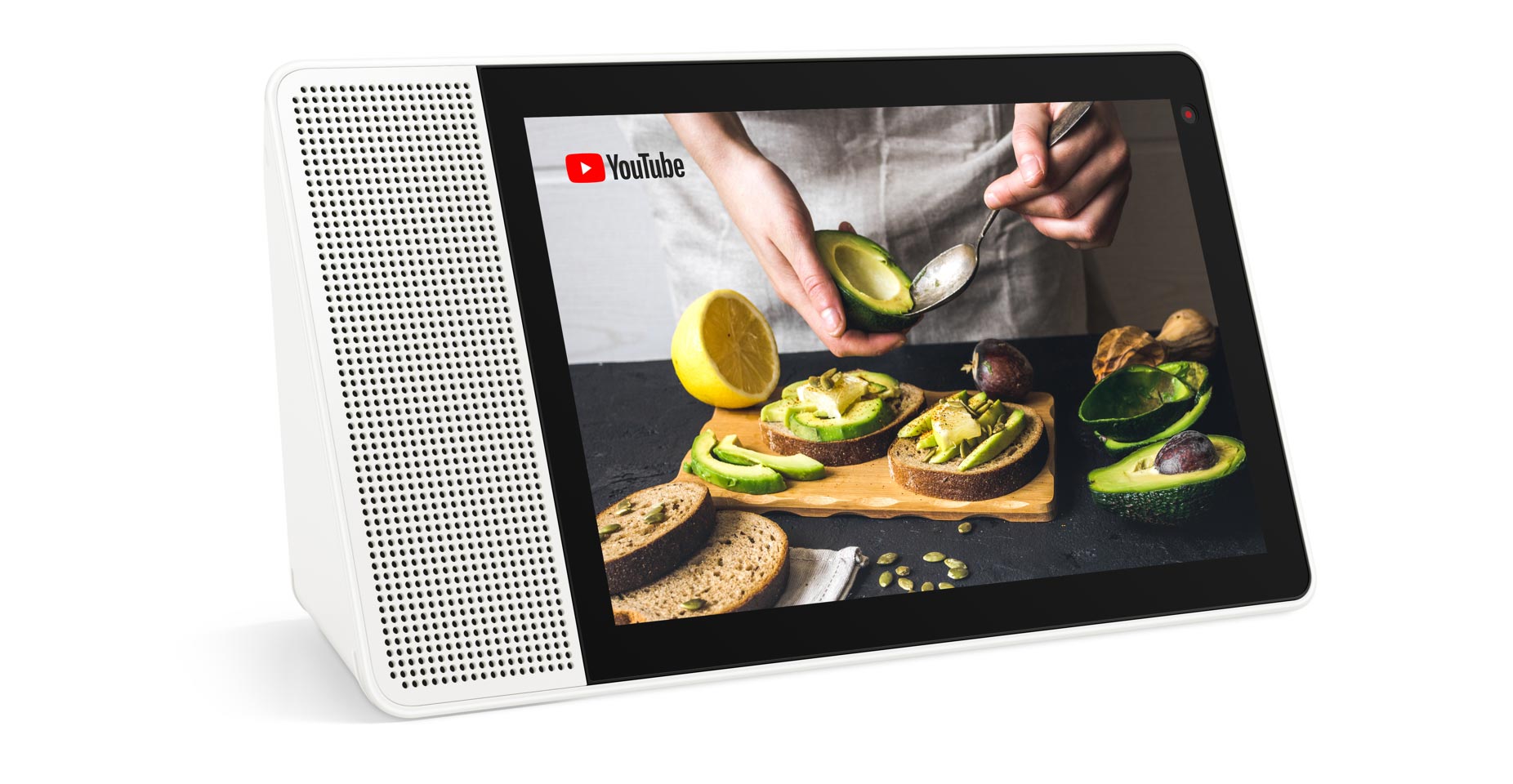 Ok Google, what's on my agenda today?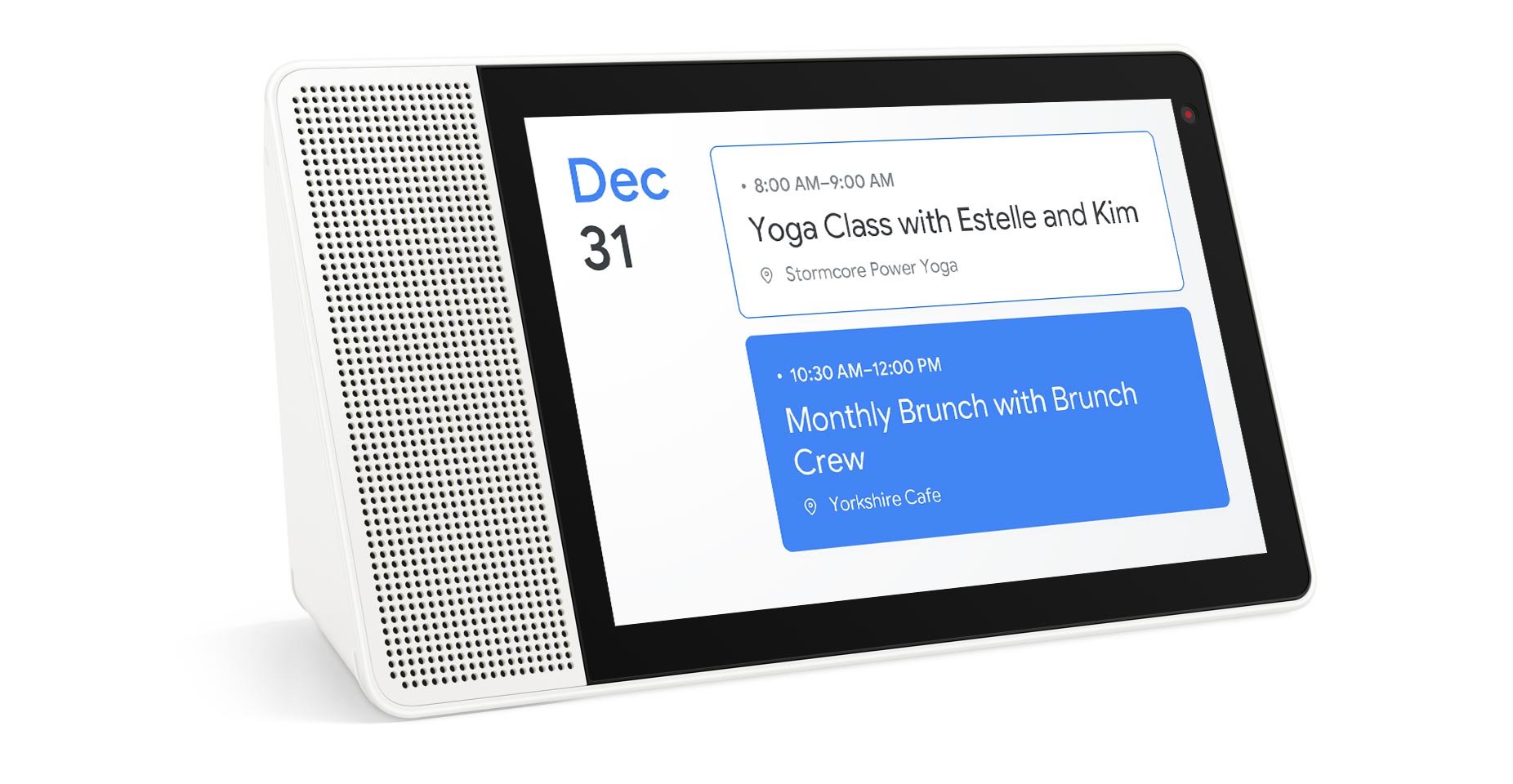 Ok Google, dim the kitchen lights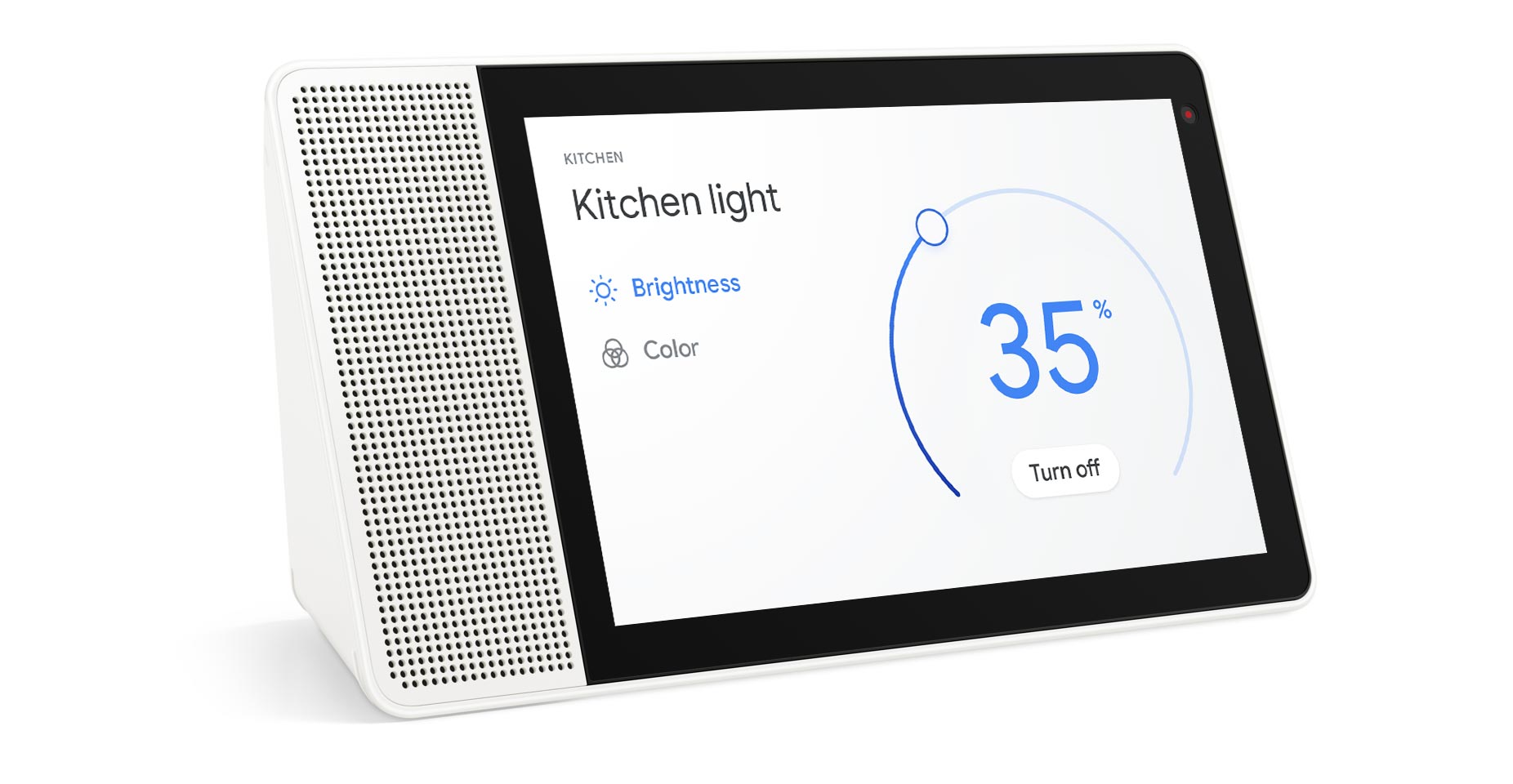 Seeing is better
The Lenovo Smart Display brings you the best of the Google Assistant with an enhanced visual experience. When you can see what you need, life gets a little easier. You can do more, like tackle a new recipe, watch YouTube videos, check the weather, or pull up your agenda. Just say "Ok Google" and you'll see.
Privacy Shutter
TrueBlock Privacy Shutter & microphone mute button to help safeguard your privacy.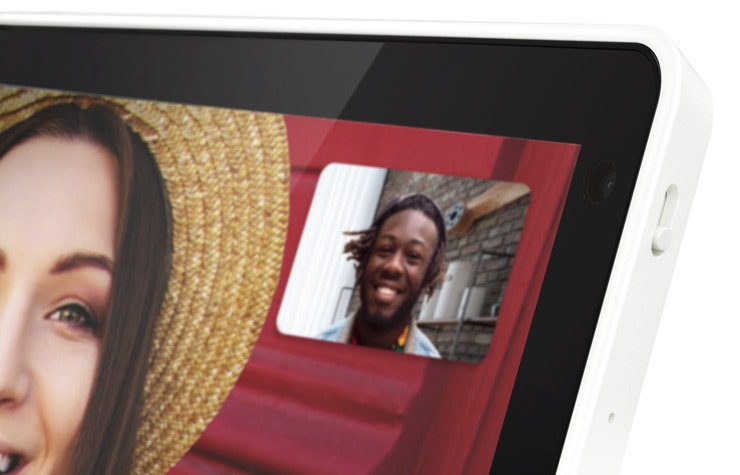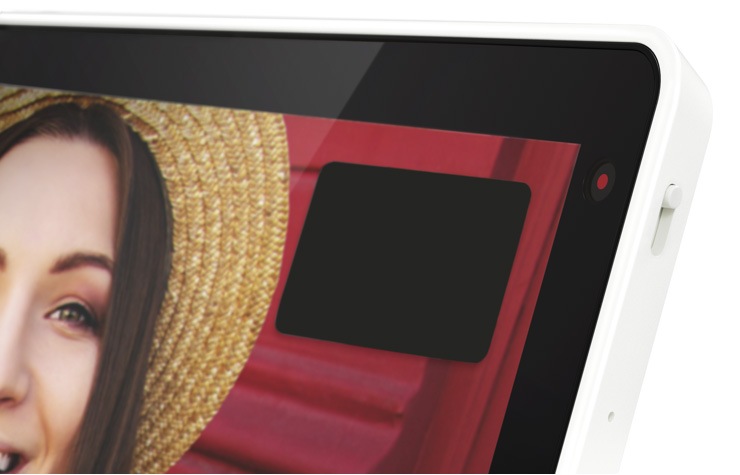 Powerful Speaker
Powerful 10W full-range speaker with dual passive radiator that expands the low end bass range. You can now enjoy clear, natural, balanced sound whether you're listening to your favorite playlist or communicating with loved ones.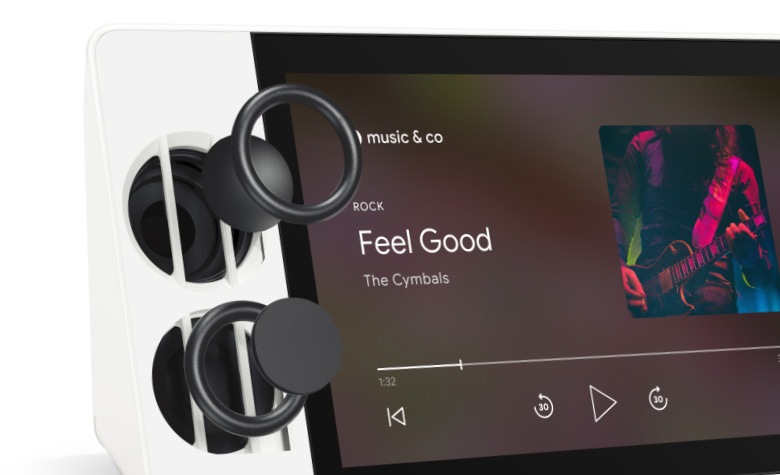 Display Tone
With the addition of display tone EQ* the display will be able to detect lighting conditions in the room and dynamically adjust the brightness and display tones accurately providing a more natural image. Your family holiday photos will look just like real photos when using the Lenovo Smart Display as a digital frame.
*available only on Lenovo Smart Display M10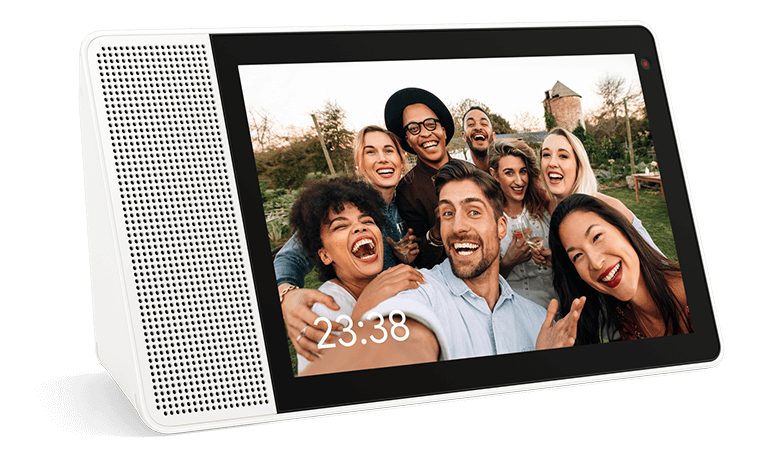 How to set it up
Take your Smart Display out of the box and plug in the power adapter.

Download the "Google Home" app on your phone/tablet, and sign in on your Google account.

The app will show you a new Lenovo Smart Display is nearby. Click to set it up and follow the instructions inside the application until the setup is completed.
FAQ
1. Is the screen a touch screen?

Yes. You can tap on the screen to select titles or pause music.

2. Is Lenovo Smart Display an Android tablet?

No.

3. Does the Lenovo Smart Display have a battery?

No. The Lenovo Smart Display is designed to always be on. It's powered-on by the included power adapter.

4. If it's always plugged in, how much electricity does it consume?

The Lenovo Smart Display 8" uses up to 6W when in use. The Lenovo Smart Display 10" uses up to 10W when in use. When not in use, the power consumption is 2.5W.

5. Can I shut the camera or microphone off when they are not in use?

Yes. There's a camera privacy shutter on the right side, and a mute switch on the top side of the Lenovo Smart Display.

6. Should I use it in landscape or portrait mode?

The Lenovo Smart Display is designed to work in landscape mode. However, portrait mode is supported for video calling only.

7. How far away can I speak to the Lenovo Smart Display?

Your Lenovo Smart Display should be able to hear you from across the room, which we estimate to be up to 8 meters distance.

8. Can the Lenovo Smart Display be used by multiple users in the house?

Yes it can. The Lenovo Smart Display can be linked to up to 6 accounts via the Google Home app on Android or iOS. When you have set up Voice Match in the app, it will be able to return customized answers to your queries based on your calendar, settings, preferences, and subscriptions.

9. Does the Lenovo Smart Display connect to other smart home devices/gadgets?

The Lenovo Smart Display works with more than 5000 smart home devices from more than 250 brands. It can control all gadgets featuring the "works with the Google Assistant" badge.

10. Does the Lenovo Smart Display have access to my Google services?

Yes it does. As of May 2018, the Google services supported by the Google Assistant are: YouTube, Google Play Music, Google Calendar, Google Maps, Google Duo, Google Photos, Google Express, Google Chromecast, Google Translate, and Google Search. To find all supported services and actions, visit assistant.google.com/explore.
For more technical support, please visit:www.support.lenovo.com
Specifications
Design

Width x Height:

173.87 mm x 311.37 mm

Thickness:

12.5 mm — 136.02 mm

Weight:

1.2 kg (2.6 lbs)

Color:

Grey, Bamboo (only available in AP regions)

I/O Buttons:

1 x Microphone-Mute, 1 x Camera Shutter, 1 x Volume +/-

Display

Size:

10.1"

Type:

IPS

Resolution:

HD (1280 x 800)

Screen:

Direct Bonding

Rotating View:

86° Wide Angle

Performance

Processor:

Qualcomm® Home Hub Platform (base​ Snapdragon™ 624, Octa-Core A53 1.8 GHz, 14 nm)​

Audio:

2" 10W Full Range Speaker​, 2 x Passive Tweeters

Microphone:

2 x 2 Dual Microphone Arrays

RAM:

Up to 2 GB

Flash (eMMC):

Up to 4 GB

Multimedia

Front Camera:

5 MP Wide Angle

Video Call:

720p

Connectivity

WLAN:

2 x 2 WiFi 802.11 ac, 2.4G/5G, MIMO

Bluetooth®:Bluetooth® 4.2 (LE)

What's In The Box

Lenovo Smart Display M10, Cable, Adapter, Quick Start Guide, Warranty Card