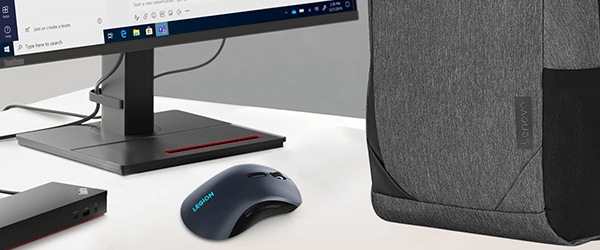 Get up to 70% OFF on Accessories!
Save big on the top rated docks, mice & keyboards, and everything you need to compliment your workspace. Get flat Cashback of 5%(Up to ₹3000).
Shop Now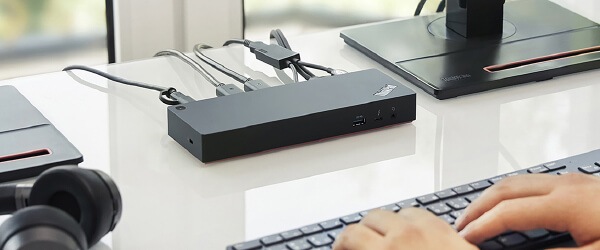 Special offer on ThinkPad Thunderbolt 4 WorkStation Dock - get never before price!
Shop now!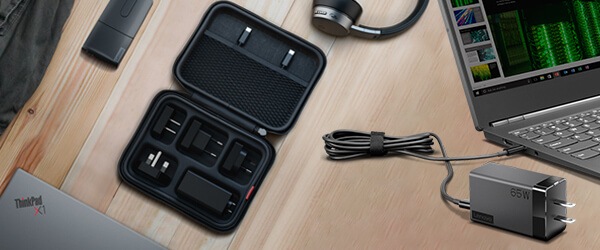 Buy genuine Lenovo adapters and charging products.
Shop travel accessories, find compatible items and find replacement batteries for all your Lenovo devices.
Shop Now
BLACK FRIDAY SALE

Lighting Deal

Adapters & chargers
Lenovo ComputerAccessories & Electronics
We believe we make the best computers on the planet. Even the best computers can be made better with the right PC accessories. It's all about outfitting your desktop or laptop with accessories customized to your specific needs. Whether you're looking for a robust speaker system or a rugged laptop backpack, we're proud to carry PC accessories that enhance your computing experience.
What are the must-have accessories for PC? Since no two people are exactly alike, we've developed a line of computer accessories and monitors that provide a virtually unlimited number of personalization options. With accessories like a USB mouse, wireless keyboard, external storage, and docking station — just to name a few — you can add the top tech accessories to dramatically improve your PC's capabilities and ease of use.
This year, we've expanded our online store with a huge selection of third-party accessories from respected brands — including Microsoft, Nest, Logitech, and TP-Link. Customer privacy is also a top concern, which is why we offer security products from top brands like Kensington and 3M. Whether you're shopping for smart devices to protect your home, or tech components to upgrade your PC, we carry third-party solutions for every lifestyle.
Gaming PC accessories If you're a gamer, you already know how important it is to find gaming accessories that match your style of play. That's why we developed Lenovo Legion — the best in PC gaming accessories. We offer fully backlit gaming keyboards (such as the Lenovo Wired Gaming Mechanical Keyboard), and a selection of gaming mice, so that you can dominate the battlefield.
Docking stations Even if you aren't a gamer, the right computer accessory can make a huge difference at home, the office, school, or on the road. We know that you're constantly on the move with your laptop. Having to repeatedly unplug and plug in power cables, external drives, and monitor cables is not only a pain, it's unnecessary wear and tear on your PC. Adding a docking station like the ThinkPad Dock to your setup eliminates these problems, and can even give your laptop a graphics performance boost.
Travel bags & power accessories Picking the right accessory for your PC isn't always about adding more hardware. For on-the-go road warriors, sometimes it's about finding a travel solution. We're so passionate about making it easy to carry your laptop, we offer over 30 styles of backpacks and briefcases to choose from. No matter the size of your laptop or your mode of travel, you can bring it with you in style. If you're always on the move, be sure to grab backup chargers and batteries.
Monitors & displays While most people don't think about displays as computer accessories, monitors are key components of your computing experience and should be chosen to match your specific needs. Whether you're looking for an inexpensive second screen for viewing multiple browser windows, a premium model with 4K QHD resolution for showing clients color-accurate renderings, or a monitor stand to mount your display, we have plenty of options.
Computer audio accessories There isn't a one-size-fits-all solution for audio accessories, because everyone has different needs. Looking for a pair of headphones that sound great on the go? How about a gaming headset that lets you talk trash with your friends? Get PC audio accessories that bring out sonic detail on a small or large scale. From tiny desktop speakers to fully fledged audio systems, we have audio solutions for every lifestyle.
Keyboards & mice Those who spend a lot of time on the computer for business or gaming understand the importance of a quality keyboard and mouse. If your keyboard doesn't feel good to type on, or your mouse doesn't track at an optimal speed, it can throw off your entire rhythm. Fortunately, we offer a wide variety of full-sized keyboards, mice, numeric keypads, TrackPoint caps, and more. Discover the keyboard/mouse combo that brings out the best in you.
Student accessories If you're heading to high school or college, there's nothing quite like a new backpack and school supplies. At Lenovo, we've tailored our student accessories to fit the needs of a young adult with homework. Whether you're in the market for a laptop backpack or a high-res monitor, we make Back to School shopping simple and easy. For those students who finished their assignments early, we've even snuck in a little gaming gear for after a long day on campus.
The right accessories to make the best PC even better A Lenovo computer is built to be the best. With the right accessories complementing your PC, you can fully realize its potential as a business, gaming, or everyday machine
Consumers Only: Lenovo.com sells and ships products to end-user customers only. Lenovo may cancel your order if we suspect you are purchasing products for resale.
Limits: Limit 5 per customer. Offers valid from Lenovo in the US only. Lenovo may increase or decrease these limits, from time to time, for certain offerings.
Ship date: Shipping times listed are estimates based on production time and product availability. An estimated ship date will be posted on our order status site after your order is placed. Ship dates do not include delivery times which will vary depending on the delivery method selected at checkout. Lenovo is not responsible for delays outside of our immediate control, including delays related to order processing, credit issues, inclement weather, or unexpected increase in demand. To obtain the latest information about the availability of a specific part number, please call the phone number listed in the masthead at the top of this page.
Same Day Shipping: Products ship within the same business day (excl. bank holidays and weekends) for orders which have been placed prior to 3pm ET and which are prepaid in full or payment approved. Limited quantities are available. Software and accessories will be shipped separately and may have a different estimated ship date. Same day shipping may not be available for some orders placed with Klarna and Zibby payment options.
Availability: Offers, prices, specifications and availability may change without notice. Lenovo will contact you and cancel your order if the product becomes unavailable or if there was a pricing or typographic error. Products advertised may be subject to limited availability, depending on inventory levels and demand. Lenovo strives to provide a reasonable quantity of products to accommodate estimated consumer demand.
General: Review key information provided by Microsoft that may apply to your system purchase, including details on Windows 10, Windows 8, Windows 7, and potential upgrades/downgrades. Lenovo makes no representation or warranty regarding third-party products or services.
Trademarks: IdeaPad, Lenovo, Lenovo Legion, ThinkPad, ThinkCentre, ThinkStation, Yoga, the Lenovo logo and the Lenovo Legion logo are trademarks or registered trademarks of Lenovo. Microsoft, Windows, Windows NT, and the Windows logo are trademarks of Microsoft Corporation. Ultrabook, Celeron, Celeron Inside, Core Inside, Intel, Intel Logo, Intel Atom, Intel Atom Inside, Intel Core, Intel Inside, Intel Inside Logo, Intel vPro, Itanium, Itanium Inside, Pentium, Pentium Inside, vPro Inside, Xeon, Xeon Phi, and Xeon Inside are trademarks of Intel Corporation or its subsidiaries in the U.S. and/or other countries. Other company, product or service names may be trademarks or service marks of others.
Warranty: For a copy of applicable warranties, write to: Lenovo Warranty Information, 1009 Think Place, Morrisville, NC, 27560. Lenovo makes no representation or warranty regarding third party products or services. The Lenovo Limited Warranty applies only to Lenovo hardware products purchased for your own use, and does not transfer upon resale.
Battery: These systems do not support batteries that are not genuine Lenovo-made or authorized. Systems will continue to boot, but may not charge unauthorized batteries. Attention: Lenovo has no responsibility for the performance or safety of unauthorized batteries, and provides no warranties for failures or damage arising out of their use. Battery life (and recharge times) will vary based on many factors, including system settings and usage.
Pricing: Does not include tax, shipping and handling, or recycling fees. Reseller prices may vary. Savings referenced off regular Lenovo web prices.