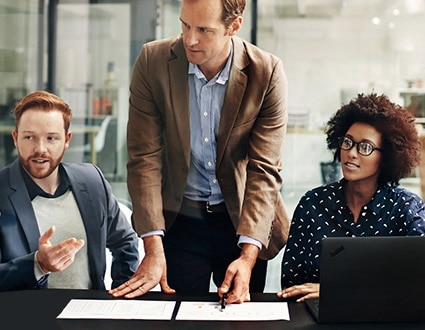 Build Your Own PC – that meets your needs and budget to make your business a success!
Get unique B2B prices, pay by invoice and get exclusive support from our Business Specialists. Join today!
Why join LenovoPRO?
Business Saving 24/7
Exclusive deals only for PROs
Save a minimum of 10% on all Motorola Phones
Your business, your solution
Find all products in LenovoPRO Store at net prices
Free Shipping
Free Shipping on every order over £50.00
Free returns on all products
Service benefits for your business
Get your questions answered by our SMB specialists Call (01256) 774 774
Configure your individual solutions and services directly online
Save on Services
Exclusive pricing on Warranty upgrades and get Premier Support Upgrades for £ 1.00
Early Access to Sales
Gain early access to Lenovo`s best sales
Unexpectedly large purchase - Pay by invoice with a 30-day payment term
Benefits grows as your business grows
All members start in the Pro tier

Pro Tier Pricing for all companies, no minimum spend

Unlock 5% minimum savings*

Plus Tier Pricing unlocks after £5,000 spend

Save more than the Pro tier (££)*

Earn Elite to get the best pricing

Elite Tier Pricing unlocks after £10,000 spend

Save more than the Plus tier (£££)*
*Tier minimum discounts do not apply in conjunction with other discounts or promotions. You always get the bigger discount.
LenovoPRO & InvoiceMe
Some purchases just can't wait. With InvoiceMe, they don't have to. LenovoPRO members enjoy an exclusive B2B discount as well as a 30-day payment term.
Join & save
In need of advice?
We are here for you.
Our skilled SMB consultants support you to find exactly the right IT solution at the best price. Contact our LenovoPRO SMB consultants via hotline (01256) 774 774 and chat Monday-Thursday 9am-5pm and Friday 9am-4pm.
Join now
Premier Support on Think Products
First class technical support. Top technicians. End-to-end case management. Faster first call resolution. And all this for £ 1.00, exclusively for LenovoPRO members!
Join now
"The LenovoPRO ""Price Match Guarantee"" ensures LenovoPRO customers always receive the best available price from Lenovo. Find a better price on lenovo.com within 2 weeks after your purchase in the LenovoPRO store and we will refund the price difference. Give us a call (01256) 774 774"
LenovoPRO Benefits
At LenovoPRO, we're always interested in doing business. Our membership programme helps businesses save money with preferential pricing on Lenovo products. So you can take advantage of the best deals on PCs and accessories around the clock. We also offer limited-time offers for LenovoPRO members. Whether you're investing in a new line of Lenovo business notebooks or looking for a better option for future spending, we have flexible solutions that grow with your business.
Pay by invoice
As a member of LenovoPRO, we offer you the convenience of paying for your purchase by invoice. Once you receive the goods, you have 30 days to pay the invoice. Register for free with LenovoPRO today and take advantage of this benefit. In the LenovoPRO Store, you have the option to register with InvoiceMe and within a few days you will receive a message if you are eligible to pay by invoice and with what credit limit.
Exclusive service upgrade offers for you as a LenovoPRO member
Providing the best service is close to our hearts. As a LenovoPRO member, we want you to continue to receive top service on your Think notebook after your purchase. As a LenovoPRO member, you'll receive exclusive discount pricing on our Premier Support on all Think products. Register for free with LenovoPRO today and configure your Think notebook with our world-class service in technical support from top technicians and end-to-end case management. Get a faster resolution on the first call.All for £ 1.00, exclusively for LenovoPRO members!
We are here for you
Our team of small and medium business specialists are always here for you when you have questions or need answers. LenovoPRO makes day-to-day business so much easier. You can reach us via chat or by phone on 01256 7747 74 from 10am to 7pm Monday to Thursday and 10am to 5pm on Friday.
Quickly keep track of your spending
PRO membership is designed around a single administrator account, allowing you to keep track of your business spend with just a few clicks. And when it's time to pay, you can save payment methods for employees so the payment process is seamless. Ultimately, we want to be a trusted partner for your business so you can focus on more important things than buying a computer.
PRO Membership
Join LenovoPRO for free and save up to an extra 5% off your very first purchase. No minimum purchase required. Our three membership tiers are designed to match your LenovoPRO Store sales.
PRO+ Membership
Once your annual spend exceeds £5,000 you will automatically be upgraded to our LenovoPRO Plus membership.LenovoPRO Plus members benefit from even better rates on business purchases.
PRO Elite Membership
Finally, if your business spends more than £10,000 a year, you're elite.LenovoPRO Elite members are entitled to the best business pricing across our entire product portfolio.
The best price, guaranteed
Whether you're upgrading your entire office or outfitting a new employee, LenovoPRO stands by its "Best Price Guarantee". Every PRO customer is guaranteed the best price available on Lenovo.com. If you find an exclusive price when shopping anywhere else on our Lenovo website, we promise to match it. The "Best Price Guarantee" is valid for 30 days from the date of your purchase from the LenovoPRO Store for that product.Ready to take your business to the next level? Sign up for PRO for free to get guaranteed best prices for business on Lenovo.com. Our small business specialists are just a call away - call 01256 7747 74 to find out more.
Helpful links on a range of topics to help your business