Telco and Network Functions Virtualization (NFV)
Transform your network end to end. Deploy networks faster, reduce costs, and scale endlessly with NFV.
A new kind of data infrastructure
With the upsurge of streaming, online communication, and smart products, scaling increasingly in-demand network bandwidth becomes more and more critical. You'll scale demands easily with NFV.
Features
As a global partner in the telco ecosystem, we're proud of our leading solutions - and excited to help your organization surpass its challenges.
Intel® Select Solutions
Intel® Select Solutions are workload-optimized infrastructure solutions that simplify and accelerate a service provider's selection and deployment of the hardware and software needed to support 5G and IoT. This solution is optimized specifically for packet processing, encryption, and compression-based NFV workloads.
Constant optimization
We actively participate in worldwide interoperability events to test with best in class Virtual Network Function (VNF) suppliers like Fortinet, A10 Networks, WiZR to provide robust network backbones. We also integrate, test and fine-tune our solutions to deliver exceptional VNF performance.
Reference architecture
Our reference architectures illustrate design considerations for a typical implementation. Your specific needs may require assistance from our expert consultants and technicians.
Products
Our leading servers are an integral part of our NFV solutions.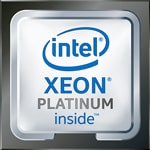 ThinkSystem servers powered by Intel® Xeon® Scalable processors
Lenovo ThinkSystem SR650
Combining performance and flexibility, the SR650 server is a great choice for CoSPs of any size. It can provide outstanding uptime to keep virtual network functions and cloud deployments running safely.
Lenovo ThinkSystem SR630
The ease of use and comprehensive systems management tools enhances CoSP's ability to quickly and easily deploy new services. With outstanding reliability, availability, and serviceability (RAS) and high-efficiency design, the Lenovo ThinkSystem SR630 can help operators improve service agility and reduce operational costs.
Services
Your needs are specific, and our expert consultants and technicians can meet them with their extensive industry experience and deep technical knowledge