Lenovo Sustainability
Water, Waste, & Other Emissions
Our Approach
Among our key environmental management objectives, we aim to use less of the planet's scarce resources by minimizing water withdrawal and waste generation, while maximizing the reuse and recycling of materials.
Our focus is on:
Improving water efficiency, reducing waste generation, and increasing reuse and recycling
Increasing our understanding of water- and waste-related risks
Being transparent about our water and waste performance levels
Water
All water used at Lenovo is related to human consumption and sanitation. We do not have any wet processes in our manufacturing or research and development operations, and therefore do not set any internal global water reduction targets.
However, some of our facilities have established water-related goals. We also set operational control water targets for global water withdrawal and global wastewater generation. Lenovo has its water withdrawal and wastewater discharge data third-party verified.
Lenovo's Water Inventory (m³)

Note:
Water data includes manufacturing, research & development sites and some large offices.
Lenovo started to verify waste and water data in FY 2011/12. Beginning in FY 2015/16, IBM's System X Server and Motorola Mobility data is included in water data.
Lenovo's manufacturing and product development operations do not have any wet processes. Since Lenovo withdraws water only from municipal sources and only for human support, we have minimal impact on local water resources. As such, there are minimal opportunities to reuse and recycle water, but this metric is tracked. We do, however, identify and implement opportunities to reduce and recycle the amount of water we consume.
Detailed in the chart above is water withdrawal at Lenovo's manufacturing and R&D facilities and select large office locations over the past ten years. Lenovo does not engage in any intentional discharge of wastewater other than into municipal wastewater disposal systems. There were no significant accidental releases of wastewater, fuel, chemicals or other potentially harmful substances at Lenovo facilities during the fiscal year. Click here to see the FY 2018/19 Water Verification Statement.
Product Water Footprint
Lenovo recognizes the importance of water withdrawal in our own operations and our supply chain. In addition to the metrics we collect on water withdrawal in Lenovo's operations described above, we conducted a pilot product water footprint evaluation for a Lenovo desktop product.
The pilot evaluation done on a ThinkCentre X1 showed that the most significant impacts to water consumption during the lifecycle were related to components of the mainboard production, the display production, the assembly phase, and the use phase of the product.
Next steps will be to look at how we can innovate and improve on the mainboard and display manufacturing and assembly processes, as well as making improvements to energy management during the use phase, in order to have the biggest impact on reducing the product water footprint.
For details on the assessment, please see the full Product Water Footprint Report Declaration.
Waste
One of Lenovo's primary environmental objectives for operational facilities involves minimizing solid waste and maximizing recycling and reuse. Lenovo manufacturing and R&D facilities, and some large office locations worldwide, achieved a reuse/recycling rate of 87.6 percent during FY 2018/19. Detailed below is the generation of solid waste during the last ten fiscal years and disposition of solid waste in FY 2018/19 from these facilities.
Lenovo's waste inventory is shown below. Our nonhazardous and hazardous waste data is third-party verified.
Lenovo's Waste Inventory (metric tons)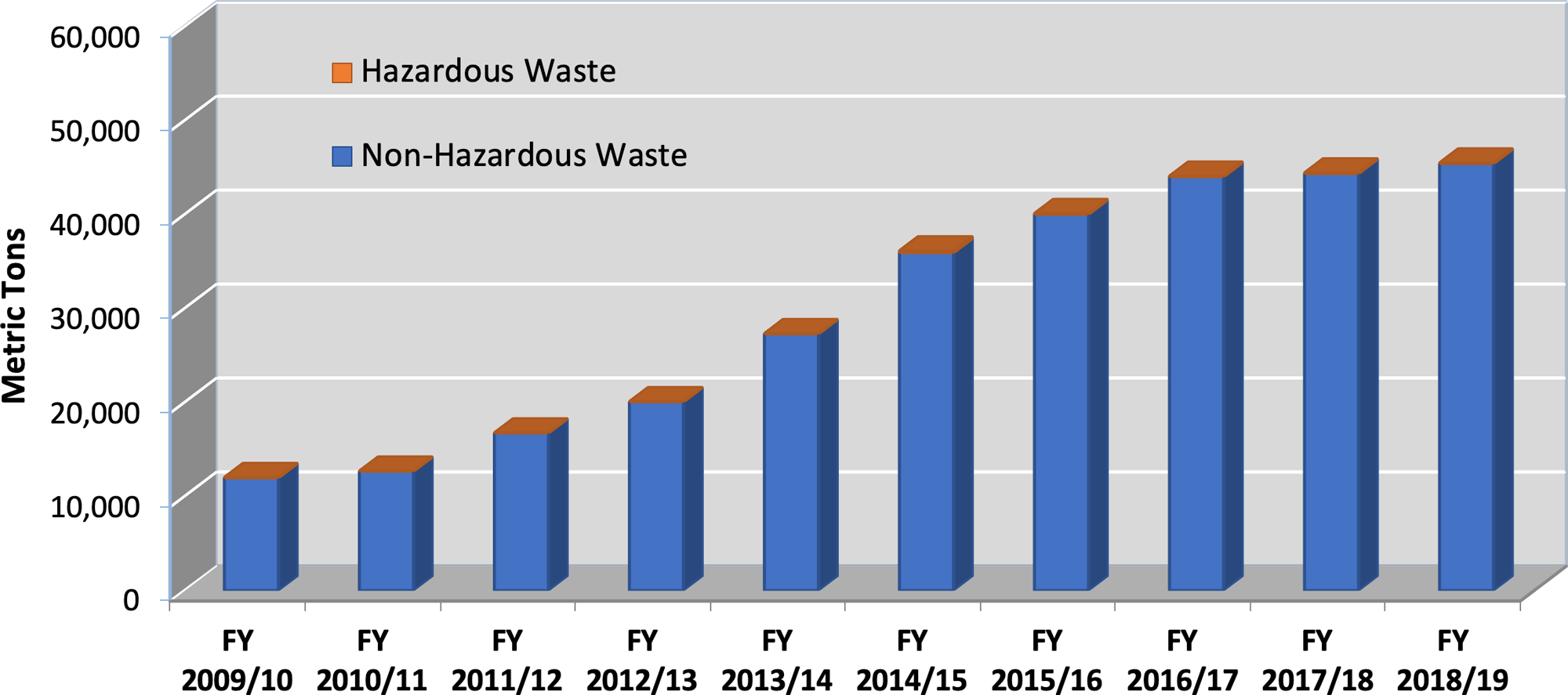 Notes:
Waste data includes site waste from manufacturing, research, and development sites, including some large office locations.
Our fiscal year is from April 1 through March 31. Since, FY 2015/16, System x and Motorola Mobility data are included in our waste data
Other Emissions
Lenovo prohibits the use of ozone-depleting substances in our products and manufacturing processes except in HVAC and fire-suppression equipment as permitted by law. Ozone-depleting substances used in HVAC and fire-suppression equipment are managed in accordance with local regulations, and intentional releases are prohibited.
Lenovo does not have significant direct air emissions such as NOx and SOx. In addition, Lenovo has no wet chemical or industrial processes that use volatile organic compounds (VOC) and thus has no point sources of VOC. Household and cleaning products that contain small quantities of VOC are used at some of our facilities, but associated fugitive emissions are minimal and are not quantified.