Q&A with LSN Participants from Enloe HS in Raleigh, NC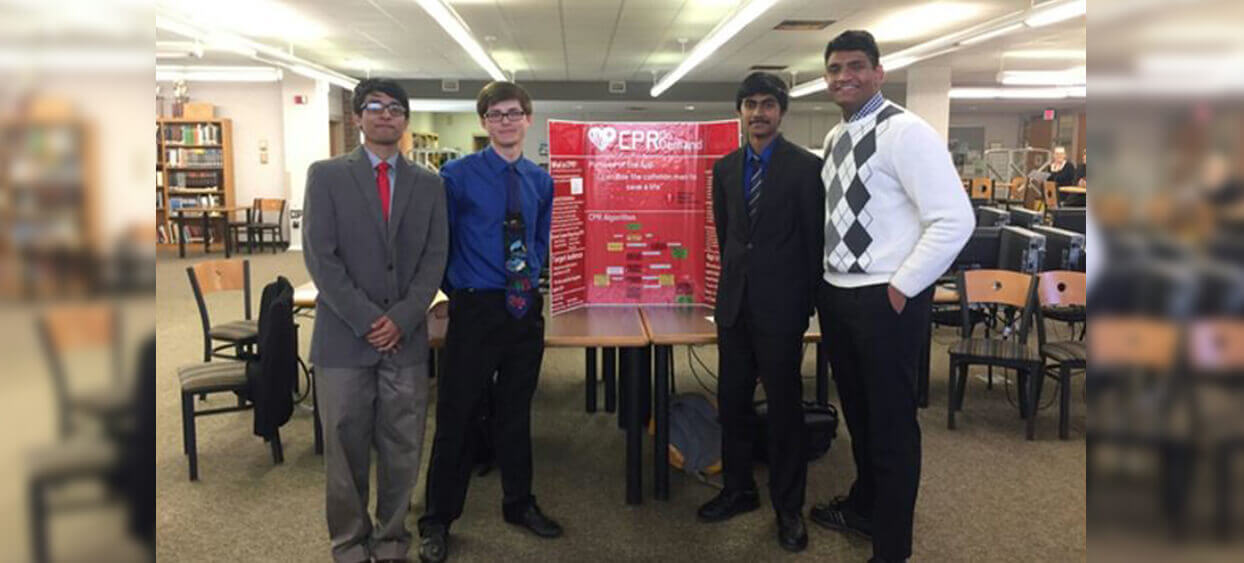 Justin Miller, Arvind Rajan, Vedatman Soham Basu, and Guna Yarramareddy sat down with us to discuss the app they created for LSN's recent Mobile App Competition.
Q. Why did you create this app?
In both our Anatomy & Physiology class and our Career Exploration class, we learned the significance of administering Basic Life Support (BLS) within the first few minutes of an unexpected cardiac and/or respiratory event. According to the American Heart Association, in the U.S. 90 percent of cardiac-arrest events that happen outside of a hospital end in death. Our app, CPRonDemand, aims to decrease this statistic by guiding a lay responder through CPR in an emergency situation, utilizing a simple user interface (UI) and concise voice prompts. While CPR by itself cannot always save a life, it can double or even triple a person's chances of survival. Even if one person's life is saved using CPRonDemand, the app will have been a complete success.
Q. What are some challenges you encountered while developing the app? How did you overcome them?
When we first began developing this app, we wondered if a person using CPRonDemand was protected legally from being sued or incriminated for performing CPR. We researched and found that under the Samaritan's Law a person is entitled to perform reasonable first aid in the case of a sudden health issue. Regarding the app itself, we faced quite a few obstacles in its development. None of our team members had much experience in programming, but through trial and error, countless YouTube videos, and guidance from our advisors, we put together our preliminary app. We shared the initial app with our advisors, Ms. Deborah Massengill and Ms. Jennifer Ogren, and integrated their feedback and critiques to create the final version. In addition, we had to make sure our CPR algorithm followed the most up-to- date process of CPR passed by the American Heart Association. We also had the app tested by a former child respiratory nurse.
Q. What are some benefits you gained by participating in the mobile app program?
The development of teamwork and collaboration skills has been an enormous benefit to all of us through the mobile app program. As we pursue our own careers in the medical field, teamwork is extremely essential to all types of medical care. The majority of medical professions require interactions between a team of medical workers. Our interactions with Lenovo and NAF representatives during our Launch Day, the app judging, and our app lunch with Karen Ondrick, a Lenovo Scholar Network representative, were extremely beneficial to the development of our apps and ultimately the development of our own individual skills and talents that will be of use in the professional world.
Q. What are the biggest takeaways you received from participating in the Lenovo Scholar Network?
If anyone had told us a year ago that we would develop an app that would receive national accreditation, we definitely wouldn't have believed them. The biggest concept that we will take away from the LSN App Challenge is that no matter how big an idea is, if you come together and work hard, anything is achievable. The idea that a couple of 16- and 17-year- olds could come together and create an app that has the capability to save someone's life is astounding, and highlights what the Lenovo Scholar Network is all about: enabling high school students to develop their own career path and be positive contributors to society.
Q. How has your STEM education and involvement in the Lenovo Scholar Network impacted your career aspirations? What do you aspire to pursue?
Our group had already been very involved within our Academy of Health Sciences. NAF set up a very
interesting curriculum for us to follow, teaching us the technical and overlooked sides of health care. We entered the program with an interest in the medical field, and we only had that interest increase alongside the practical knowledge needed to enter the healthcare workforce. Interestingly, knowledge in mobile development is becoming more relevant to all fields, specifically medicine, and this trend will only continue to grow in the future. Through the Lenovo Scholar Network, we had the opportunity to gain access to this knowledge, better preparing us for the future. Thanks to our teachers and the experiences offered through the academy, each one of us began to determine our individual path in the STEM field: heart surgeon, neurosurgeon, OBGYN, and pediatrician. The
additional support that the Lenovo Scholar Network gave us helped connect our textual knowledge and achievement and apply it to the real world, while teaching us to remain open to all career options as potential gateways for success.
Q. Anything else we should know?
We would like to express our gratitude towards Lenovo and NAF for this opportunity and the resources that they provide for us, whether it be technology, connections to internships, the mobile app competition, or any of the countless other activities and events that Lenovo and NAF enable us to participate in. Without Lenovo and NAF's involvement in our academy and many others across the nation, we wouldn't be able to develop our career paths and education at the high level that they are now. We would like everyone to know how thankful we are for Lenovo's and NAF's involvement in our academy and hope that NAF will continue to expand and impact even more academies across the nation.