RENATA STONE: From Cubicle
to Craftsman
If you were given the opportunity to chase your dream, would you take it? That's the question Renata Stone, Founder and Owner of Knottery Fiber Art, asked herself two years ago. And since that day, she's never looked back.
ThinkPad X1 Yoga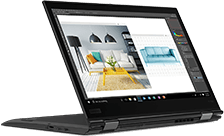 VIEW OR CUSTOMIZE
Before opening her own business, Renata worked in a corporate environment, a cubicle, the typical nine to five. Until, the unexpected, unplannable, unthinkable happened. She was laid off—along with her entire department. She gathered her things, she went home, and she let the feeling sink in. Her familiar, dependable, stable job was gone. But in its place was a world of opportunity.
"Putting yourself out there and failing? That would feel way worse than getting laid off. If you fail and it's personal, the stakes are a lot higher, because everything you make is you. So, the failures are amplified, but so are the successes."
In her free time, Stone had explored her artistic passions, from creating woven textiles to photography, manning a photo booth, to everything in-between. And, without a day job tying her down, she was free to follow her passion, and to dive into creating.
"I've always worked for a corporate organization. And on the side, I always pursued creative stuff. After I got laid off, I kind of did a life check. My husband and I talked about everything, and he said, "When are you ever going to have this opportunity again where you can start something of your own? You have to do this."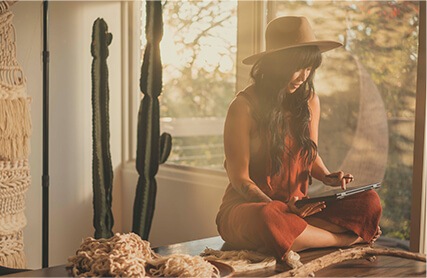 And from that conversation, Knottery Fiber Arts was born. But that decision didn't come easily. "To be honest, I was terrified. I'm a low risk personality, and I was very hesitant. If I didn't have my husband pushing me, and helping me, I wouldn't have been able to do it. Day one, when I decided yes, I want to do this. He set up all my accounts, a business plan, all the financial planning. He structured this nebulous thing and made it do-able."
A Better Balance
Setting out on her own meant establishing her own rules and her own boundaries. And, after time spent in a hyper-competitive, hyper-demanding, time-consuming environment, Stone was ready for something different. She was ready to create a life that worked for her schedule, her family, and her new business.
"Work-life balance is really important to me, too. And that's something I pay attention to, I'm not trying to work more than I was when I was in a corporate role. I think that's a problem with a lot of Small Business Owners, they throw sixty plus hours a week into their businesses, and I'm not that person. I try to really strike a balance. It's part of what I love about being a Small Business Owner, the flexibility to work more or less, to have my work life, and my personal life. If I want to take time off, or do something new, I can, and you have no one to answer to but yourself, and that's really amazing. I love the freedom of being able to dictate the way I work."
"Being a Small Business Owner means a lot of things. It's a lot of stress, a lot of heartache, but it's so, so rewarding."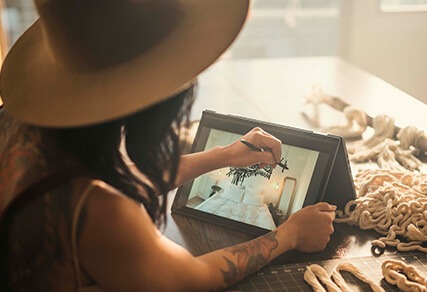 And, for someone like Stone, a flexible business model is essential. Renata's business takes her all across the Western US, searching for inspiration, making time to travel with her husband. But that doesn't mean she can afford time off. And a flexible business means she needs flexible tools to help her get the job done, whether that's Skyping with clients, sketching on the go, or being able to take photographs with ease.
"Taking the leap to open my own business was a huge step. I work, live, and travel around the states, and, in order for my business to succeed, I knew I'd need tools and resources that could help me run my business anytime, anywhere. And that's where Lenovo came in. My company is all online, and that means my device is my business. My laptop helps me manage my online store, track orders, commission pieces, run social media, and promote my company. Having a portable and powerful device means it's easier to get more done, from ordering materials, while managing orders, to uploading photos and editing my website. With Lenovo, I can spend my time focused on my craft instead of the tech, and that makes a difference."
The Pursuit of Passion
When it comes to her business, having the right tech on her side isn't the only thing that makes a difference. Because, for Renata, her biggest difference maker is herself.
"The thing that makes the biggest difference in my business is passion. It's the only reason I create. It's the only reason I ever started to make or do things in an artistic capacity, because I just had this innate urge to make things, to do things with my hands. And having the ability to do something that has no boundaries is incredibly powerful."
Renata took a challenge and turned it into opportunity, a life changing opportunity. Now, instead of working for someone else's dream, she works to build her own, on her own time, in a way that lets her control her life. And for Stone, that opportunity to chase her dream, is what being a Difference Maker is all about.
"I'm a huge proponent of chasing your dreams. The one thing I caution is that being a Small Business Owner is not less work. It's more work. You're not doing a job where you get paid on a regular basis, but it's amazing and I wouldn't trade it for the world." This is Renata Stone. And this is her Difference Maker story.
Renata's Favorite Products & Services
When time is money, speed is everything.
Make multitasking look effortless with new 8th gen Intel® Core™ i7 processor-based PCs.
Intel. The power to get more done.
Ultrabook, Celeron, Celeron Inside, Core Inside, Intel, Intel Logo, Intel Atom, Intel Atom Inside, Intel Core, Intel Inside, Intel Inside Logo, Intel vPro, Itanium, Itanium Inside, Pentium, Pentium Inside, vPro Inside, Xeon, Xeon Phi, and Xeon Inside are trademarks of Intel Corporation or its subsidiaries in the U.S. and/or other countries.