MOUDI SBEITY: FROM HUMMUS TO HERITAGE
Laziz. Arabic for tasty, enjoyable, and lighthearted. A fitting word for a restaurant built on the taste of home, the flavor of heritage, and a culture of inclusivity. But the story of Laziz Kitchen—and its owner, Moudi Sbeity—doesn't begin with a name, or a restaurant. It begins with a place. It begins with Lebanon.
Moudi Sbeity was born in Houston. But Houston wasn't home. Instead, he was raised in Lebanon, surrounded by family and friends, history and heritage. But, in 2006, Sbeity had to leave his place of customs and culture behind. War—between Israel and Lebanon—had broken out. Along with other US citizens, Sbeity was evacuated, taking shelter in the US embassy before returning to the country of his birth, a country he now calls home.
Eighteen and war torn, Sbeity was afraid. But in addition to fear, he was excited. Because America presented opportunities he had not yet been afforded. As a gay man, America held possibilities that Lebanon did not. And amidst his fear, there was hope.
ThinkPad T480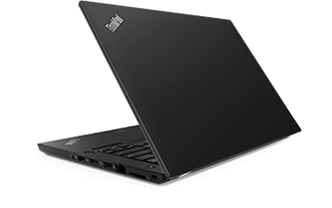 VIEW OR CUSTOMIZE
Collegiate to Cook
After settling into his new home in the States, Sbeity enrolled in college, and began pursuing a degree in economics along with philosophy. And, as he acclimated to his new home and his classes, he met someone special, a man he would marry, and who would help pursue and chase his dreams, Derek Kitchen.
Soon after college, Sbeity and Kitchen moved to Salt Lake City, where Sbeity began pursuing a master's degree in economics, resigned to a life of sifting through data sets and running analyses. But, in his free time between classes, Sbeity began experimenting with a new way to express himself. He began to cook, experimenting with different recipes and techniques in the kitchen. Drawn back to his heritage, and to memories of his mother, he began to make hummus, a dish that represented more than home, a dish that was a rite of passage.
Soon, Sbeity and Kitchen began selling their hummus to friends, professors, and colleagues. And his business grew from farmers markets to local super markets, until there was a clamoring of demand. As their hummus took off, Sbeity and Kitchen began teaching local cooking classes, sharing Sbeity's heritage, his passion, and his talent for food with the community.
But, even with their hummus filling stores and flying off the shelves, the community wanted more. More of Sbeity's talents, his heritage, and his food. With only one semester left in graduate school, Sbeity decided to put academia on pause, and pursue the path in front of him. It was time for a restaurant.
Community Table
With the intent to open a restaurant weighing on his shoulders, the next step was to find space. Because Sbeity and Kitchen were newcomers to the restaurant scene, securing a location, and funding was going to be difficult, if not impossible. The banks turned him away, saying restaurants were too risky. And without the capital, his dream was at risk of collapse. But, with a community clamoring behind him, the opportunity to open the restaurant of his dreams soon presented itself.
"When I think of Laziz it's more than just a restaurant for me, I mean, our staff here is truly like a giant family. There's a sense of kinship and I really thrive on that."
With the help of local developers, and loans from members within the community, Sbeity and Kitchen were able to bring their vision to life, and introduce Laziz Kitchen, a modern Lebanese restaurant concept, to the world. With the help of an experienced general manager, Sbeity began to bring his concept to life, curating a space that would serve as restaurant and gathering place, while offering the community a way to access authentic Lebanese and Middle Eastern flavors with a twist.
And, staying true to his community commitment, Sbeity took a different approach to hiring. Instead of hiring only experienced cooks and staff, Sbeity opened his doors to refugees, hiring and training them, and providing them with the skills they'd need for a career in the restaurant industry. When asked why he chose this approach, Sbeity said, "it seems like a natural thing, to hire people from the part of the region we cook from. And to be able to provide jobs, a familiar place to work, a stable income, to help others acclimate to the states, that was the type of environment I wanted for Laziz. And today, if the opportunity presents itself, to hire someone, an immigrant or a refugee, and train them, we always take that opportunity." Because, for Sbeity, Laziz has always been about the community, and not just his dream. After all, he opened Laziz in response to community desire, and for Sbeity, the biggest difference he could make on his community, is to give back, through his food and his business practices.

Counter Culture
Today, Sbeity runs a successful business, hopping in where he's needed, whether that be in the kitchen or the front of house, running tables, seating guests, and handling business practices. But his business wouldn't be possible without a little assistance from technology. In addition to his kitchen and front of house staff, Sbeity relies on his devices to keep his business running, from keeping him organized, to managing inventory, to expenses, and payroll. And, in a kitchen environment, devices that can withstand drops and spills, food and the occasional fire, are a necessity. That's why Sbeity relies on Lenovo to help keep his business running, that way he can focus on what he really loves, cooking and sharing his culture with the community.
"My culture is so much more than just one dish or recipe, and I wanted to share that entire lineage of flavors with people here in the States."
And, with the success of his business, the future of Laziz Kitchen is looking bright, with thoughts of expansion on the near horizon. Today, Laziz Kitchen serves as a hub of culture and community, connecting patrons with each other, with the Middle East, and with a new taste of home. And for Sbeity, a united community, building a new heritage and culture together, makes a difference. This is Moudi Sbeity, and this is his Difference Maker story.
Moudi's Favorite Products & Services
When time is money, speed is everything.
Make multitasking look effortless with new 8th gen Intel® Core™ i7 processor-based PCs.
Intel. The power to get more done.
Ultrabook, Celeron, Celeron Inside, Core Inside, Intel, Intel Logo, Intel Atom, Intel Atom Inside, Intel Core, Intel Inside, Intel Inside Logo, Intel vPro, Itanium, Itanium Inside, Pentium, Pentium Inside, vPro Inside, Xeon, Xeon Phi, and Xeon Inside are trademarks of Intel Corporation or its subsidiaries in the U.S. and/or other countries.