GAMING LAPTOP & PC DEALS ARE COMING!
Nov. 26 - Dec. 1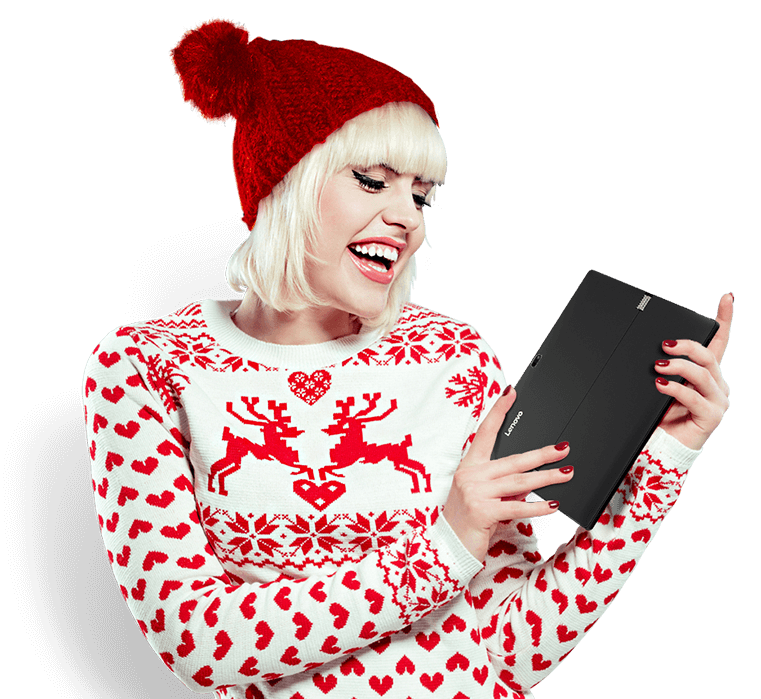 Cyber Monday PC Gaming Deals 2020
Save hundreds a new Lenovo gaming rig
Gaming can be an expensive hobby. Unfortunately, not everyone is able to make $10,000 an hour as a Twitch streamer. However, you can still school the competition with Lenovo's gaming computer & laptop deals for Cyber Monday 2020. Lenovo Gaming has everything you need on your wish list, and we've handpicked some of our favorite gaming PCs to create the best deals that simply don't exist during the rest of the year.
What do you need most in a gaming PC?
When you're buying a gaming laptop on a budget, you have to make compromises. Some gamers are okay with a smaller screen, as long as they have the best graphics possible. Others want their computer to boast the best specs, but are fine with a larger laptop or even a gaming desktop. You'll need to consider the graphics, processor, RAM, storage, display size and resolution, and battery life. For some gamers, accessories like your mouse and keyboard can make as much difference as the screen size. Fortunately, we have a wide selection of gaming keyboards and mice available, too.
If you're going to play, then play to win. That's why we created the Lenovo Legion line of gaming computers – because we love to game, too. Inside every Lenovo Legion gaming PC, we've packed the kind of components that shave precious milliseconds off of response times. This means more victories for you, and more humbling defeats for your opponents. For VR gaming, every Lenovo Legion gaming computer is Oculus-certified and Dolby Atmos capable -- just plug in your compatible VR headset for a virtual gaming experience that looks and sounds like nothing else.
Gaming Laptop Deals
Lenovo Legion and IdeaPad Gaming laptops are designed to be sleek, modern, and truly catered for gamers. With customizable RGB lighting, macro keys, overlocking features and more, they're perfect for the intense gamer or the aspiring hobbyist. If you want to go even deeper, our pro-level laptop models are VR-ready and support virtual reality and augmented reality games. Keep an eye out for our gaming laptops under $1,000.
Gaming Computer Deals
For the easiest tool-free upgrades, look for tower-style PCs like our Legion T Series gaming computers. With design elements that make adding components a cinch, these desktop towers are ideal for the DIYer, high-performance gamer, or those who simply always crave more. We've built Lenovo Legion gaming desktops to give you an unfair advantage. We know you wouldn't want it any other way.
Gear, Games & More
Buying a powerful gaming rig doesn't have to be a costly ordeal. That's also true for gaming accessories, which can make or break your spot on the leaderboards. We know you expect the best from your gear, and we've got dedicated gaming keyboards that will satisfy your need for performance, including a mechanical model for ultra-precise key response. Our online store has also been expanded to include gear and PC accessories from top gaming brands — including Razer, HyperX, and Logitech Gaming. We've also stocked the latest AAA-titles and classic PC games on sale at the Lenovo Legion Game Store.
Shop Lenovo Cyber Monday PC Gaming Sale
Give the gift of an incredible gaming experience this holiday season with Lenovo Cyber Monday gaming deals. Treat your loved ones to a powerful gaming computer with the latest processors, NVIDIA graphics cards, and thermal cooling systems. These laptops and desktop towers pack the power and performance that gamers demand. So, take a look around. You might just discover the gaming machine of your dreams. Shop our gaming laptop & computer deals this Cyber Monday — available exclusively at Lenovo.com.
Cyber Monday Holiday Catalog
We know more than anyone – there are a lot of options in the tech industry. So, sometimes you might need a bit of help deciding what tech product will best fill your needs. Most retailers just dump their Black Friday ads in the mail and call it a day, but with the Lenovo Techbook, we've set out to keep you better informed as Black Friday approaches.
The Lenovo Techbook details the latest in innovation that Lenovo has, or will soon release to the consumer world. This year, you'll discover advances in virtual reality technology, the incremental growth of power in our Legion gaming PCs, new and intuitive smart tablets and smart home accessories, and last, but not least, our latest and greatest Lenovo ThinkPad laptops. Don't miss the ThinkPad X1 Fold this holiday season – it's the world's first foldable laptop computer.
Can't wait for awesome deals?
Explore our current offers and products: