Lenovo USB-C Laptop Power Bank (14,000 mAh)
Extra Power on the Go
Bring extra power when you're on the move! Compatible with Lenovo and ThinkPad Slim-tip and USB-C powered notebooks, the Lenovo USB-C Laptop Power Bank provides 48 Wh battery life (14000 mAh) to extend your notebook's life and your productivity. Featuring an additional two integrated USB-A ports, the Lenovo USB-C Laptop Power Bank powers small mobile devices. While perfectly portable, it also supports simultaneous charging – giving you the control to charge notebook and power bank at the same time while on your workstations.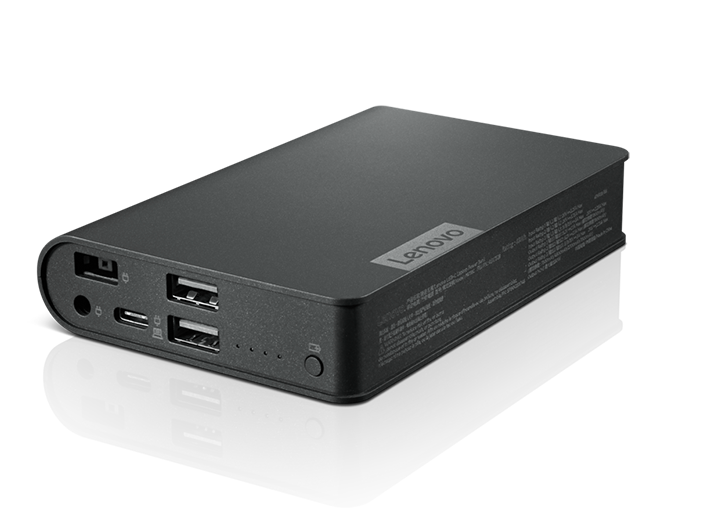 FEATURES
Reliable and powerful back-up power on-the-go
48 Wh (14000 mAh) battery capacity to power-up your notebook and two other mobile devices while on-the-move.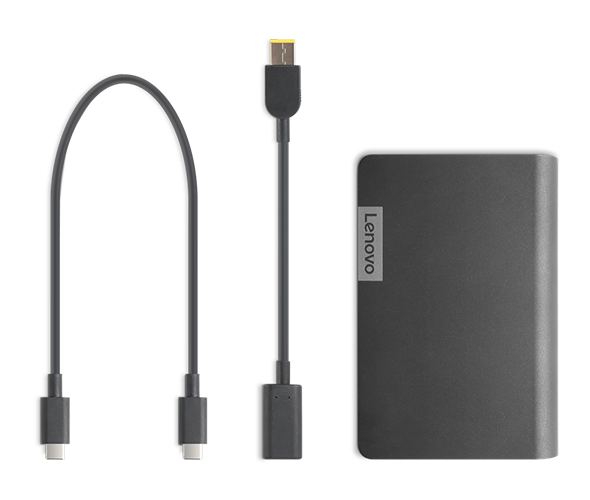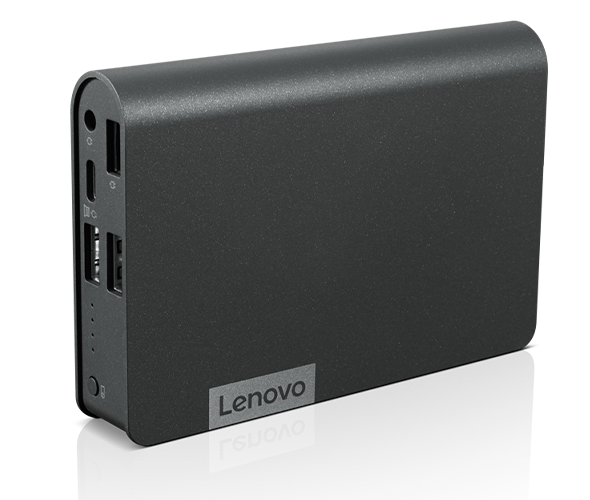 Compact and efficient power
Perfectly portable, designed to fit in most laptop cases or bags. Efficiently charge both power bank and notebook simultaneously at your desk.
Compatible with wide array of Lenovo and ThinkPad systems
Charges using ThinkPad Slim-tip, Lenovo Round Tip and USB-C power adapters. Supports up to 45 W discharge power via USB-C or with the appropriate dongle.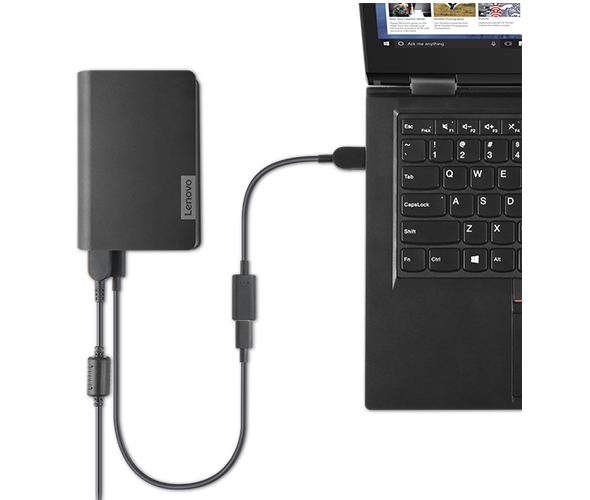 TECH SPECS
Battery Performance
48 Wh
Recharging Time
<2 Hours1
Internal Battery
14000 mAh (4-cell battery, 3500 mAh)
Input Power
45 W (20 V, 2.25 A)
Output Power
USB-C : Max.45 W (20 V, 2.25 A) / USB-A (Total) : Max. 10 W (5 V, 2 A)
Charging Connector
Power-In : Slim-tip Adapter Port, Round-tip Adapter Port, USB-C PD 3.02
Power-Out : 2 x USB-A, USB-C PD 3.02 (supports slim-tip via dongle)
Cable/Dongle Included
USB-C to USB-C Cable (35 mm) / Slim-tip to USB-C Dongle (18 mm)
Dimensions
(mm) : 124 x 83.5 x 22.5 / (inches) : 4.88" x 3.29" x 0.88"
Weight (power bank only)
Starting at 0.64 lbs (290 g)
LED Indicators
100% - 75% : 4 LEDs / 75% - 50% : 3 LEDs / 50% - 25% : 2 LEDs / Lower 25% : 1 LED
Compatible Systems
Lenovo and ThinkPad Systems with USB-C or Slim-tip Power3
Warranty
1 Year

1 Depends on power adapter used. Value measured using 45 W adapter.
2 USB-C In and USB-C Out port is same port.
3 See www.lenovo.com/support for compatibility.
Consumers Only: Lenovo.com sells and ships products to end-user customers only. Lenovo may cancel your order if we suspect you are purchasing products for resale.
Limits: Limit 5 per customer. Offers valid from Lenovo in the US only. Lenovo may increase or decrease these limits, from time to time, for certain offerings.
Ship date: Shipping times listed are estimates based on production time and product availability. An estimated ship date will be posted on our order status site after your order is placed. Ship dates do not include delivery times which will vary depending on the delivery method selected at checkout. Lenovo is not responsible for delays outside of our immediate control, including delays related to order processing, credit issues, inclement weather, or unexpected increase in demand. To obtain the latest information about the availability of a specific part number, please call the phone number listed in the masthead at the top of this page.
Same Day Shipping: Products ship within the same business day (excl. bank holidays and weekends) for orders which have been placed prior to 3pm ET and which are prepaid in full or payment approved. Limited quantities are available. Software and accessories will be shipped separately and may have a different estimated ship date. Same day shipping may not be available for some orders placed with Klarna and Zibby payment options.
Availability: Offers, prices, specifications and availability may change without notice. Lenovo will contact you and cancel your order if the product becomes unavailable or if there was a pricing or typographic error. Products advertised may be subject to limited availability, depending on inventory levels and demand. Lenovo strives to provide a reasonable quantity of products to accommodate estimated consumer demand.
General: Review key information provided by Microsoft that may apply to your system purchase, including details on Windows 10, Windows 8, Windows 7, and potential upgrades/downgrades. Lenovo makes no representation or warranty regarding third-party products or services.
Trademarks: IdeaPad, Lenovo, Lenovo Legion, ThinkPad, ThinkCentre, ThinkStation, Yoga, the Lenovo logo and the Lenovo Legion logo are trademarks or registered trademarks of Lenovo. Microsoft, Windows, Windows NT, and the Windows logo are trademarks of Microsoft Corporation. Ultrabook, Celeron, Celeron Inside, Core Inside, Intel, Intel Logo, Intel Atom, Intel Atom Inside, Intel Core, Intel Inside, Intel Inside Logo, Intel vPro, Itanium, Itanium Inside, Pentium, Pentium Inside, vPro Inside, Xeon, Xeon Phi, and Xeon Inside are trademarks of Intel Corporation or its subsidiaries in the U.S. and/or other countries. Other company, product or service names may be trademarks or service marks of others.
Warranty: For a copy of applicable warranties, write to: Lenovo Warranty Information, 1009 Think Place, Morrisville, NC, 27560. Lenovo makes no representation or warranty regarding third party products or services. The Lenovo Limited Warranty applies only to Lenovo hardware products purchased for your own use, and does not transfer upon resale.
Battery: These systems do not support batteries that are not genuine Lenovo-made or authorized. Systems will continue to boot, but may not charge unauthorized batteries. Attention: Lenovo has no responsibility for the performance or safety of unauthorized batteries, and provides no warranties for failures or damage arising out of their use. Battery life (and recharge times) will vary based on many factors, including system settings and usage.
Pricing: Does not include tax, shipping and handling, or recycling fees. Reseller prices may vary. Savings referenced off regular Lenovo web prices.