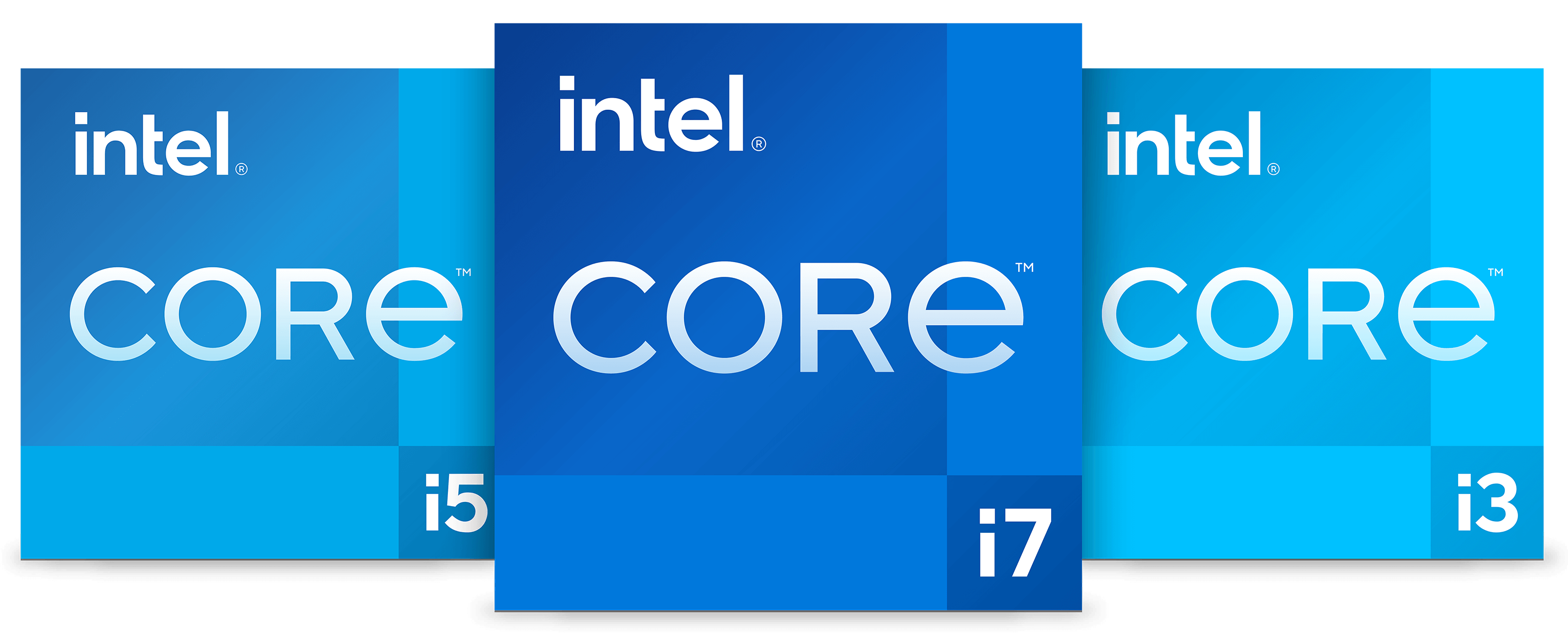 Smarter Way of Learning with Lenovo.com
Get up to extra 5% off on Smart High-Tech products.
If you're a student, take advantage of exclusive discounts by
Note: Students, teachers and staff members enjoys education pricing by registering at LenovoStudent store. SheerID is only applicable to college /university students
นักเรียนระดับประถม
นักเรียนระดับมัธยม
นิสิตนักศึกษาระดับมหาวิทยาลัยและบุคคลากรทางการศึกษา
Get Student Discount by SheerID or LenovoStudent Store
How to verify with SheerID?
1
Add your PC & Accessories to your cart.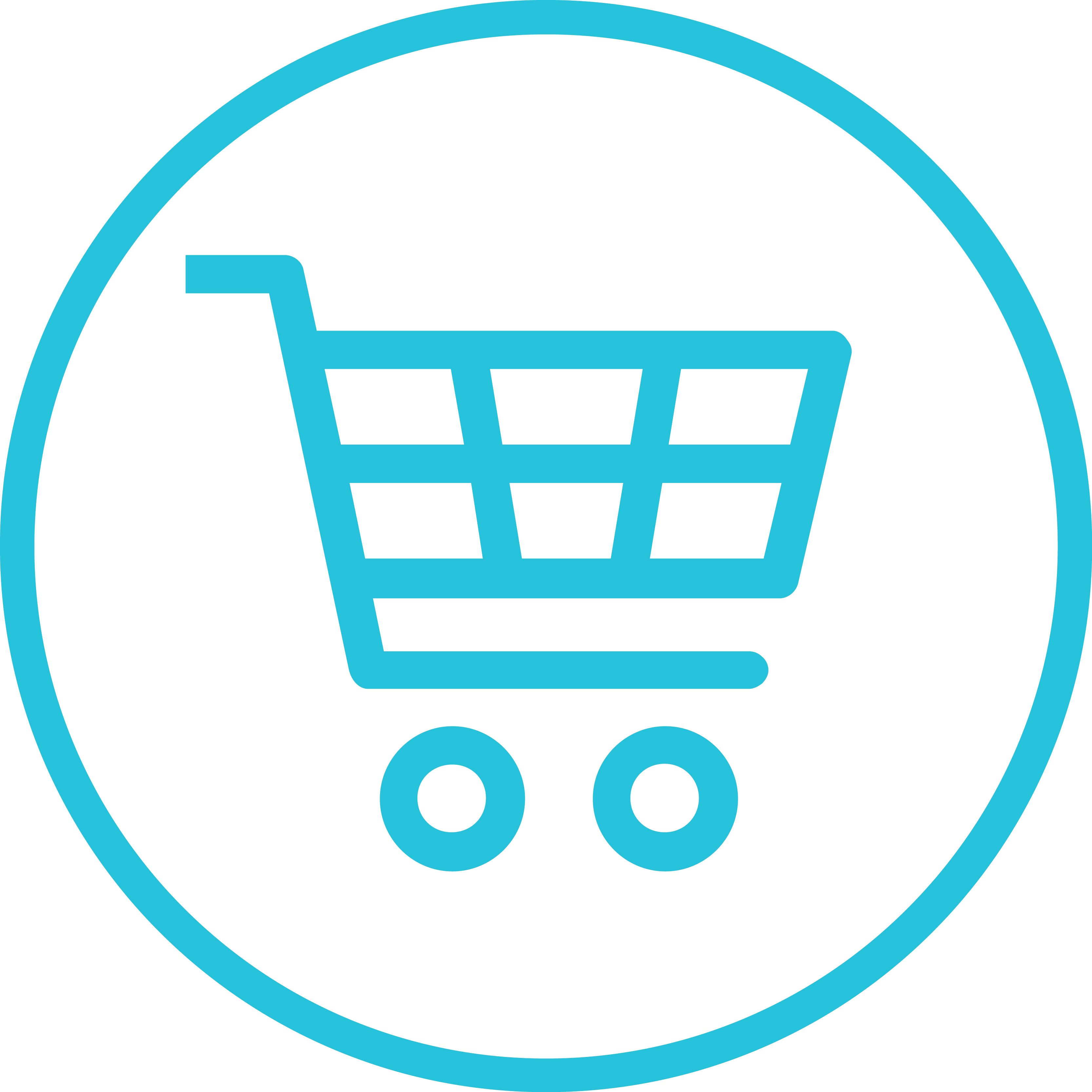 2
Verify your SheerID eligibility in cart.
If you are a Student, you might
quality for additional savings
Verify and Continue
3
Fill up your information.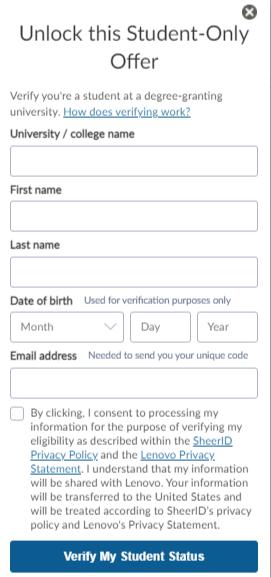 4
Done! Discounts Applied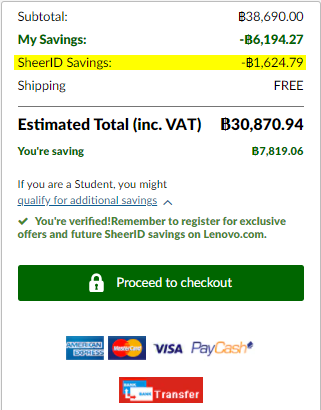 ทำไมถึงต้องซื้อกับ Education Store เพื่อการส่งเสริมการศึกษา?

ราคาประหยัด
ผ่อนชำระที่ดอกเบี้ย 0% สูงสุดถึง 10เดือน ส่วนลดสุดพิเศษเพื่อสนับสนุนการศึกษา สำหรับนักเรียน นักศึกษา ผู้ปกครอง และบุคคลากรทางการศึกษา

ช่วยเหลือ
ให้เราช่วยคุณเลือกอุปกรณ์ที่ดีที่สุดสำหรับการศึกษาของคุณ

ปรับแต่งสเป็ก
จัดสเป็กเพื่อให้เหมาะกับการใช้งานของคุณ

ตัวเลือกมากมาย
พบกับสินค้าเทคโนโลยี คอมพิวเตอร์ และตัวเลือกมากมาย
สิทธิประโยชน์สำหรับ Education Store
5Off%

ทั้งร้าน

ประหยัด

ฟรี MS. Office เมื่อแต่งสเป็กเอง

ผ่อน 0%

เลือกจ่ายหลากหลาย

ส่งเร็ว

ภายใน 7 วันทำการ

ซื้อง่าย

พร้อมตัวเลือกการรับประกัน
วิธีรับส่วนลดพิเศษเพื่อการศึกษา

เพียงลงทะเบียนและล็อกอินด้วยบัญชีสมาชิก Education Store

ในหน้า Education Store, เลือกสินค้าคอมพิวเตอร์และ/หรืออุปกรณ์เสริมใส่ลงตะกร้า

ใส่คูปองโค้ดเพื่อรับสิทธิพิเศษ
ขายดีที่สุดสำหรับนักเรียนและการศึกษา
ต้องการความช่วยเหลือ
1-800-011-936
วันจันทร์ - ศุกร์เวลา 9:00-18:00
เว้นวันหยุดนักขัตฤกษ์
แชทกับเราได้ทันที
Back to School Promotion 2021
โปรโมชั่นส่วนลดโน๊ตบุ๊กสำหรับนักเรียน
แล็ปท็อป คอมพิวเตอร์ที่ดีที่สุดสำหรับนักศึกษา
สำหรับการศึกษา นักเรียนควรใช้แล็ปท็อปน้ำหนักเบา รวดเร็ว และทรงพลัง พร้อมแบตเตอรี่ที่ใช้งานได้นาน คุณอาจต้องใช้ซอฟต์แวร์ที่ใช้ CPU มาก สำหรับวิชาหรือหลักสูตรพิเศษ หรือหน้าจอสัมผัสสำหรับงานสร้างสรรค์ ในการหาแล็ปท็อปนักเรียนที่ดีที่สุดคุณจะต้องพิจารณาสาขาวิชาความต้องการด้านคอมพิวเตอร์และงบประมาณของคุณ Lenovo มีแล็ปท็อปสำหรับทุกสาขาในราคาตั้งแต่ 5,990 บาท ไปจนถึงแสนบาทตามความต้องการ
ดังนั้นคุณควรใช้จ่ายแล็ปท็อปสำหรับมหาวิทยาลัยไปเท่าใด - นักเรียนทุกคนมีลำดับความสำคัญแตกต่างกัน (ขึ้นอยู่กับสาขาที่เรียน) และนั่นหมายถึงข้อกำหนดต่าง ๆ ของคอมพิวเตอร์ วรรณคดีอังกฤษที่สำคัญอาจไม่มีความต้องการซีพียูและกราฟิกเช่นเดียวกับวิทยาศาสตร์คอมพิวเตอร์หรือนักศึกษาวิศวกรรมหรือการออกแบบ
การลงทุนในคอมพิวเตอร์ที่มีคุณภาพเป็นสิ่งสำคัญที่จะให้คุณได้ให้งานสมประสิทธิภาพในด้านการศึกษา ที่ Lenovo เรามีโน๊ตบุ๊กที่หลากหลายสำหรับนักเรียน:
แล็ปท็อปประสิทธิภาพสูงสำหรับผู้สร้างมืออาชีพและนักเล่นเกม - เมื่อคุณต้องการพลังของเวิร์กสเตชันเดสก์ท็อปเต็มรูปแบบ
แล็ปท็อปที่เบาเป็นพิเศษสำหรับผู้ที่เดินทางตลอดเวลา
แล็ปท็อปราคาไม่แพงสำหรับนักเรียนที่ต้องการทั้งคุณค่าและประสิทธิภาพจากบรรจุภัณฑ์เดียว
แล็ปท็อป 2 in 1 ที่ดีที่สุดสำหรับนักเรียนของเรามีความยืดหยุ่นเป็นอย่างมาก – ทั้งความสามารถในการจดบันทึก ทั้งการวาดและสร้างสรรค์ไอเดียให้เป็นภาพ - สำหรับผู้ที่ต้องการการทดสอบสัมผัสพลังใหม่ของคุณเอง
Chromebooks สำหรับนักเรียนที่ถูกไล่ล่าพร้อมชุดซอฟต์แวร์บนเว็บจาก Google ที่สมบูรณ์แบบสำหรับการทำการบ้าน
ส่วนลดสำหรับนักศึกษาของ Lenovo
ใช้ประโยชน์จากส่วนลดของนักเรียนและอาจารย์ของ Lenovo เพื่อลดเพิ่มอีก 5% จากราคาที่ลดแล้วของเดิม ตรวจสอบให้แน่ใจว่าได้เลือก "ส่วนลดนักเรียน / ครู" ในระหว่างการชำระเงิน