Systems Management | Lenovo

Systems Management
We offer systems management tools and software that help you improve efficiency, reduce costs and enhance the availability of your Lenovo infrastructure.
Simplify, accelerate and scale infrastructure deployment
Lenovo XClarity family of software simplifies and automates the deployment and management of Lenovo infrastructure so you have time to focus on other high-value projects.
Powerful yet intuitive tools to increase agility
Save administrator time by reducing complexity of infrastructure tasks
Automate hardware delivery and maintenance
Integrates into external IT applications so you can manage Lenovo infrastructure in the console of the software tools that you already use
Lenovo XClarity Administrator™
Centralized resource-management solution designed to reduce complexity, speed response, and enhance the availability of Lenovo ThinkSystem and ThinkAgile solutions.
XClarity Administrator lets you:
Auto-discover Lenovo infrastructure, and gain at-a-glance views of hardware inventory status
Employ policy-based updates to reduce manual tracking of firmware levels
Rapidly provision and pre-provision multiple systems using configuration patterns
Manage systems with Windows PowerShell scripts or from external, higher-level IT service management software tools leveraging REST APIs
Access from your choice of interface, including an intuitive web-based GUI and the XClarity Mobile app
Lenovo XClarity Orchestrator
Lenovo XClarity Orchestrator provides centralized monitoring, management, and analytics for environments with large numbers of devices. It leverages existing XClarity Administrator across multiple instances to view overall health, collect device inventory and health summaries, drill down into device details, and view event and audit logs.
Lenovo XClarity Integrator
Enabling XClarity to integrate into your existing IT applications, Lenovo XClarity Integrator software plugins provide the functionality you need to manage Lenovo infrastructure right in the console of the software tools that you are already using.
Simplify and consolidate your processes with your current software tools
Extend your current tools in the areas of infrastructure resource management, orchestration and automation, and IT service management.
Lenovo XClarity Integrator
Download XClarity Integrators for the following management software platforms:
XClarity Administrator for PagerDuty – no additional software required.
Learn more
Lenovo XClarity Controller
The embedded management engine in ThinkSystem servers, Lenovo XClarity Controller is designed to standardize, simplify and automate foundation server management tasks.
It provides an uncluttered user interface, intuitive dashboards, at-a-glance status visualizations and easy access to common actions that helps you deploy and manage ThinkSystem servers with ease.
XClarity Controller is built on open standards to help standardize communication and inter-operability, and improve portability of applications and data. Redfish-compliant REST APIs and other industry standards enable you to manage ThinkSystem servers on your own terms.
Lenovo XClarity Provisioning Manager
The embedded provisioning tool in ThinkSystem Servers that allows you to quickly and easily configure server hardware and deploy operating systems.
XClarity Provisioning Manager is a powerful utility combining the functions of configuring Unified Extensible Firmware Interface (UEFI), configuring Redundant Array of Independent Disks (RAID), and updating applications and firmware.
XClarity Provisioning Manager allows for a faster and more efficient system setup. It offers an intuitive and streamlined user experience that makes it easier to install operating systems and associated device drivers, run diagnostics, and collect service data.
Lenovo XClarity Provisioning Manager
Lenovo XClarity Provisioning Manager allows you to accomplish the following functions:
UEFI setup
Install an operating system and device drivers in an unattended mode or manually
Clone the settings in one server to other similarly configured Lenovo servers
RAID setup
Firmware and applications update
Diagnostics
Learn more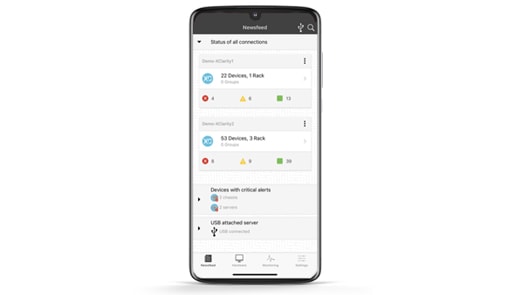 Lenovo XClarity Administrator Mobile App
Delivering the rich system information from XClarity Administrator right to your mobile device. With XClarity Mobile, you have access to critical system health information and events anytime, anywhere so you can respond faster to situations.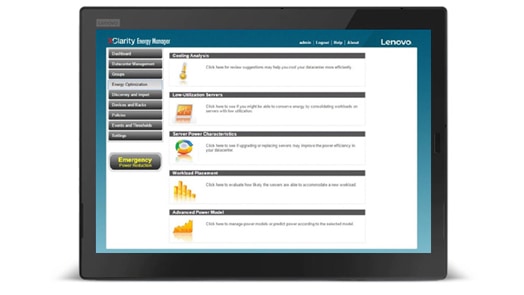 Lenovo XClarity Energy Manager
A centralized policy-based system energy management solution to track, manage, and plan server power utilization.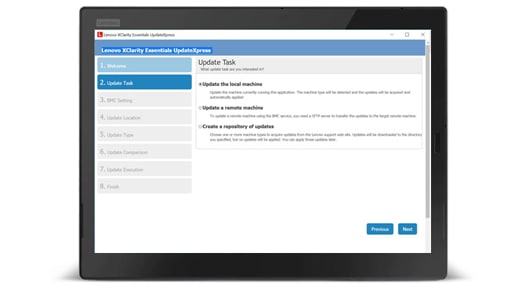 Lenovo XClarity Essentials
A suite of individual tools to configure and manage servers easily, efficiently, and with less overhead.
Lenovo XClarity Essentials
The Lenovo XClarity Essentials tools can be downloaded at the following links:
Learn more
More products & solutions