Meet new challenges in a flexible way
Rely on proven technology that allows you to work efficiently - anywhere. Whether mobile or at your desk, wherever it may be right now. Lenovo offers you complete solutions, enabling maximum flexibility and productivity: laptops, desktops, all-in-ones, monitors and accessories.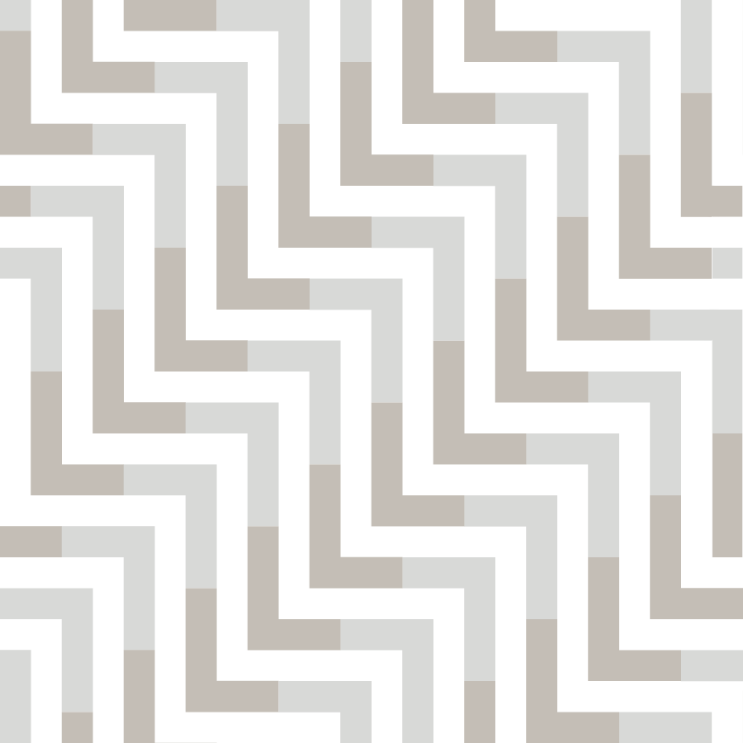 Libertad para trabajar
Los días de estar en la oficina de lunes a viernes en determinado horario quedaron atrás. El teletrabajo, trabajo virtual o trabajo remoto es cada vez es más habitual y, con ello, tus opciones de "oficina" son infinitas, por lo que querrás contar con herramientas de trabajo confiables que se adapten a esta nueva flexibilidad. Los accesorios para computadoras Lenovo Go ayudan a cerrar la brecha entre el estilo de vida fluido del home office y la productividad de primer nivel.
Descubre Lenovo Go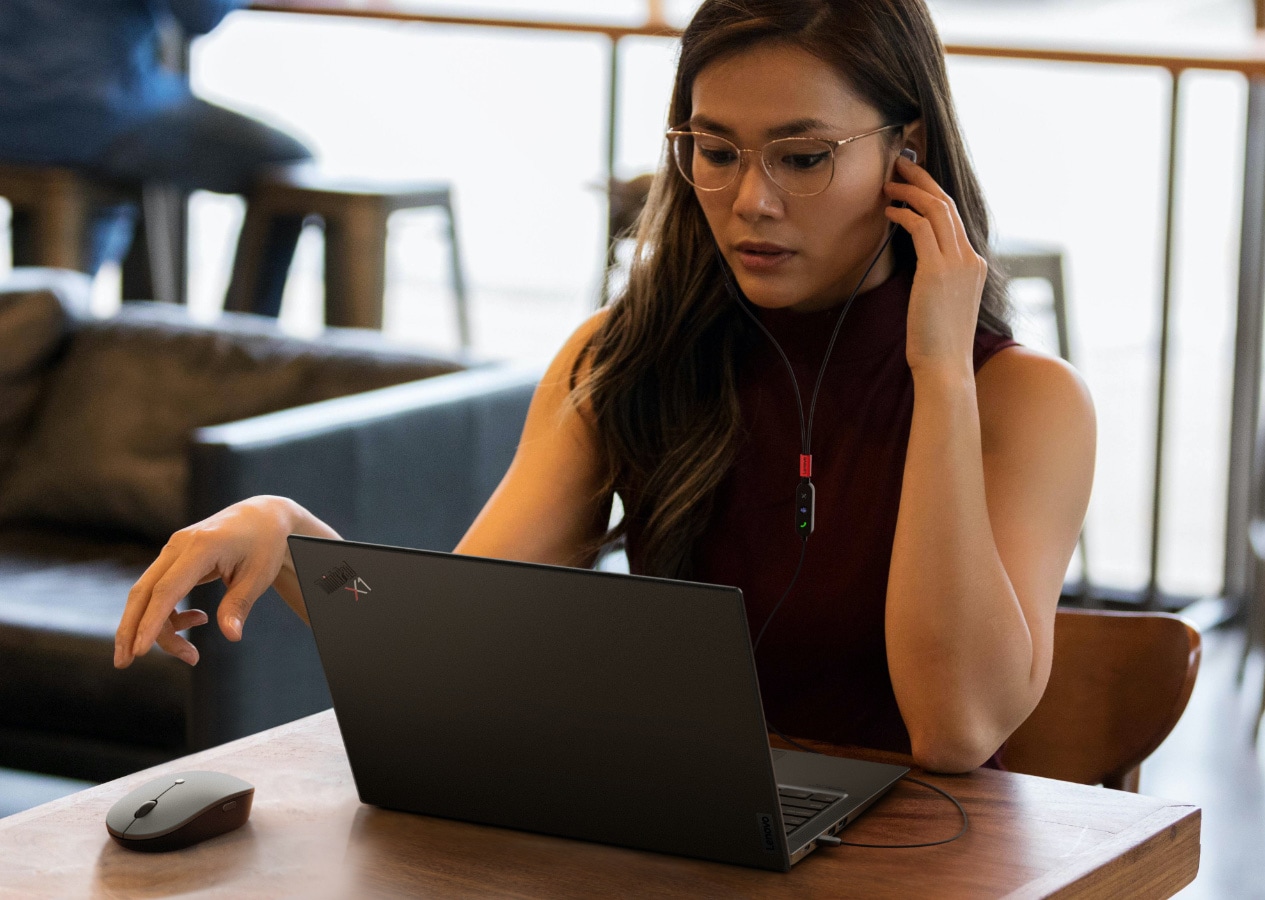 Siente la liberación
La movilidad que necesitas para convertir cualquier espacio en un espacio de trabajo
Nuestros accesorios para computadora Lenovo Go incluyen, entre otras muchas opciones, mouses inalámbricos, auriculares con cancelación activa de ruido o cargadores portátiles. Estos accesorios de computadoras están diseñados para ofrecer la capacidad de configurar un espacio de trabajo que sea tan eficiente como cualquier oficina tradicional. Haz de tu jardín la oficina: los accesorios Lenovo Go facilitan el teletrabajo.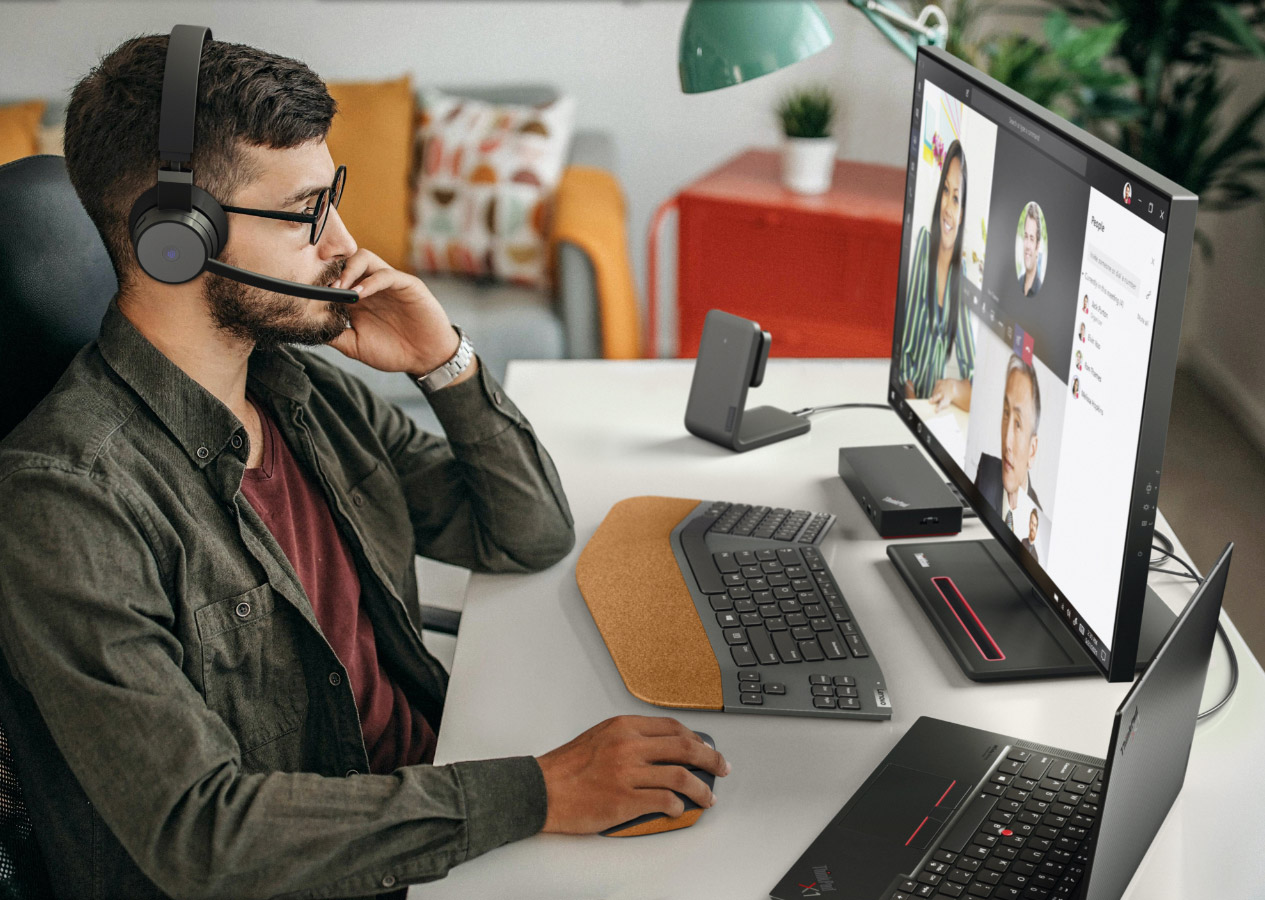 Tranquilidad
Toma el control desde la distancia
Los accesorios Lenovo Go están diseñados para mejorar tu experiencia en Microsoft Teams, Zoom y otras herramientas de VoIP, lo que te brinda la capacidad de administrar reuniones con tus colegas sin esfuerzo. Los auriculares o audífonos y altavoces con micrófonos con cancelación de ruido Bluetooth® brindan un audio nítido para que tu orientación y tu liderazgo se sientan como si estuvieras de manera presencial.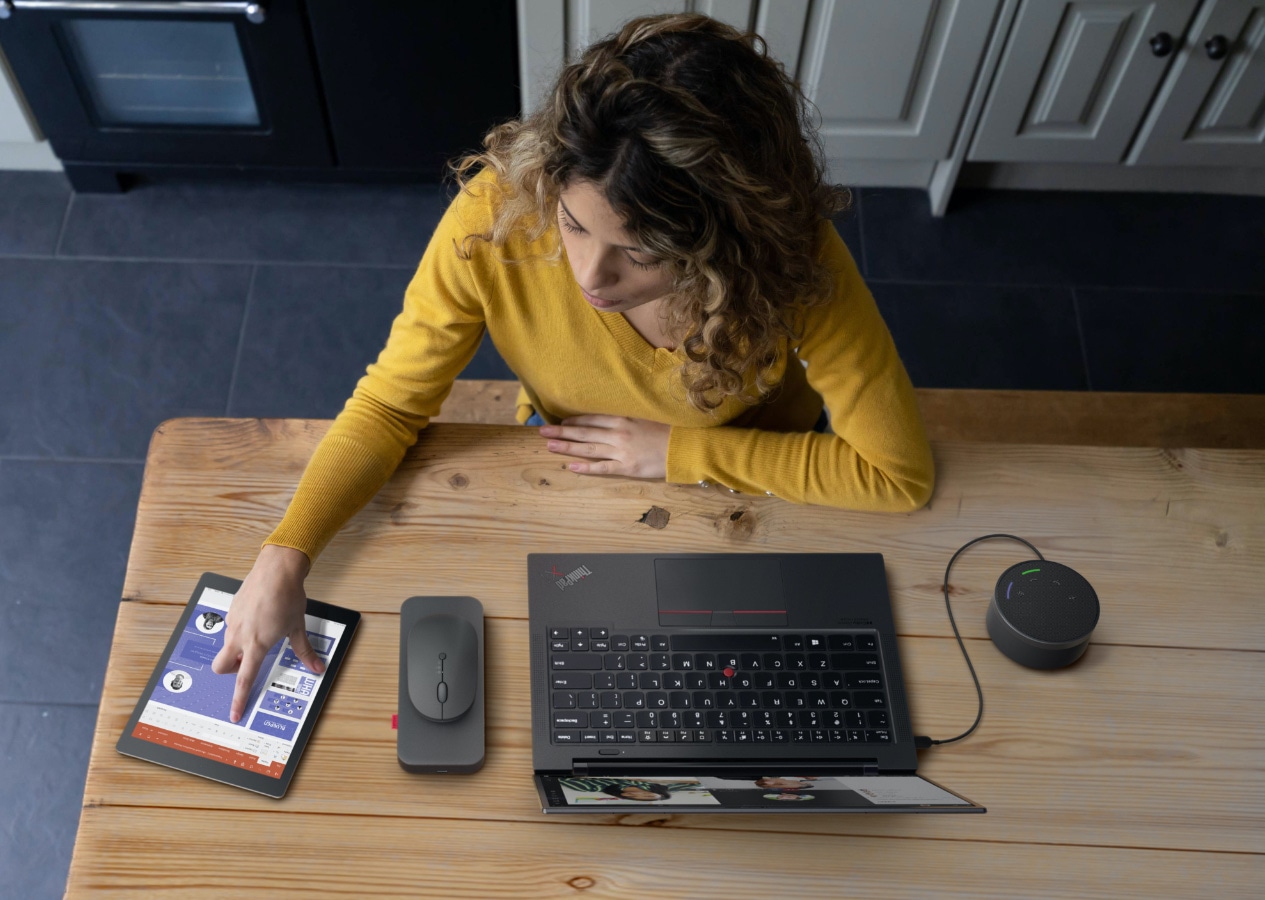 Siente el poder
Desplázate a donde necesites con la tecnología que te facilitará la vida
Puedes trabajar más allá de las cuatro paredes que limitan tu empresa, pero eso no significa que tu espacio de teletrabajo tenga que ser un desastre lleno de accesorios inadecuados. Los accesorios para laptops o notebooks Lenovo Go son compactos y están hechos para facilitar el uso, el almacenamiento y los viajes, y así poder estar en tu mejor momento donde quiera que decidas trabajar.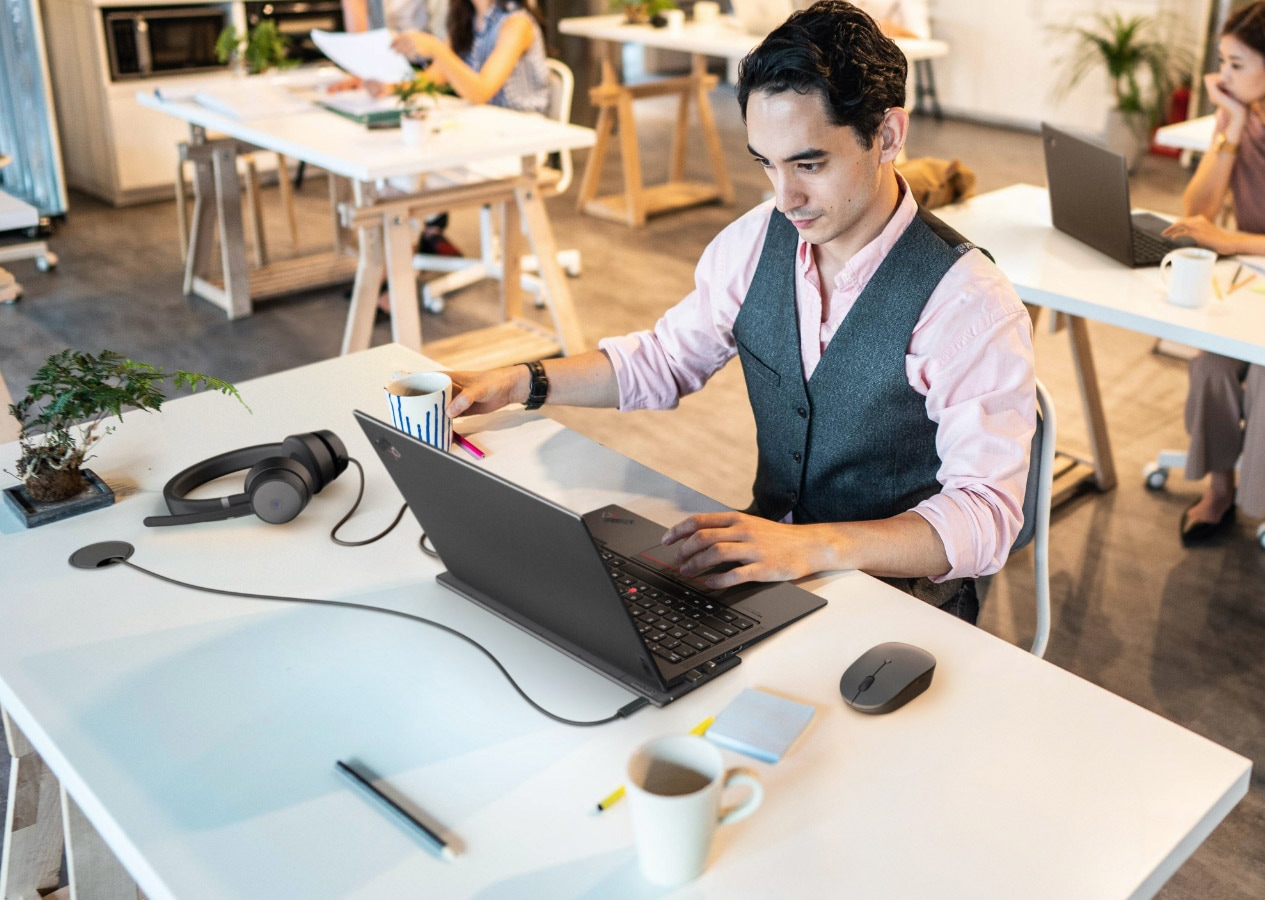 Ten confianza
Calidad en la que puedes confiar
Tienes que confiar en que tus accesorios funcionen cada vez que los enciendas, sin excusas. Lenovo Go ofrece una línea de productos probados en campo que mantienen tu movilidad y tu eficiencia sin importar a dónde te lleve tu viaje. También irradian profesionalidad, con diseños limpios y fluidos que se adaptan a tu estilo de vida.
Laptops
Laptops
Ultimate flexibility at your hands
You want to work remotely and highly efficiently at the same time? It's plain sailing with our laptops and convertibles! Whether ThinkPad business notebook, YOGA Slim or Convertible 360° all-rounder or casual IdeaPad: top efficiency is guaranteed. Plus: Lenovo offers you all the frills for full-fledged desktop comfort back at home!
Recommended laptops for your home working
View More
Close
Monitors
Monitors
All details at a glance: Multiple monitors = higher productivity
Do you spend your working hours mostly in front of the screen? Studies* show that multiple monitors make knowledge workers up to 35% more productive by eliminating time-consuming clicking and glancing back and forth. Maximise your productivity – with ergonomic monitors for every use and budget.
* A three-monitor workplace can help you perform a typical knowledge work task much more efficiently than a workplace with just one monitor: The increase in productivity is 35.5%, according to a laboratory research study by the Fraunhofer Institute for Industrial Engineering (IAO).
Recommended monitors for your home working
View More
Close
Accessories
Accessories
Perfect your PC experience – with all the frills
Upgrade your comfort and top off your PC experience with the matching accessories: headsets, chargers, power banks, mice, keyboards, bags in every style and format... Whatever you need around your PC for gaming, office use, Skype conferencing, mobile working and more – you'll find it here.
Recommended accessories for your home working
Working from home - and learning from home - with Lenovo
Lenovo has the technology you need to work productively at home, whether it's for your job or to keep up with your studies. We've collected it all here on this page - from laptops and desktop PCs to the little accessories and upgrades that can make such a difference. If you're working from home or taking classes online, Lenovo can help.
Of course, it takes more than great technology to keep up with your tasks. You need the right habits and mental approach, too. Keep reading for some tips to get the most from at-home study and work time.
Tips for working from home
What do you need to make your home office more productive? How about a mic-enabled headset , or noise cancelling headphones to replace your worn earbuds. Or a high-resolution monitor to put your work in sharper focus. Maybe a new tablet, laptop or desktop pc to run more apps at once, a docking solution to expand the capability of your laptop or extra storage or memory to enhance what you're using now. Lenovo has it all.
It's not just equipment. Successful work-from-homers have lots of tips for getting more from your day:
Hold regular team meetings (same time each day) to ensure everyone's on the same page
Keep a team-wide chat room open - it's a great place for quick questions and answers.
Encourage video conferencing, not just audio-only. Facial expressions mean a lot.
Adopt flexible work schedules to accommodate the varied needs of each remote worker.
Use informal team chats or meetings to replace "water cooler" conversations for brainstorming.
With the right approach - and the right tools - working from home can be as productive as working at the office.
Tips for learning at home
Lectures. Research. Writing. Exams. There's a lot to being a student today, whether it's university, college or school. Now there's a new layer: Doing it all from your home. Fortunately, Lenovo has tools to help, from headsets and mice to monitors and smart devices. Not to mention the latest laptops, chromebooks, tablets and desktop pcs - or upgrades to storage, memory, etc.
Beyond the technology, however, there are a number of ways to make at-home studies more effective:
Set a schedule to avoid distractions. Commit specific times of your day to studying.
Establish a regular study area (kitchen, bedroom, whatever). It will help you focus.
Maintain your normal learning habits, such as taking class notes, asking questions, etc.
Stay loose... but not too loose. Pajamas are comfy,but may not put you in a mood for learning.
If you multi-task, limit it to study-related topics, not paying your bills or doing laundry.
You see? With the proper tools and the right techniques, classroom study and home-based learning can produce equally good results.