Hardware: meet software.
Maximize your work, gaming and entertainment with Display Software designed for ThinkVision, Lenovo and Legion monitors.
Explore Now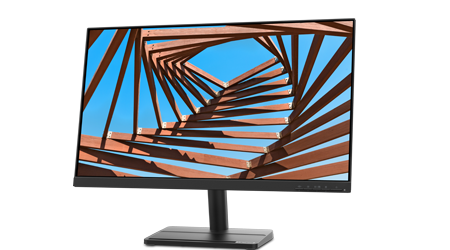 Lenovo L27e-30
Lenovo L27e-30 packages powerful performance in a new, elegant form factor that focuses the principles of minimalist design into a stylish centerpiece for the home.
Learn More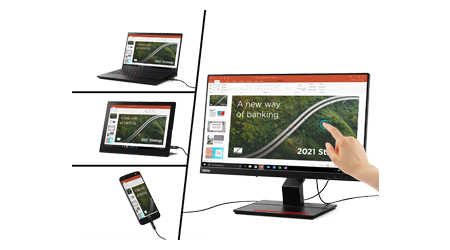 ThinkVision T24t-20 Monitor
ThinkVision T24t-20's 10-point touchscreen that has 2,880 touch sensors to register your every input.
Learn More
View All

For Home

For Work

For Gaming
Product availability may vary in different country / region.
Lenovo Computer Monitors
Monitors for every budget
Do you need a large, crisp image when working at your computer? Are you worried about the sticker shock that usually comes with high quality monitors? Those days are over. At Lenovo, we've worked hard to design monitors that fit your budget and provide the premium viewing experience you deserve. No more grainy, low color-quality screens. We have a large selection so you can find the perfect monitor for your needs.
At-home computer monitors
Home monitors need to be versatile enough for a wide range of activities. When watching Netflix, you need a display with powerful color quality and crisp resolution.When surfing the web at different times of day, the display should have adjustable brightness controls that match your lighting conditions.
The best home monitors maximize their real estate, with space-saving designs that don't clutter your bedroom or home office. Our Near-Edgeless infinity screens make the most of your viewing area, so you can take full advantage of the tremendous screen size. We pride ourselves on superb picture quality, with 99% sRGB color gamut on several models. When all these features are available at a competitive price, you simply can't beat it.
Office and home office monitors
For the office life, you need a professional monitor that provides color accuracy at a high resolution. Often, companies rely on intense data and graphics applications to get work done, so your monitor needs to be able to handle those tasks. Lenovo ThinkVision monitors offer incredible resolution, large screen sizes, and multiple ports so you can work more efficiently. Our business monitors also have handy features like touch screens, ergonomic stands, and quality cameras. Don't let your monitor stand in the way of great work.
Gaming monitors
Our Legion Y25f-10 is regularly sold out for a reason. It's one of the best gaming monitors on the market, with a 24.5" Near-Edgeless WLED screen and a super-fast refresh rate. Designed with AMD FreeSync technology, the 1ms response time minimizes stuttering and input lag for a silky smooth gaming experience. But we know gamers crave variety, so that's not the only model to choose from. Lenovo Legion is taking the PC gaming world by storm with a new and vast array of gaming PCs and gaming accessories. If you want to see every little detail in the moment, so you're prepared for whatever comes your way, look to our Lenovo Legion gaming monitors. Our Legion 4K monitor, HDR monitor, curved monitor and 1ms monitor options offer both visual brilliance and unparalleled response times.
ThinkCentre Tiny monitors
Check out our ThinkCentre Tiny line for an array of professional-grade monitors. These models are lightweight, slim, and have advanced In-Cell Touch LED panels for maximum quality. Best of all, they integrate easily with your Lenovo Tiny PC. You can have a new desktop computer and monitor working together seamlessly in minutes.
Computer monitor deals
Buying an impressive monitor doesn't have to be complicated or expensive. To that end, we've expanded our online store with a huge selection of third-party monitors from respected brands — including LG, Samsung, and Acer. Browse our inventory of monitors based on group, activity, connections, resolution, aspect ratio, and more to find the best fit for your lifestyle. With the right monitor complementing your PC, you can fully realize its potential as a business, gaming, or everyday machine.
Take a look around. You might just discover a dream monitor that you didn't even know existed. It's not often that you find Full HD and HDR monitors that deliver cutting-edge performance for the money. Shop our monitor deals today — available exclusively at Lenovo.com.