Laptop & Computer Deals Are Coming!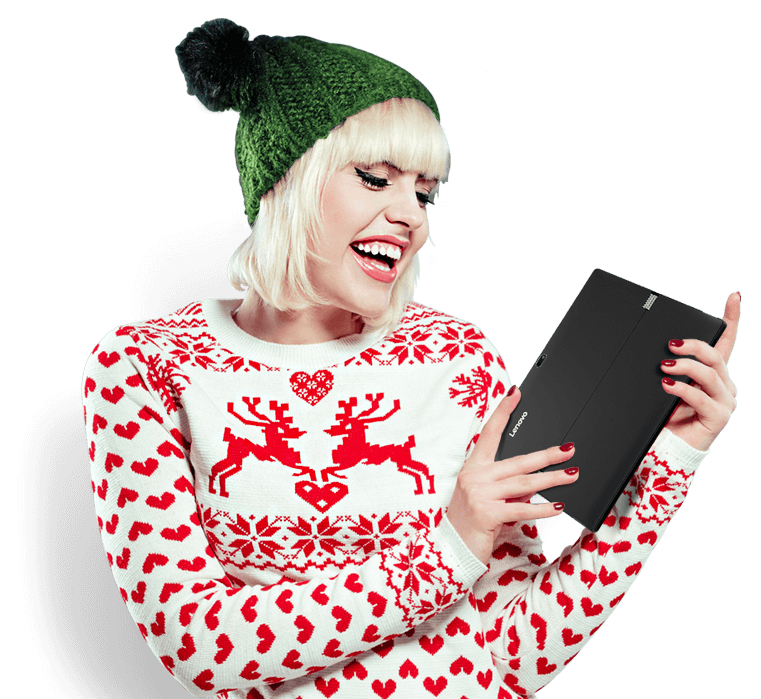 Black Friday Laptop & Computer Deals
The long bootup times, the painful waiting for web pages to load, the sound of a hard drive struggling to serve up your stored files... Soon, all of it will be a thing of the past. On Black Friday 2021, you can kiss your old PC goodbye and score a fantastic new machine at the best price of the year.
We've handpicked some of our favorite laptops and desktop PCs for Black Friday, to create a mix of offers, discounts, and doorbuster deals that simply don't exist the rest of the year. For a better idea of what to expect, past Black Friday deals included offers like:
Laptop deals
Find affordable laptop deals this Black Friday on best sellers and popular favorites like IdeaPad and ThinkBook. For a truly portable office, our family of ThinkPad laptops is the industry benchmark for professional, travel-friendly reliability. If versatility is your top priority, you'll want to take a close look at our Yoga family of PCs and 2-in-1 convertibles. These laptops come in a wide variety of sizes and designs, with options that start at capable and go to extreme — because there's no such thing as a one-size-fits-all solution. Price should never limit you from getting the tech you need — browse budget deals on laptops under Rs. 50000. No doubt, Lenovo laptop deals are best during Black Friday.
Gaming PC & laptop deals
All year long, we've been ramping up our PC gaming computers, gear, and games with options for the eSports pro to the casual gamer. Prepare to save hundreds on a new rig with Lenovo Black Friday PC gaming deals. These laptops and desktop towers pack the power and performance that serious gamers demand. Treat yourself or your loved ones to a powerful gaming computer with the latest processors, NVIDIA GTX and RTX graphics, VR-ready options, and thermal cooling systems. We make it possible to give the gift of an incredible gaming experience this holiday with the best gaming PC deals of the year.
Desktop computer deals
If you're looking for serious computing power at an affordable price, you won't find a better deal on a new PC than during Black Friday. Built for reliable performance, our array of all-in-one computers, desktop towers, and tiny PCs offer plenty of options for work, home, or school. For the aspiring artist or professional creator, our Yoga all-in-one computers are built to match your creative style and intensity. Jumpstart your next big project at the office with a business-ready ThinkCentre or high-performance ThinkStation. Or get an IdeaCentre desktop PC for the family, that also looks great in your home. At some of the lowest prices ever offered, Lenovo's Black Friday computer sale is the perfect time to upgrade your outdated, worn-out PC.
Discount PC accessories
Don't forget about essential PC accessories, like a keyboard and mouse to go with your new system. Lenovo offers incredible discounts on PC accessories throughout the year, but our Black Friday sale is the time to score the gear you need at the lowest price. Save on our expanded selection of PC and laptop accessories from some of the industry's biggest, most well-loved brands like Logitech and HyperX. Shop deals on computer accessories, peripherals, and everything on your tech wish list this holiday.
Get ready for Black Friday 2021
Lenovo Black Friday computer and laptop deals are perfect for every kind of user, from kids who code, to girls who game, to the small business owner that needs the most value out of every rupee. Whether it's a new desktop computer, an affordable laptop, or versatile 2-in-1 laptop tablet, we've got the new PCs you've been waiting for, at the prices you've been hoping for. Simply put, the Lenovo Black Friday sale is the best time to take care of the people on your holiday shopping list. With Lenovo coupons, you can save even more by using the eCoupon codes offered throughout the sale. All of this with free shipping and easy returns, available exclusively online at Lenovo.com.
Can't wait for awesome deals?
Explore our current offers and products: