Lenovo Sustainability
Greener Products
Our Approach
Lenovo offers environmentally sound product reuse and recycling programs as part of Lenovo's support of a more circular economy. Our asset recovery services (ARS) program for business customers and our product take-back and recycling programs for consumers are available in most major markets where we do business. These programs are designed to maximize the reuse, recycling, and/or environmental disposal of replaced and end-of-life products, parts, and waste.
Recycling Programs by Market
Select a market from one of the drop-down lists below to obtain information about Lenovo's ARS and take-back and recycling program for products, batteries, and packaging in that market.
Asset Recovery Services (ARS)
Lenovo offers ARS to business customers to manage their IT assets and data center infrastructure with equipment take-back, data destruction, refurbishment and recycling services. We also offer additional services including inventory and value assessment as well as various on-site services. Lenovo's expertise in managing asset disposition can help customers eliminate the time and expense of managing the disposal of surplus or replaced IT equipment themselves. In some situations, Lenovo can facilitate donation of the old computers or can help customers offset costs and receive value back for re-marketable assets. For more information, contact your local sales representative or visit our Asset Recovery Services page. Click here for a list of markets where Lenovo offers ARS.
Lenovo's Approved Suppliers
Suppliers wishing to provide brokering, refurbishing, reselling, dismantling, recycling, and disposal services to Lenovo must first meet rigorous audit and qualification requirements—regardless of their geographic location. These requirements include providing a declaration of capabilities, controls, and compliance. Each relevant facility, process, and management system must also successfully complete a Lenovo on-site audit. In addition, the supplier must sign a contract with Lenovo that includes appropriate environmental terms and conditions.
Lenovo maintains a list of audited and approved supplier facilities by geography, activity, and audit date. Supplier facility qualifications include: compliant processing capabilities, high reuse and recycling efficiencies, acceptable environmental, health, and safety management systems, full disclosure of downstream supplier facilities and compliance, acceptable controls to ensure no exporting of hazardous waste to non-OECD countries, no use of prison labor, and only reselling verifiable functional products and parts for reuse as originally intended without further refurbishment. Click here to read the Lenovo End-of-Life Standard for Suppliers.
Our Product Recycling at a Glance
In 2018, Lenovo managed or financed the processing of 40,300 metric tons of computer equipment
What happened to that processed equipment: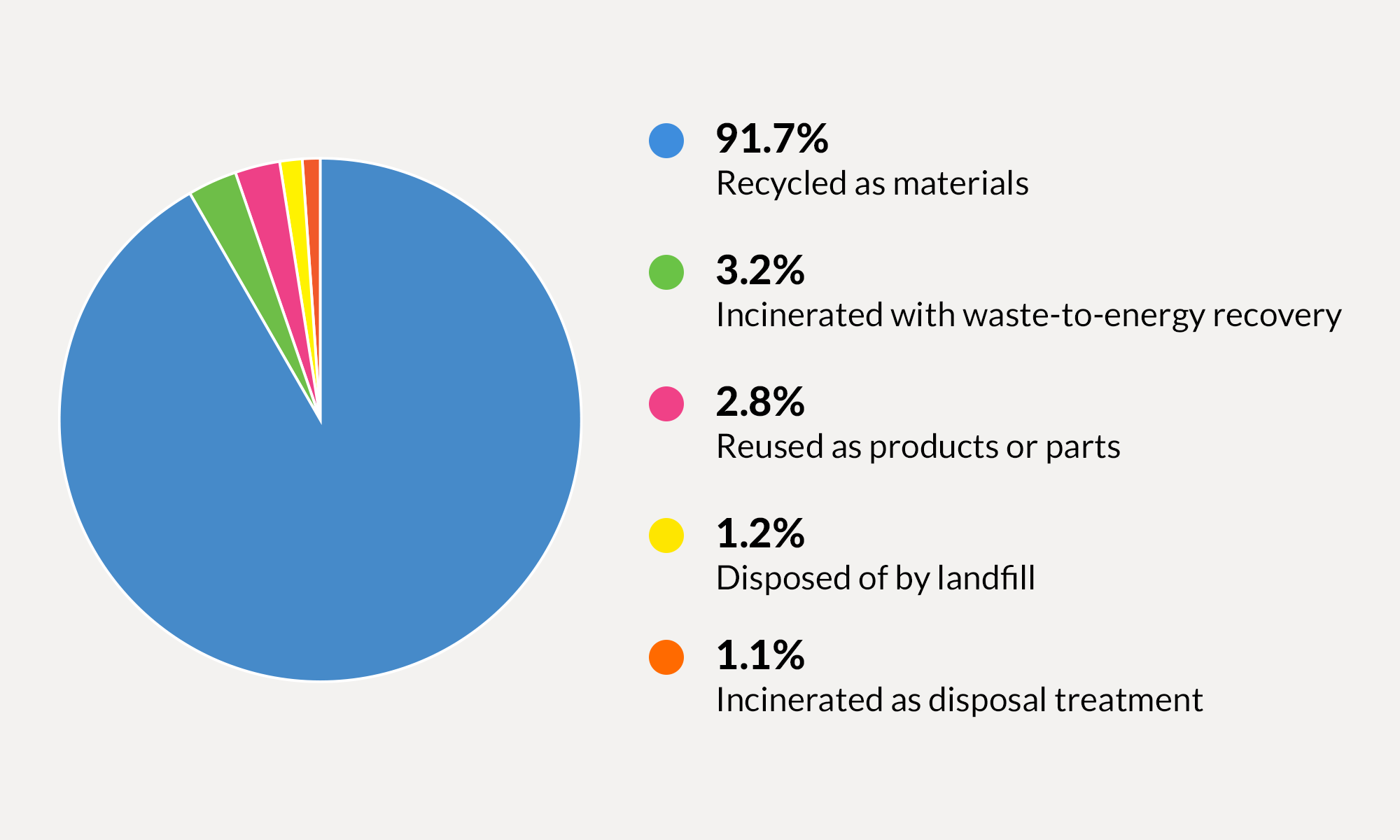 To learn more about Lenovo's product take-back and recycling program performance, please see our latest Sustainability Report.
-
Third-Party Certifications
Lenovo strongly encourages all recyclers, dismantlers, resellers, refurbishers, brokers, and disposal suppliers to achieve accredited third-party certifications to ISO 14001, ISO 9001, OHSAS 18001, and recycling standards, such as Responsible Recycling (R2) and e-Stewards.
Most Lenovo supplier facilities worldwide providing legal or voluntary product take-back services have achieved certifications to ISO 14001, and a growing number, especially in the United States, have achieved certifications to R2 or e-Stewards.
Lenovo's own audit program, completion of which is a requirement for doing business with Lenovo, includes elements of these third-party standards as well as numerous additional criteria, including environmental, health, safety, business controls, and security.
Data Security
Lenovo and its recycling partners are not responsible for any information left on equipment returned to Lenovo or its partners for recycling. We recommend you use a commercially available data-erasing software application to ensure data is removed from the machine's hard drive prior to recycling it.
WEEE Information for Reuse and Treatment Centers
Reuse, treatment, and recycling centers in countries with Waste Electrical and Electronic Equipment (WEEE) regulations can obtain reuse and treatment information for Lenovo products put on the market after August 13, 2005. Email environment@lenovo.com for more information.
To read the Lenovo Statement on WEEE, click here.
Packaging
Reusable bulk packaging may be available for many of Lenovo's products. Contact your sales rep or
✉ environment@lenovo.com for more information.
Digital River Ireland Ltd is the authorised reseller and merchant of the products and services offered within this store.