Lenovo Sustainability
Product Integrity
Our Approach
We understand that product integrity is critical to customer trust in the Lenovo brand. The key focus areas in our product development therefore include:
Quality management
Safety and ergonomics
Accessibility
Compliance
We also strive to integrate customer feedback in a continuous effort to better meet our customer needs.
Quality Management
Lenovo is committed to ensuring that our products are safe throughout their entire lifecycle, including manufacturing, transportation, installation, use, service, and recycling. Our continual assessments during the product lifecycle help us to gain deep insight into opportunities for risk and cost minimization, as well as uncover new opportunities to enhance and increase product marketability.
Our corporate strategies, policies, and guidelines are designed to support our commitment to product safety. They also direct us in following applicable legal requirements, as well as voluntary safety and ergonomics practices, wherever our products are sold.
To maintain our high standards of quality, we use an active closed-loop process with various feedback mechanisms, including focus groups. The aim is to resolve issues quickly and to feed the results back into manufacturing, development, and testing to ensure the issue does not occur again.
In addition, our global Quality Management System (QMS) has been certified to the International Organization for Standardization's (ISO) 9001 standard.
Cross-Organization Quality Assurance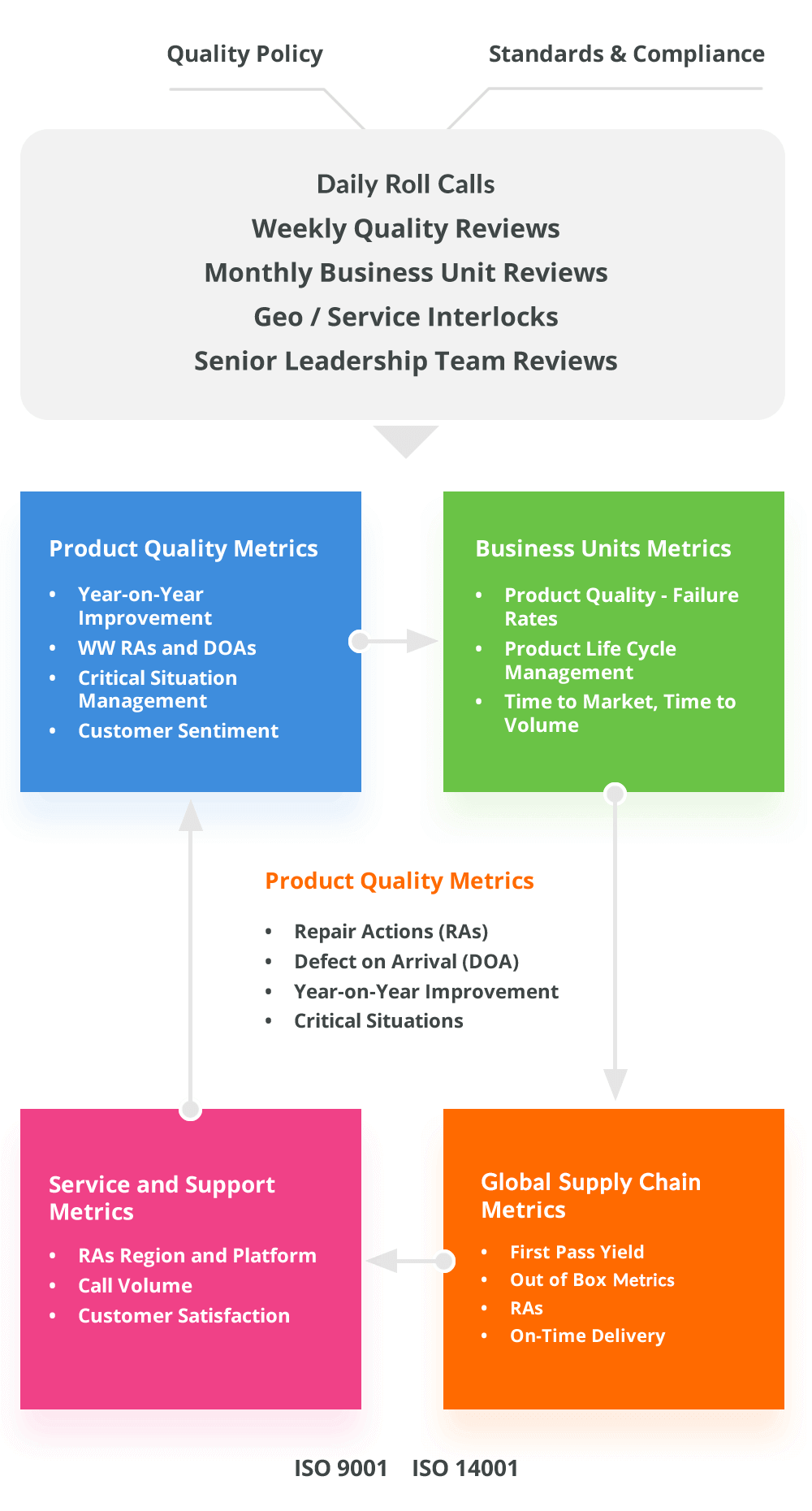 While our Technical Evaluation Center provides information and recommendations to our engineers, our Lessons Learned initiative helps to refine our processes and eliminate any recurring problems. As a result, our product repair rates are among the lowest in the industry.
As part of our corporate policy on quality, senior executives set clear objectives and measure results in terms of improved quality and customer satisfaction. In addition, our employees are asked to contribute to the success of our quality management system. To see our product quality policy, click here.
Customer-Focused Testing
Once a product's development phase is completed, it undergoes a series of customer-driven tests prior to production. This includes ongoing customer simulation evaluations and audits of products used as they were intended to be used.
Additionally, a sample of products undergo extended tests, looking at different configurations and software options, as well as various standard customer applications. Technical teams are also on hand to support on-site installations for customers.
During and after the installation, there is ongoing dialogue between the customer and Lenovo to ensure timely feedback on installation progress. This allows corrections to be quickly put in place, and for the team to preempt potential issues.
Safety and Ergonomics
To further ensure that all our products are safe throughout their lifecycle, we have a strict Product Safety and Ergonomics Policy in place, as well as corporate strategies and guidelines.
In addition, each employee has a personal responsibility to advance the following objectives:
Meet all applicable legal requirements, as well as other voluntary safety and ergonomics practices, wherever our products are sold.
Select suppliers that demonstrate a similar commitment to safety.
Provide customers with adequate information to enable them to use our products safely.
Foster employee involvement and provide appropriate resources to develop, implement, and continually improve product safety initiatives.
Investigate product safety incidents and take prompt remedial action to protect our customers and employees.
Report safety initiatives and incidents to senior executive management.
The following table shows the safety assessments that occur during each life cyclestage of a product.
| Point in Product Life Cycle | Hardware Safety Assessed? |
| --- | --- |
| Development of product concept | No1 |
| R&D | Yes |
| Certification | Yes |
| Manufacturing and production | Yes |
| Marketing and promotion | No2 |
| Storage distribution and supply | Yes |
| Use and service | Yes |
| Disposal, reuse or recycling | Yes |
1 – Too early at this stage
2 – Not relevant at this stage
While we always focus on the highest standards of product safety and quality, as well as customer satisfaction, there have been instances when products have been recalled. On these rare occasions, we strive to act swiftly and decisively. For information on our past product recalls, click here.
Accessibility
Our aim is to deliver world-class products and services that can be used by everyone, including those with disabilities. By focusing on human factors, smart design, and intuitive functionality, we are able to help those with hearing, vision, and mobility limitations get the most o ut of their computer experience.
As well as adhering to best practices, we therefore:
Test our products with a variety of Assistive Technologies (AT), including screen readers, screen magnifiers, and speech recognition software.
Maintain an accessibility policy for our products and services, including a closed-loop process to ensure compliance.
Consider accessibility throughout the design cycle and consult with persons with disabilities for further input.
For more information on how we provide people with disabilities greater access to information and technology, click here.
Compliance
Lenovo's products are designed, tested, and approved to meet worldwide standards for product safety, electromagnetic compatibility, ergonomics, and other regulatory requirements. Our processes and controls help ensure our products comply with the laws and regulations in each country to which we ship.
For more information on compliance, including product compliance documents, click here
Digital River Ireland Ltd is the authorised reseller and merchant of the products and services offered within this store.