Save time and money with an
all-in-one meeting hub
Save significant time getting meetings up and running smoothly without technology glitches with the ThinkSmart Hub 500
Join a scheduled meeting in up to 84% less time[1]
Create a meeting in up to 89% less time[1]
Save up to $193 per employee[2]

Hub 500
A more intuitive system
The average employee attends 2.5 conference calls a week[3]. Yet for every call, we waste an average of 10 minutes just getting started [4]. In a hands-on jury test, volunteers were asked to complete three common meeting scenarios on the ThinkSmart Hub 500 and two traditional conferencing platforms. All volunteers self-identified as having some experience with conference meeting software, but none had prior experience with the ThinkSmart Hub 500. The Lenovo ThinkSmart Hub 500 raced through tasks in up to 89 percent less time than the standard systems.
Calculate yourself
Scroll down for the compare chart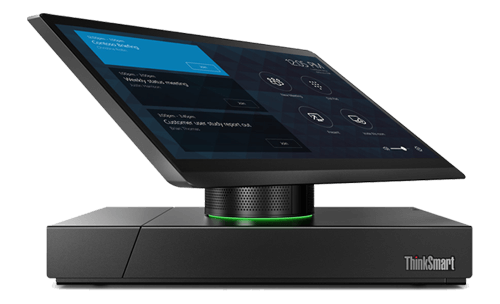 Hub 500 vs. Standard meeting systems
GotoMeeting
46s
162.88s
21s
WebEx
65.47s
100.03s
16.11s
Hub 500
10.39s
17.83s
15.87s
Per meeting time savings with Hub 500
(3per employee, based on average meetings)
77-84%
82-89%
1.5-24%
Annual cost savings with Hub 500
(3per employee, based on average salary)
US$47.50 - US$73.42
US$109.57 - US$193.38
US$.32 - US$6.88
#1 Compared to traditional conferencing platforms
#2 Per year, based on average annual salary
#3 See Appendix B, paragraph to for an explanation of how this number was reached. Download Lenovo ThinkSmart Hub 500 Report
#4 Ovum, "Collaboration 2.0: Death of the Web Conference (As We Know It)," accessed January 15, 2018

Average minutes

lost per meeting
Click on the minute hand and drag to enter the value in minutes
Enter the value in minutes between 1 and 60
Average number meetings

per week

ClIck on the triangle and drag to enter the input
Enter the value between 1 and 110
Enter your salary. Dont worry, IRS wont know.
Cost per year

for average minutes lost
Save up to
4.5 hours per year
for one employee
[1]
Save up to
55 seconds
when joining scheduled meetings
[1]
Save up to
2.4 minutes
when creating adhoc meetings
[1]
#1 Per year, compared to standard meeting systems
Enter valid input