Why join LenovoPRO?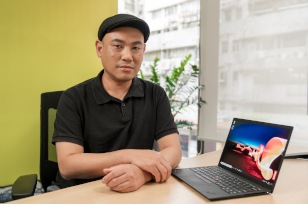 My LenovoPRO account manager gives me 1:1 customized business solutions that support my IT needs.
By Lawrence Cheng
Chief Editor of PCMarket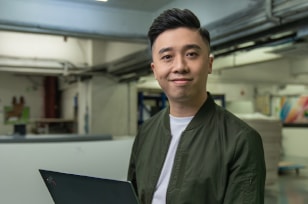 LenovoPRO is my best IT partner for business success.


By Tico Wong
Executive Assistant to CEO of e-Banner
View More Testimonials
Member-exclusive Offer

LenovoPRO Welcome Offer!
Register now and get a free powerbank and up to $1,000 welcome discount!
Register Now
Flexible Payment Solutions
Buy Now, pay Later! Selected PRO customers can enjoy 30 days payment terms. Interest-free Credit Card installment is also available!
Learn More

ThinkPad Premium Program
Enjoy exclusive offer with ThinkPad P X T including extra 90 days warranty and extra trade in discount.
Learn More
LenovoPRO Customer Testimonials
"The LenovoPro interface is simple and easy to navigate, the products information is comprehensive, product comparison is convenient. Becoming a LenovoPro member, you can even get greater discounts off almost all products. It takes less time from placing order to receiving the goods compared to others. This is also the main reason I chose LenovoPro, hope can sustain this attribute for next purchase.
Wilson | IT manager of Supergo Company |  Hong Kong S.A.R. of China
"We used offline channels to purchase desktop in the past but the quality varied which led to the increase of IT expenditure. We replaced desktop to laptop for greater mobility which increased working efficiency and effectiveness, we also unified our merchandizing channel via LenovoPro to purchase ThinkPad X models which greatly reduced 40% of the IT spending over the last few years, furthermore, the international warranty provides flexible technical backup for our staff and clients
Amy Lai | Regional Manager, Human Resources & Office Management of Infopro Digital |  Hong Kong S.A.R. of China
The International medical Co. Ltd
"LenovoPro is very attractive in terms of pricing and discount offer, furthermore, the 'ThinkPad' series also symbolizes a guarantee of confidence.
Joe | Director of The International medical Co. Ltd |  Hong Kong S.A.R. of China
"LenovoPro is a unique program tailor-made for SMEs. Besides their promotional offers and discounts, I highly recommend the 'ThinkBook Best Price Offer', which guaranteed my purchase was the laptop at the best price.
Daniel | Marketing Director of iTutors Team |  Hong Kong S.A.R. of China
"Time is money, efficiency is what clients looking for nowadays, the traditional sales pattern cannot satisfy their needs. LenovoPro not only provides speedy quotation, clear web interface and comprehensive product catalogs, together with extra discount for LenovoPro members, making clients to have a better cost control, thus, increase the chance to use our service again.
Andy | Founder of Power On Consulting Ltd |  Hong Kong S.A.R. of China
Global Smart Intelligence Ltd
"LenovoPro offers a variety of perks for SMEs like us to reduce total cost, this little step proves to be a big leap compared with other brands. Ecom is the future, with easy to use interface, clear product categorization and info, it is very easy from product selection to place order, hope can provide more attractive offer and features in the future
Dennis | Founder of Global Smart Intelligence Ltd |  Hong Kong S.A.R. of China
Logic Spark International Ltd
"Once joined the LenovoPro, I already can get the additional discounts on top of the normal discounts that you offer to non-business customers which did reduce the total purchase cost, quotation that I received from your representative is fast and detailed so I don't need to wait for long to make the decision. Furthermore, there is no contractual obligations or minimum purchase requirement involved in LenovoPro'
Anson Chieng | Country Manager of Logic Spark International Ltd |  Hong Kong S.A.R. of China
"The LenovoPro is a versatile and economical solution dedicated for local SMEs, quotation and transaction that could take a couple days from traditional retailers in the past can be done within an hour now, thanks for the online chat agent on LenovoPro, they not only response quick but also offer a better and competitive package which saves 3-5% per deal, will definitely recommend LenovoPro to others.
BC Yu | General Manager of Bring In Technology Ltd |  Hong Kong S.A.R. of China
"Great service and price. Fast delivery experience is not easy, especially in this current outbreak period. We purchased P-series laptop, great product quality.  Really good value for money, very suitable for our needs. Five starts rated!
Louis Lin  | IT manager of 逸空間有限公司 |  Taiwan Region
"In addition to the extra LenovoPRO member exclusive discounts, it saved us a lot of trouble when we had to call Lenovo engineer for door to door repair service. The entire repair process took only two to three hours, allowing us to continue with our work that required laptop almost without interruption.
Biggiol Lai  | IT manager of 勁鋒鐵馬股份有限公司 |  Taiwan Region
"翊盛國際有限公司以提供各國客戶穩定與不間斷的服務為首要目標。在同仁新年度硬體更新與增購的選擇中|黑色筆電早已逐漸佔據同仁桌面|不假言詞的道出Lenovo ThinkPad的耐用|穩定|效能與信賴。
Adamas Chiang  | VP of 翊盛國際有限公司 |  Taiwan Region
"在LenovoPRO上購買ThinkPad跟Think Vision的系列產品|除了產品本身品質與性價比非常滿意外|在購買前業務親切的協助及下單後的商品完整出貨流程追蹤|讓人感覺在LenovoPRO上購物是很方便自在|且有完整服務體驗。
Farmerya Lee  | Sales of 威迪歐數位有限公司 |  Taiwan Region
"依據業務的需求客製化所需的電腦規格|不用削足適履般的採購市面上量產化的規格。雖然因為疫情供應鏈的影響|延宕了交期|但是出貨的過程明確透明|可以掌握預計的交期。線上的克服回應迅速|作為一站式的服務窗口。
Jeffrey Peng  | Sales of 威雲科技 |  Taiwan Region
"LenovoPRO not only provides dedicated account manager service, but also enterprise exclusive price and promotion. One-stop service simplified my procurement process, greatly saved my time in procurement!
Jeffrey Peng  | Senior Manager of 貢茶 |  Taiwan Region
"Exclusive discount for LenovoPRO membership, check inventory through LenovoPRO agent, prompt support.
이성우  | Manager of 이성우 |   Korea
"When purchasing and consulting products, Manager Kim Hyun-wook of the Lenovo eComm team always responded kindly. Other purchasing channels were confusing because the person in charge changed every time, but LenovoPRO was an easy and convenient purchase experience because the dedicated staff helped me with the entire process from product consultation to purchase.
이성우  | Manager of 이충환 |   Korea
"It was good to know the immediate response and inventory status.
이용현  | Manager of 이용현 |   Korea
"Through a professional agent, I was able to familiarize myself with the detailed explanation and how to use LenovoPRO, and it was convenient to smooth the purchase process 1:1 with the agent.
이승은  | Manager of 이승은 |   Korea
"In the case of other brands, quotes can only be made through sales representative, but I think the advantage is that customers can check the estimated amount immediately through the Lenovo PRO store.
김동환  | CEO of 김동환 |   Korea
View More