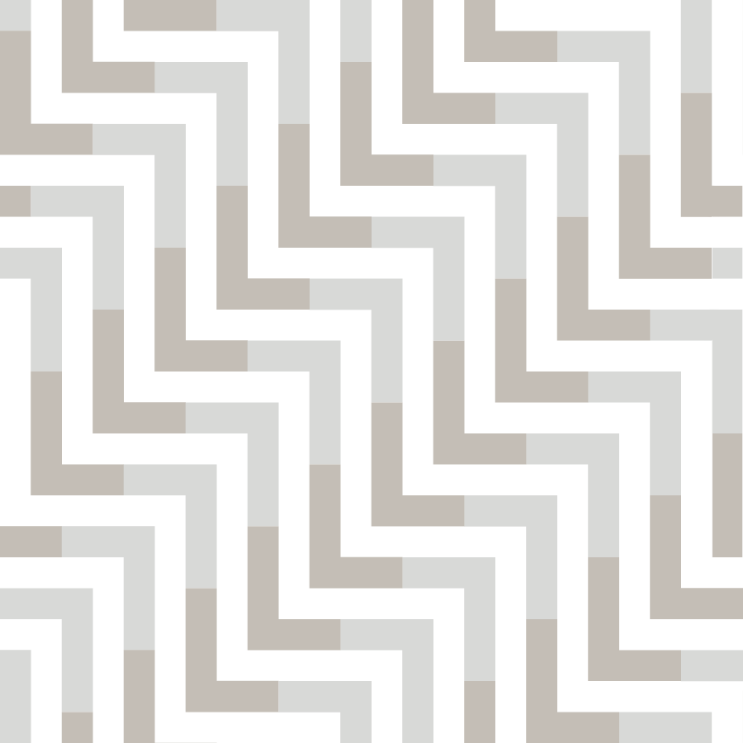 Work your way
The days of being in the office from 9-to-5 are in the past. With remote work becoming more common, your "office" options are endless, so you should have dependable and portable work tools that match this new flexibility. Lenovo Go accessories help bridge the gap between the fluid lifestyle of remote work and top-notch productivity.
Discover Lenovo Go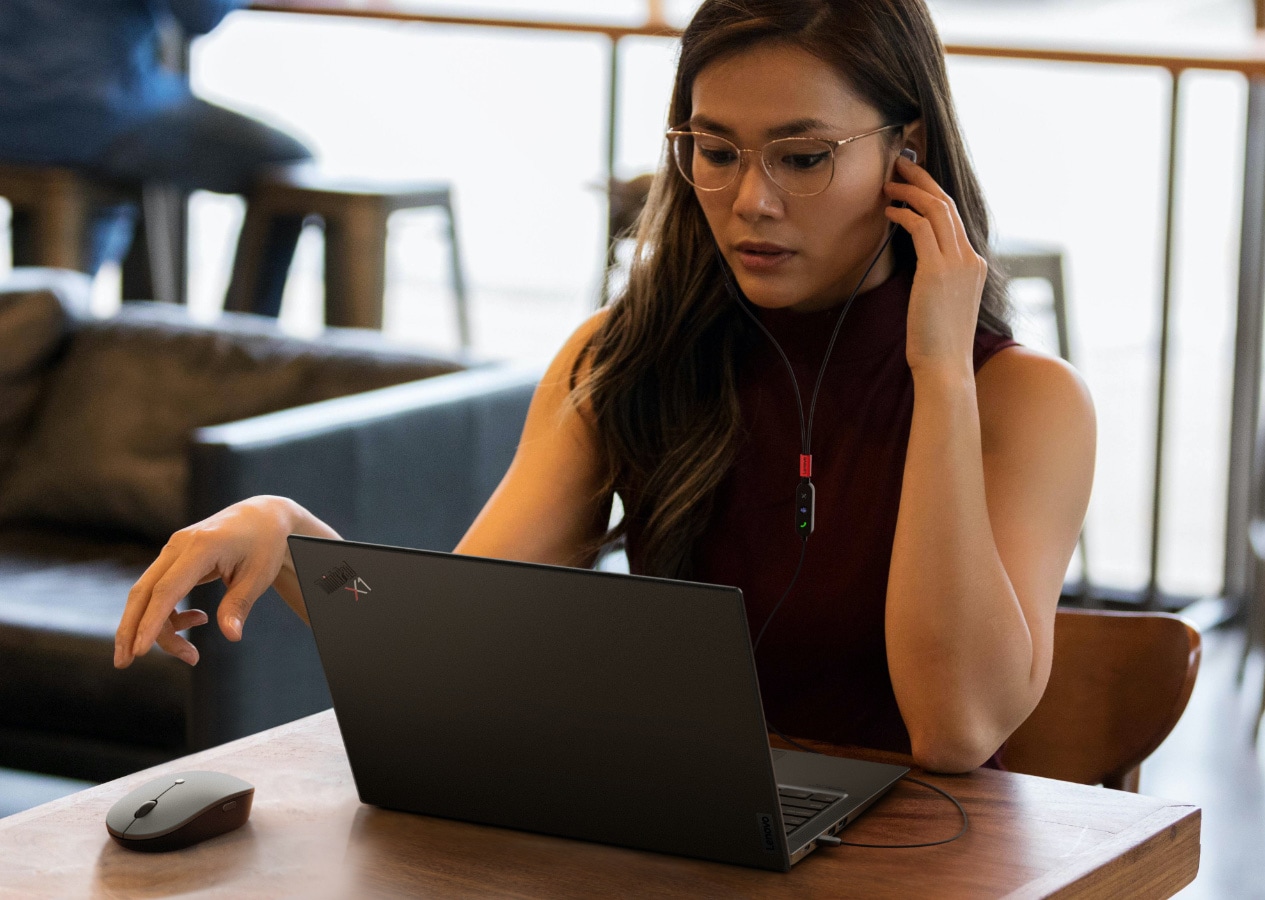 Feel liberated
The mobility you need to turn any space into a workspace
Our Lenovo Go accessories include wireless mice, headphones with Active Noise Cancelling, power banks, and more. These devices are designed to give you the ability to set up a workspace that's as efficient as any cubicle. Make the beach your boardroom, or your backyard the corner office—Lenovo Go devices make remote work easy.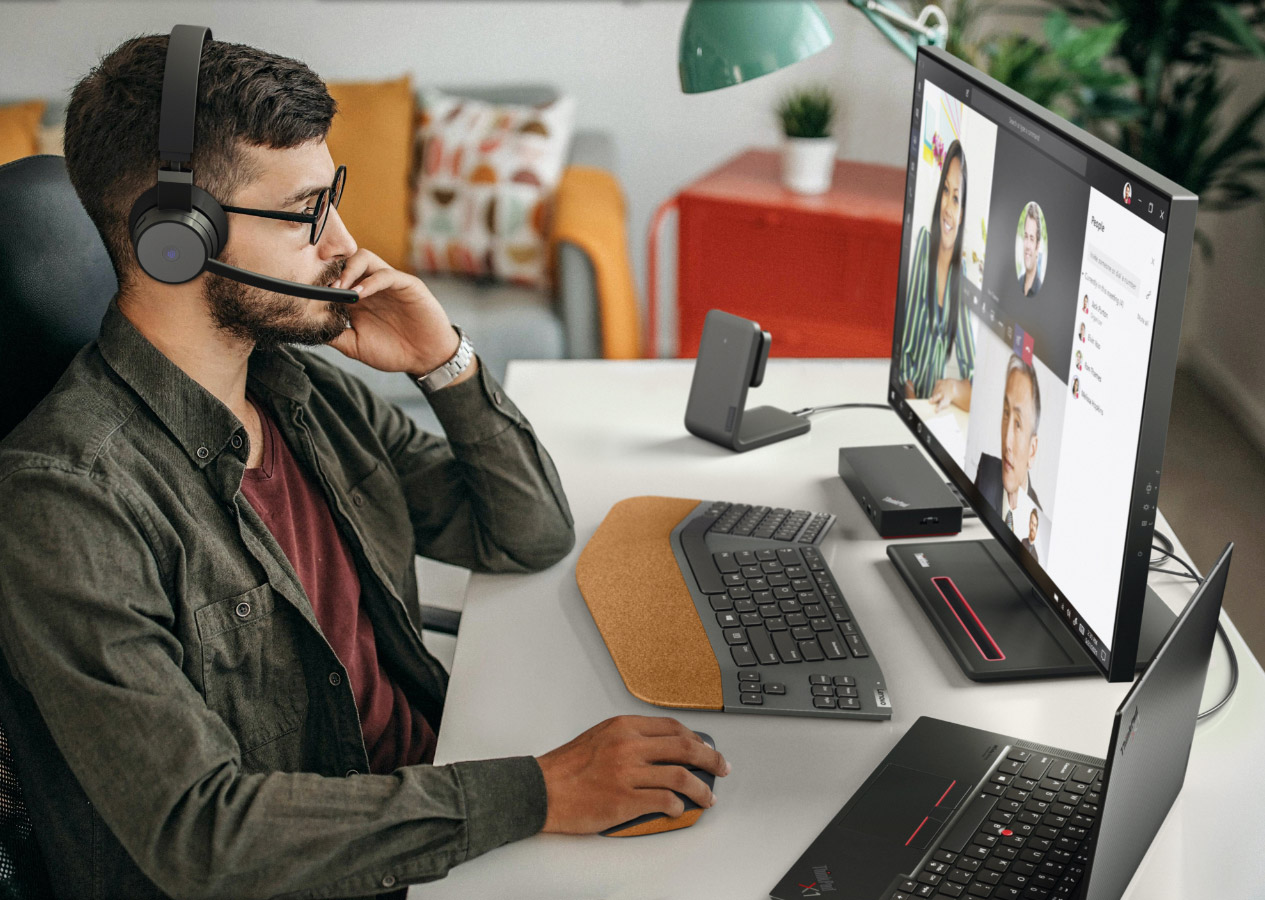 Peace of mind
Take control from a distance
Lenovo Go devices are designed to enhance your experience on Microsoft Teams, Zoom, and other VoIP tools, giving you the ability to govern meetings with your colleagues effortlessly. Bluetooth® headsets and speakers with noise cancelling microphones provide crystal-clear audio so that your guidance and leadership shines through to your colleagues as if you were standing next to them.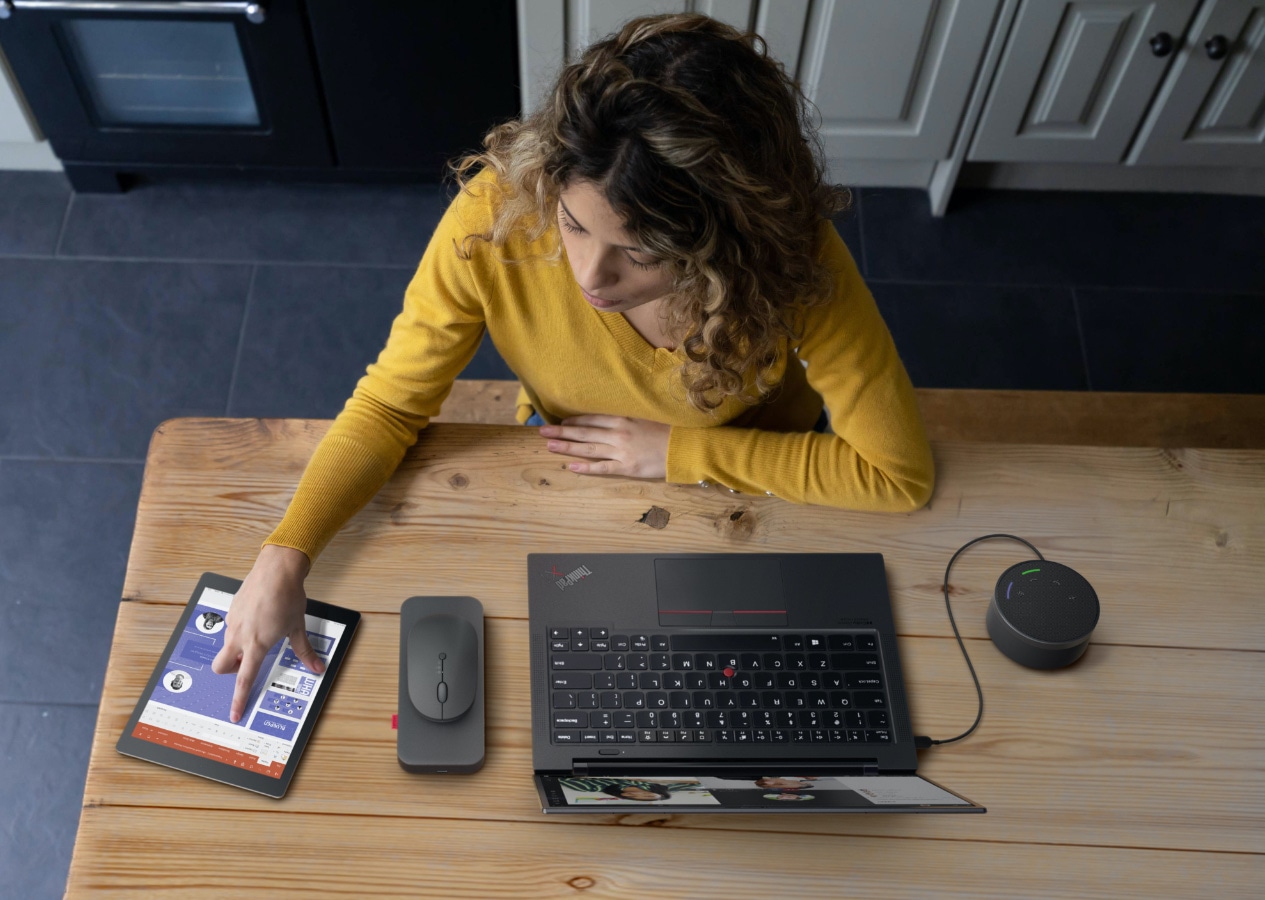 Feel empowered
Go where you want with the tech that you need
You're untethered from the confines of your company's four walls, but that doesn't mean your mobile workspace has to be a mess of clunky accessories. Lenovo Go devices are compact and made for easy use, storage, and travel, so you can be at your best wherever you decide to work.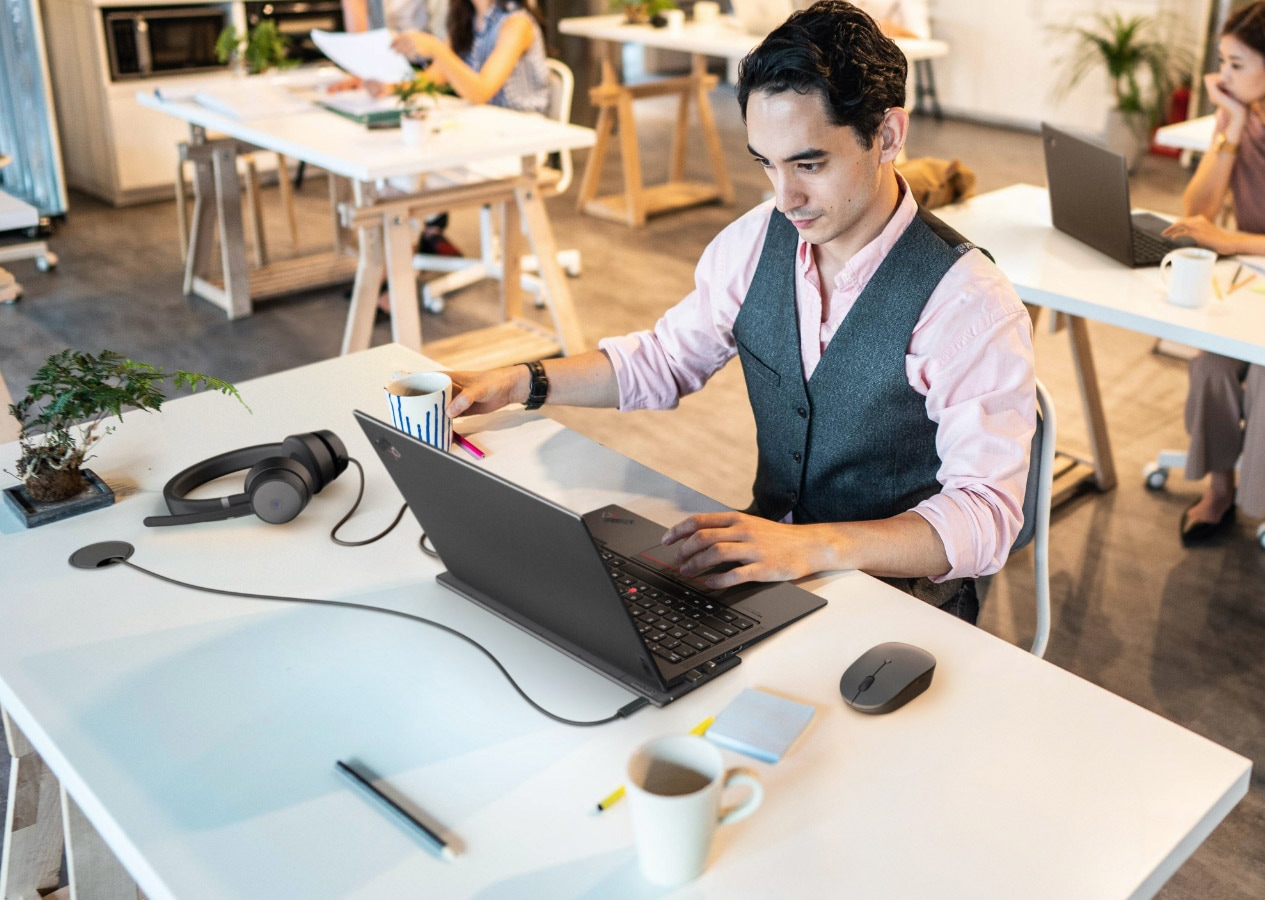 Be confident
Quality you can depend on
You need to depend on your devices working every time you turn them on, no excuses. Lenovo Go offers a line of field-tested products that keep you mobile and efficient no matter where your journey takes you. They also exude professionalism with clean, seamless designs that match your lifestyle.
Lenovo workstations
#1 in reliability and quality
Lenovo ThinkStation & ThinkPad workstation PCs are the industry's best in reliability and quality.
Workstation computers
Lenovo ThinkStation P Series workstation desktop PCs are designed for reliable, flexible performance. The ability to update, upgrade, and replace internal components instantly gives the power to you and eases over-burdened IT departments. What's more, the modular design of our workstation desktops makes changes a breeze; anything with a red touch point can be removed, tool-free, in seconds.
Mobile workstations
Lenovo ThinkPad P Series workstation laptops offer durability and reliability with MIL-SPEC quality testing. ThinkPad workstation laptops are portable, powerful and offer faster performance than a traditional laptop. With power that is comparable to a workstation desktop, our mobile workstations are an ideal choice for engineers, designers, or other technical and creative professionals who need to get things done away from the office.
Workstation monitors
Expect uncompromising performance from our all-business ThinkVision workstation monitors. If you're looking for the perfect visual complement to your new ThinkStation or ThinkPad P Series mobile workstation desktop setup, then a new ThinkVision monitor is the right choice. ThinkVision monitors deliver vibrant colors, exquisite details, and blur-free motion from edge-to-edge and at any viewing angle. Professional color management software ensures consistently rich imagery, perfect for creative and engineering applications.
Performance graphics
Lenovo workstation PCs deliver powerful graphics needed for professional applications, or even unprofessional ones. All our Think workstation models have more than enough power to serve as the ideal CAD workstation for those in the AEC industry. They're also built to support 2D and 3D content creators, users of EDA applications, and finance and medical professionals. Powered by NVIDIA® Quadro® and NVS graphics, each workstation is built to maximize your productivity, so you can do more in less time. You can even design your own custom workstation!
Professional graphics cards offer longer life cycles and much more reliability than their consumer GPU counterparts, and come with certified and optimized drivers from leading software vendors across industries.
It all comes down to this. If you're looking for the best workstation laptop or workstation desktop to fuel your business or creative needs, find it today at Lenovo.
Workstation vs gaming PC
In those times that you're feeling unproductive, any Think workstation easily doubles as a powerful gaming workstation thanks to their mighty processors, sharp displays, and most importantly, powerful discrete graphics.
Workstation FAQs
Want to know if you really need all the power a workstation PC can offer? Maybe a traditional laptop or desktop will suffice (we have those too). Lenovo's workstation FAQs will help you understand the differences between workstation PCs and traditional laptops and desktops. So, shop informed. Shop Lenovo.
Additional resources:
Workstation deals
Workstations outlet
High performance laptops and PCs
Intel Xeon laptops
MyLenovo Rewards