Windows Tower PC
Windows 10 Tower PCs have so much to offer those who don't need laptop portability. For progressive businesses that require an office-based workhorse, a Tower PC opens up a whole new world of possibilities.
Tower PCs with Windows 10
What is a Tower PC?
In a compact laptop, everything is tucked inside the laptop case. Tower PCs are simply a different way of housing all the components that power, drive and provide storage for your computer.
As the name suggests, the tower is a vertical box that usually sits on the floor beneath your desk. The only computer parts not in the tower chassis are the display screen, keyboard and mouse, which are on your work space.
The vertically orientated metal housing contains all the important behind-the-scenes components of your computer. A neat Tower tucked beneath the desk contains all the components your computer needs without the constraints of portability and space.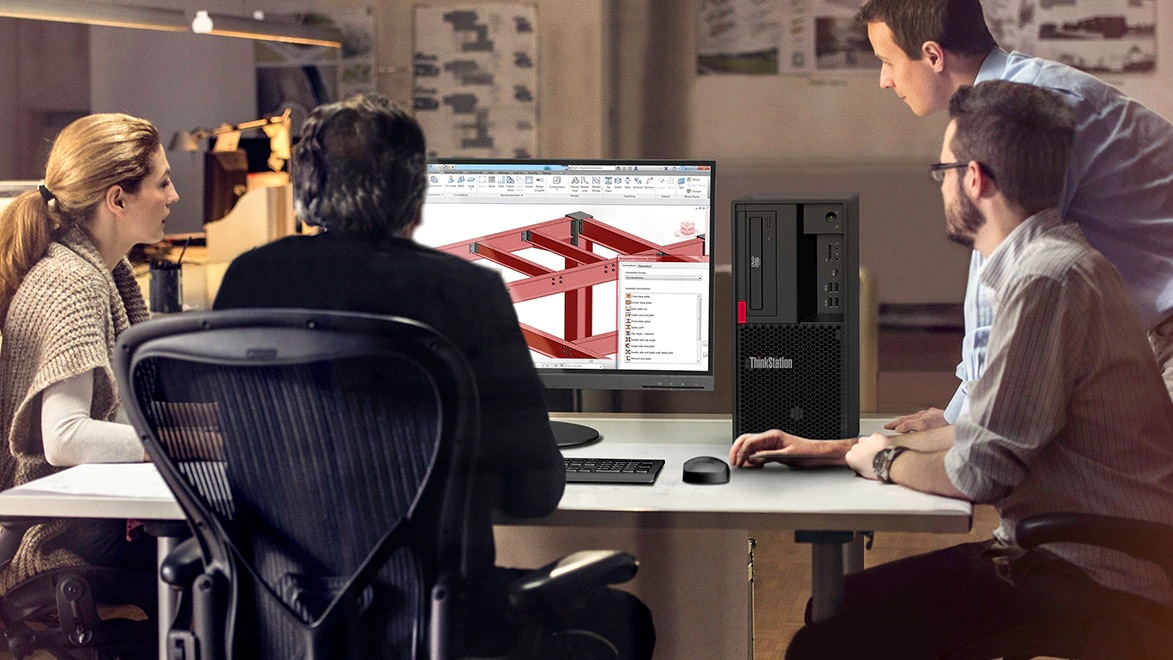 Benefits of a Tower PC?
Let's look at the advantages of a modern Tower PC, such as the ThinkCentre M720 Tower.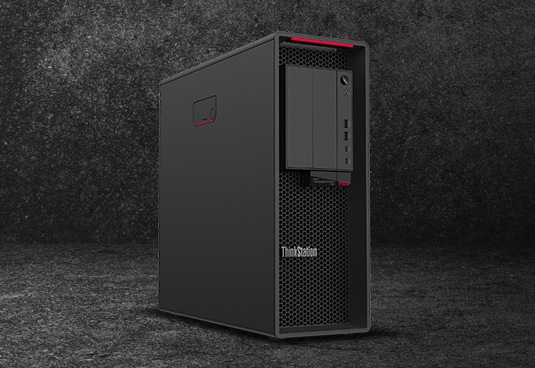 Easy Upgrading
A Tower PC makes upgrading very easy and you can be selective about what parts you need to upgrade. If you need more RAM, upgrading your existing Tower PC is much cheaper than upgrading a laptop. It's much more cost-effective to keep a Tower system updated with the latest technology.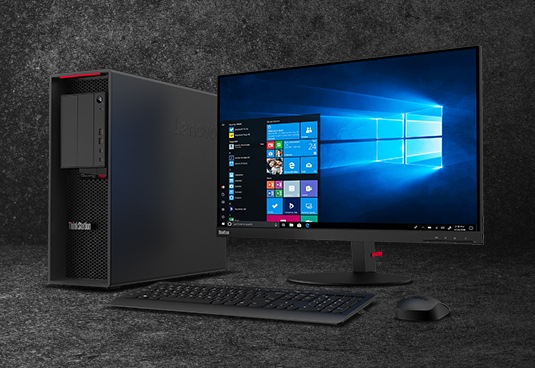 Graphics Quality
Once you've experience working with a high-quality graphics card, you'll find it hard to go back. It's a very expensive upgrade if you have a laptop, but in a roomy Tower PC, these graphics cards are very affordable. For example, most models of the Lenovo ThinkCentre M720 Tower include an integrated Intel UHD Graphics 630. They put other graphics in the shade.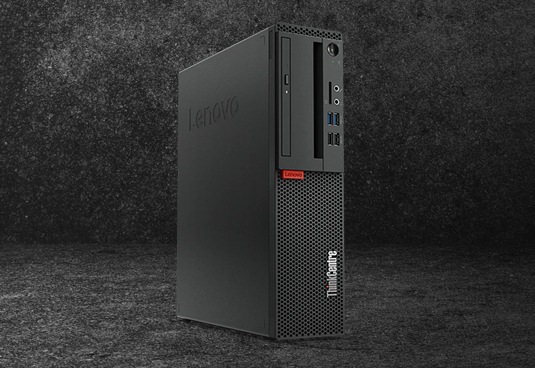 Energy efficient
We all play our part in being more eco-conscious and energy efficient. Tower PCs are far more energy efficient than laptops in everyday use. When you finally decide to dispose of your Tower PC, there is no rechargeable battery to harm the environment.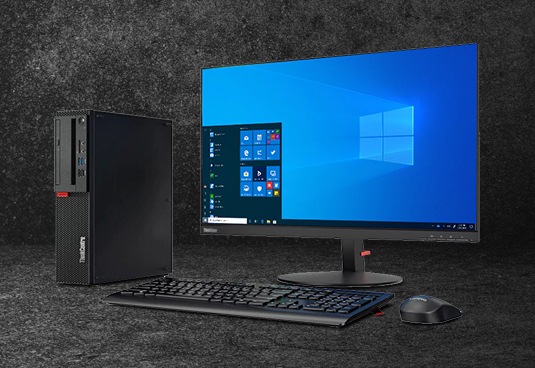 Security
Lenovo has an excellent reputation for providing robust multi-layered security on all its models, whatever shape and style you choose. The latest ThinkCentre Towers even protect the components by locking down the tower securely if it detects physical tampering. There's a further option to lock the side panel with a padlock for added peace of mind.
Ports
A Tower PC has multiple ports for connecting with external devices. As space is not an issue, you can expect multiple USB 2.0 and 3.0 ports, serial ports, ethernet and even audio line-outs on ThinkCentre M series models.
Storage
If you need large storage capacity, look no further than the ThinkCentre M series Towers. Some models include 1TB Hard Drive with 7200 RPM. When you need to increase capacity or add more storage, a Tower PC makes it cheaper and easier to install.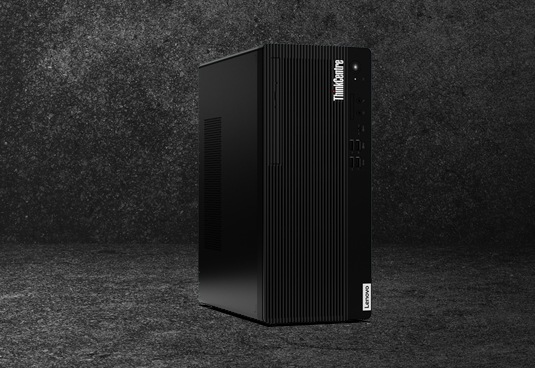 Performance
Here's the big advantage of a Tower personal computer such as the ThinkCentre M Series. There's plenty of space in that tower to provide power-packed performance and lightning speed from the 8th Gen Intel® processor. With fast DDRQ Memory, a modern Tower PC really can have it all.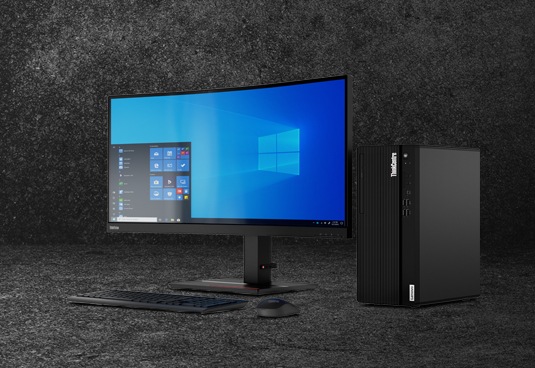 Customisable
If you know what you need from a desktop computer, there's no point in paying for a lot of unnecessary features that you will never use. The beauty of any tower system is that you can invest in the best and fastest components that you need, and nothing more. Check out the ThinkCentre M720t build-your-own option and see how much you can save.
Windows Tower PCs Deliver More for Your Money
When it comes to value for money, a Windows 10 Tower PC wins hands-down. You can get a Tower PC with the same (or better) spec than a comparable laptop for a fraction of the price. For the best business investment, a Tower PC with Windows 10 makes good economic sense.
Go Mini

Worried about space? Consider a Mini Tower PC with Windows 10 Pro. When comparing personal computers, you can't judge by size; it's what's inside that matters. The ThinkCentre Tiny Desktop has a space-saving 1-litre chassis that can be placed vertically or horizontally. It comes with the latest Windows 190 Pro 64 operating system, 256GB SSD storage and impressive integrated AMD Radeon V8 Graphics

Choosing the Best Tower PC

Consider what you need your personal computer to do, and then channel your budget into those features. The Best Windows 10 Tower PC for your business may be an off-the-shelf ThinkCentre M720 Tower. Alternatively, build-your own customised Tower - it's easier than you think! These powerful new models are a top choice if you need speed and reliability for your everyday business. They effortlessly perform a full range of tasks from reports and number crunching to high-end graphic design.