Gaming laptops: A gamer's guide to PC gaming on a laptop
How do you choose the best gaming laptop & gear? Start with our ultimate guide to PC gaming laptops. From GPUs to keyboards, we explain what's most important.
---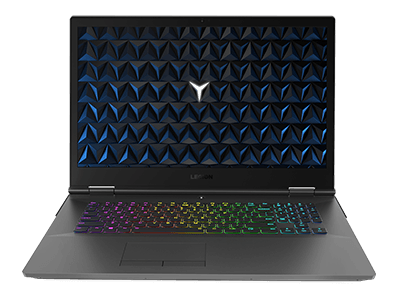 Once upon a time, PC gaming was something people would do on their laptops as a fun distraction. It was a diversion – a "non-essential" function of their PC – and very much a secondary consideration (if it was even considered at all) when it came time to buy a new machine. Today, it's a different story.
If you're a gamer, PC gaming isn't just another thing you do on a laptop – it's the main event. If a laptop can't deliver a top-tier gaming experience, it's not the right laptop for you. So, how do you choose the best gaming laptop? Start with this guide. We've assembled the most important aspects of gaming laptops, so you can make an informed decision.
Perks of a gaming laptop vs. a gaming desktop
The current generation of gaming laptops virtually erases the compromises that earlier machines forced onto gamers. Less power, fewer options, smaller and lower resolution screens, and poor audio… all things of the past. Today's gaming laptops are truly portable versions of their desktop cousins, and more than a match for gaming consoles.
With all of that power and speed, gaming laptops can deliver any gaming experience on the planet, from high-frame rate FPS titles, to fully immersive VR. Needless to say, if they can do all of that, why would you want to be tethered to desktop?
Key features of a great gaming laptop
You'll find the following features on most laptops, but they play such a critical role in a gaming laptop, it's important to make sure you're getting the right setup.
Graphics card
The graphics card (or GPU) is the beating heart of a gaming laptop. The goal is to pick a discrete graphics card that can deliver a great visual experience for your favorite type of game. If you plan to run Crysis 3 at 4K with the game cranked to its maximum settings, you'll probably want a top-of-the-line NVIDIA® GeForce® GTX 1080. But most games will run just fine on the GTX 1060, 1050, or 1050 Ti. Likewise, the RX 540X from AMD's Radeon™ RX 500X series of GPUs, is a good choice for gamers who prefer strategy to strafing.
Pro tip: Avoid integrated graphics unless you're a casual gamer.
Understanding graphics cards for gaming laptops >
Processor
As important as the graphics card is to a gaming laptop, the processor (or CPU) is just as key, because these two components work together to deliver the overall performance of the machine.
You'll be offered a choice of Intel® processors, ranging from the Core™ i3, to the Core™ i7, with several clock-speed options. Consider the Core™ i5 your baseline, anything less will be unbearably sluggish. There's very little a dual-core i7 chip can't do, which makes it ideal for most gamers. Only step up to a quad-core i7 if your pockets are deep and your appetite for destruction is unlimited.
What's the best processor for PC gaming >
RAM
Memory (RAM) determines how efficiently your processor can work. RAM is measured in size (GB) and speed (MHz). Too little of each, and the CPU will be forced to borrow space from your hard drive or SSD. Too much, and you'll see very little performance improvement for the money.
8GB is the current sweet spot for most gaming laptops but consider bumping up to 16GB if you need to keep lots of other apps open in the background.
How much RAM is needed for gaming >
Storage
There are two main kinds of laptop storage: Spinning disks known as hard drives, and the non-moving SSDs (solid state drive). Traditional hard drives have more capacity, meaning you can save more files like photos, videos, and apps, and cost less per GB. SSDs use similar technology to RAM, which makes them way faster. Unfortunately, current technology makes SSDs much more expensive per GB, so they tend to have smaller capacities. A truly flexible gaming laptop will have dual drive options, giving you the benefit of speed and capacity in equal measure.
Display
A gaming laptop's display can range from a screen size of 13-inches, all the way up to 21-inches. While size certainly does matter, it's actually resolution, refresh rate, and quality that matters more. A full HD, 1920 x 1080 resolution will let you play most games at the highest quality. Touchscreens might be handy on 2-in-1 gaming laptops, but they're unnecessary on traditional designs. Look for IPS or OLED technologies, as both of these will help maximize off-angle viewing.
Of course, a gaming laptop doesn't need to be limited to its built-in screen. External gaming monitors can give you a larger screen, higher resolution, and better brightness and contrast when you're at home or at work.
Keyboard
In the desktop gaming world, there's a lot of enthusiasm for mechanical keyboards. Though rare on laptops, mechanical keyboards do exist and can provide a "clicky" tactile experience. But that doesn't mean you can't get superb performance from a regular gaming laptop keyboard.
Look for models that feature anti-ghosting and a high n-key rollover. Keyboards that have a standard pitch (size of the key) and travel (vertical movement when pressed) will be easier to type on and more accurate when gaming. Additionally, RGB backlighting, though not a necessity, can really add a wow factor.
What to look for in a gaming keyboard >
Battery life
Gaming laptops are power-hungry, because gaming is a processor-intensive activity. You won't find many machines that are both portable and that give you all-day battery life. Instead, consider four to six hours as the current benchmark for decent battery life.
If longer battery life is really important, you'll need to pick a gaming laptop with a smaller screen size, SSD-only storage, and lower-performance CPU and GPU.
Accessories for gaming laptops
Gaming laptops are meant to be self-contained, portable game machines with everything you need to game on the go, but that doesn't mean a few well-chosen accessories can't make the experience even better.
Headset
A gaming headset, whether wired or wireless, can immerse you even further in your favorite game, while a built in mic lets you communicate with other players. If you enjoy gaming on your laptop in noisy environments, a gaming headset is a must.
How to buy a headset for PC gaming >
Mouse
If there's one accessory every laptop gamer should own, it's a dedicated gaming mouse. Touchpads are great for basic navigation on a PC, but when it's time for pixel-level accuracy and speed, nothing beats a mouse specifically designed for gaming. With models built for every price range and every type of game and gamer, you'll have no problem selecting a great gaming mouse.
Find the perfect gaming mouse >
Backpack
Protect your investment. If you're going to take your laptop with you (and really, isn't that the point?) make sure you can do so comfortably, and with room for all of your accessories. A backpack designed for your gaming laptop is a tremendous value for the money.
Backpacks & gaming accessories >
Lenovo for PC gaming
We've spent decades thinking about what gamers need in a gaming laptop, but also, about how we can make laptop gaming fun for everyone. The result is a line of laptops and hardware designed specifically for gamers, Lenovo Legion, and a selection of regular laptops that can transform into gaming machines when the need arises, IdeaPad.
Lenovo Legion: Laptops for true gaming power
Our line of Lenovo Legion gaming gear is built by gamers, for gamers, and represents the very best in gaming laptops. The Legion Y Series is at the core of Lenovo PC gaming and has something for every type of gamer, including VR-ready models, rigs for eSports, and even affordable laptops. With features that will give you every advantage, like RGB backlit keyboards, variable screen refresh rates, DDR5 memory, and unrivalled NVIDIA® Pascal graphics cards, the kitchen sink is about the only thing we didn't throw in!
Allow us to brag for a moment — we know you'll love these specially crafted gaming machines:
Y530: Sleek and sophisticated, the Y530 packs top-notch NVIDIA® discrete graphics into an understated chassis. You'll take the competition by surprise every time.
Y720: With an optional 4K display powered by a GeForce® GTX 1060 GPU, you get hi-res and high-frame rate gaming in a machine that's as portable as it is powerful.
Y730 (15"): Small and mighty, this gaming laptop is ready for anything, with an option G-SYNC™ FHD screen, fully customizable RGB backlighting, and Thunderbolt 3 for unlimited expansion.
Y730 (17"): Big and mean, this pro-level gaming rig has optional Corsair® overclocked memory and a Dolby Atmos® sound system to match its big-screen presence.
IdeaPad: Gaming laptops for everyday
Sometimes you need a laptop you can take with you to school or work during the day, then get lost in your favorite game afterwards. For casual gamers who want a laptop that can do double-duty as a gaming machine and a versatile everyday PC, we've designed select IdeaPad models to pack tons of gaming power into a more conventional looking laptop. These PCs are like the mullets of the laptop world: Business in the front, party — er, gaming in the back.
IdeaPad 330: Meet the Clark Kent of laptops. Mild and unassuming, thanks to its simplistic grey exterior, it's great for taking to class or the office. But ferocious on the inside, this PC is ready to dominate the enemy with features like NVIDIA® GeForce® GTX 1050 4GB discrete graphics — more than a match for most gaming laptops.
IdeaPad 720S: This high-performance laptop packs some serious heat under the hood, while still looking the part of your everyday PC. Up the ante with more premium features and specs, including a polished aluminium enclosure, even faster GeForce® GTX 1050 Ti 4GB discrete graphics, and amazing sound quality enhanced by Dolby Atmos® Audio.
Level up with Lenovo Nerve Sense
Get more control over your system with Lenovo Nerve Sense — a tool that's included on all Legion models to easily manage your settings and give you the edge against the competition.
Need to adjust your FPS for playing a first person shooter? Need more bandwidth for online matches? No problem, thanks to the four basic features of Lenovo Nerve Sense:
Extreme Cooling lets you optimize cooling and reduce your system's temperature. Network Priority to allocate the bandwidth required for lag-free online gaming. Prevent Mistaken Input turns off the Windows Key and touchpad to prevent unwanted inputs. Sound Enhancement maintains volume levels, prevents distortion, and enhances the sound output for a surround sound experience.
You can also manage game enhancements, customize keyboard light zones, record video and screenshots, and set FPS and resolution. Put your Legion PC into beast mode with Lenovo Nerve Sense for the best gaming performance, from RPGs to first person shooters.
Great PC gaming starts here
When it comes to gaming laptops, it's all about matching your gaming needs to a gaming machine. This resource page will hopefully help you narrow down your choices, but it's far from exhaustive.
Do some research, ask your gamer friends, and checkout all of the forums that exist. Find out which features and accessories are popular and why. Pretty soon, you'll have found the best gaming laptop -- which is always the best gaming laptop for you.