Lenovo EMEA Events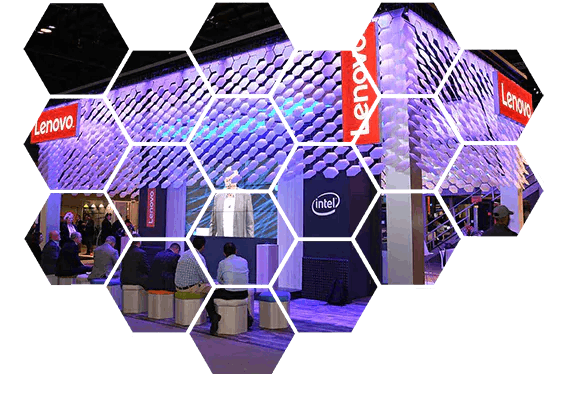 Lenovo EMEA Events
Lenovo hosts and sponsors dozens of events each year and visiting these events is a great way to learn more about the Lenovo Infrastructure Solutions Group (ISG) offerings. See live product demonstrations when you visit our event booth. We also offer opportunities to talk with subject matter experts as well as attend presentations, panel discussions and breakout sessions.
Filter Out Events By Month

Select The Month To Filter Out All Events

JAN

..........

FEB

..........

MAR

..........

APR

..........

MAY

..........

JUN

JUL

..........

AUG

..........

SEP

..........

OCT

..........

NOV

..........

DEC

Events in January

Lenovo Study Tour 'On Air': Lenovo ThinkSystem V3 New Generation Platforms!

---

Events in February

Lenovo Study Tour Event in Stuttgart

February 6th – 8th, 2023

In-person event - learn more

LEAP Tech Conference, Riyadh, Saudi Arabia

MWC, Barcelona, Spain

February 27th – March 2nd, 2023

---

Events in March

Lenovo Study Tour Event in Budapest

March 13th – 15th, 2023

In-person event – learn more

CloudFest, Europa-Park, Germany

Bett, London, United Kingdom

---

---

Events in May

ISC High Performance, Hamburg, Germany

---

---

---

---

---

Events in October

Canalys, Barcelona, Spain

Lenovo Tech World'23

Please stay tuned for more information

GITEX , Dubai, United Arab Emirates

October 16th – 20th, 2023

---

Events in November

VMware Explore 2023, Barcelona, Spain

---
Come by Lenovo stand at SAP's 2019 SMB Innovation Summit and gain insights that can help you seize new business opportunities.
What's more, you can stand a chance to win one of the Lenovo Star Wars™ Jedi Challenges AR sets.
Looking forward to meeting you in Nice!
Event Partners:
2019 SMB Innovation Summit by SAP, Nice, 2 – 4 April 2019
Lenovo In-Booth Raffle Terms and Conditions
The Promotion starts on Tuesday 2nd April at 9:00 GMT and ends on Wednesday 3rd April 2019 at 16:00 GMT ("Promotion Period").
The In-Booth Raffle (the "Promotion") is open to SAP's SMB Innovation Summit attendees who fulfill predefined criteria ("Participants"). The SAP SMB Summit event Sponsors and Exhibitors and their staff are excluded from this Promotion.
To enter the raffle, please insert your business card into a raffle box. Note each Participant may only enter one (1) business card on each day of the Promotion. No purchase is necessary to enter this Promotion.
The lucky draw will be conducted on Tuesday 2nd April and Wednesday 3rd April – one lucky draw a day – and the time of the Prize Draw will be displayed at the Lenovo stand.
Only Participants who enter their business card into the Prize Draw box and are present in person at the Lenovo stand at the time of the draw are eligible to redeem the Prize (Lenovo Star Wars Jedi Challenges set). If the winner is not present at Lenovo stand during the draw their entry is disqualified and the prize draw will be rerun.
The Prize can be redeemed by the winner at the Lenovo stand in the exhibition area during the SAP's SMB Summit Event in Nice. The Prize will not be awarded to other individuals or companies.
By entering the Prize Draw, event attendees provide consent for their business contact data to be used by Lenovo in connection with this Promotion. Participants also consent to receive marketing information by email from Lenovo. For full details on Lenovo's privacy policy go to www.lenovo.com/gb/en/privacy or email privacy@lenovo.com. A Participant can opt-out of receiving marketing communications from Lenovo at any time.
All instructions form part of these terms and conditions. By entering their business card into the raffle, Participants confirm their acceptance of these terms and conditions and agree to be bound by them.
Where this prize constitutes a taxable benefit, all tax liability lies with the recipient.
This Promotion may not be combined with other promotions, programs or offers from Lenovo except where other promotions, programs or offers provide for this in their terms and conditions.
Lenovo reserves the right to disqualify incomplete, altered or illegible business cards entered into a raffle. No responsibility will be accepted for submissions which have been lost, or are late, damaged, misdirected, delayed in the post or insufficiently pre-stamped.
Lenovo is not responsible or liable for any technical, hardware, software, server, website, or other failures or damage of any kind to the extent that this prevents the participant from, or otherwise obstructs him/her in participating in the Promotion.
All documentation submitted for this Promotion becomes property of Lenovo and will not be returned. Submission of false, incorrect, misleading or fraudulent documentation may result in disqualification from this Promotion and future Lenovo promotions and may result in the submitter being subject to prosecution.
Lenovo reserves the right to monitor, review, retain and/or disclose as necessary information to satisfy any applicable law, regulation, legal process or governmental request.
Rewards are not transferable.
Lenovo may declare this Promotion to be void where it is taxed, regulated, prohibited or restricted by applicable law.
The decisions of Lenovo in respect of any and all aspects of the Promotion will be final and binding.
Lenovo reserves the right to change, amend, or terminate the Promotion at any time and without prior announcement.
11. This agreement is governed by the laws of England.