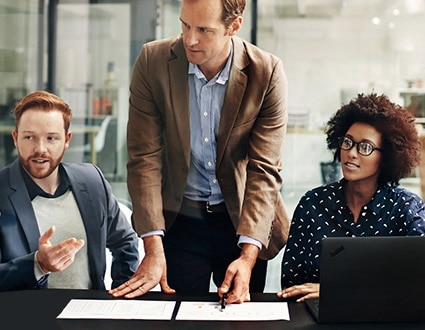 Build Your Own PC – that meets your needs and budget to make your business a success!
Get unique B2B prices, pay by invoice and get exclusive support from our Business Specialists. Join today!
Why join LenovoPRO?
Staged Business Discounts
Save 5% | 10% | 15% & up to 30% on Deals
Exclusive deals only for PRO´s
Save a minimum of 10% on all Motorola Phones
Your Business, your solution
Configure your individual solutions and services directly online
Find all products in LenovoPRO Store at net prices
Free Shipping
Free Shipping on every order over CHF 50,00 
Free returns on all products
Service benefits for your business
Get your questions answered by our SMB specialists Call (044) 516 04 67
Pay by invoice with a 30-day payment term
Early Access to Sales
Gain early access to Lenovo´s best sales
Sign up for free for benefits to grow with every sale
LenovoPRO & InvoiceMe
Unexpected bulk purchase? LenovoPRO members benefit from exclusive B2B pricing and pay by invoice with a 30-day payment term.
Register now
In need of advice? We are here for you.
Our skilled SMB consultants support you to find exactly the right IT solution at the best price. Contact our LenovoPRO SMB consultants via hotline (044) 516 04 67 and chat Monday-Thursday 9am-5pm and Friday 9am-4pm.
Join now
The LenovoPRO "Price Match Guarantee" ensures LenovoPRO customers always receive the best available price from Lenovo. Find a better price on lenovo.com on the same day of your purchase in the LenovoPRO store and we will refund the price difference. Give us a call (044) 516 04 67