Artificial Intelligence Solutions | Practical Approach | Lenovo

Artificial Intelligence
From advancing research and discovery to accelerating business decisions and insights, Artificial Intelligence (AI) will play a significant role in solving some of humanity's greatest challenges. We're here to help you make the most of it all.
A practical approach to AI
Lenovo is taking a practical approach to helping enterprises understand and adopt the benefits of Machine Learning and AI for their workloads. Our customers have the opportunity to collaborate in Lenovo AI Innovation Centers so they can better understand the value for their particular use case.
Our customer-centric approach
Provide customers with Proof of Concepts
Help choose the right solution development platforms that are ready-to-use and optimized for AI
Deploy solutions to improve time to value
Discover what's possible with our AI Innovation Centers
Whatever your idea, and whatever your industry, our AI Innovation Centers and workshops can help. You'll get access to the right experts to consult on projects, the right infrastructure to run a proof of concept, and proof of ROI prior to deployment.
Case Study
Leveraging AI to study the effects of climate change
Researchers are using innovative Geospatial Image Analysis and the Lenovo Artificial Intelligence Innovation Center to study and preemptively identify agricultural regions and crops that might be affected by flooding or droughts to help mitigate fluctuating environmental changes.
Products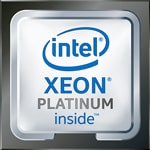 ThinkSystem servers powered by Intel® Xeon® Scalable processors

ThinkSystem SR670
Delivers optimal performance for AI and HPC workloads while maintaining a low total cost of ownership. Allows up to four GPUs per 2U node and is suited for computationally intensive workloads for Machine Learning and Deep Learning.
Services
Your needs are specific, and our expert consultants and technicians can meet them with their extensive industry experience and deep technical knowledge