Coming Soon
Lenovo Legion Go



Game Your Way, Any Way
Experience unrivaled versatility with Legion Go, the ultimate flexible gaming tool. In handheld mode, transform your beloved palm device into a portal gaming PC, perfect for on-the-go gaming. Dock your Legion Go to your favorite Legion monitor and settle onto your cozy couch with ergonomically crafted controllers for a relaxing yet immersive gaming session. FPS mode, paired with the optional controller base, offers tailored precision, with the left side as WASD keys and the right side as a vertical mouse for enhanced aiming. Explore augmented realities with Legion Glasses compatibility, enjoying gaming in the most comfortable way possible. Legion Go caters to every gaming need, offering unmatched flexibility for your gaming pursuits.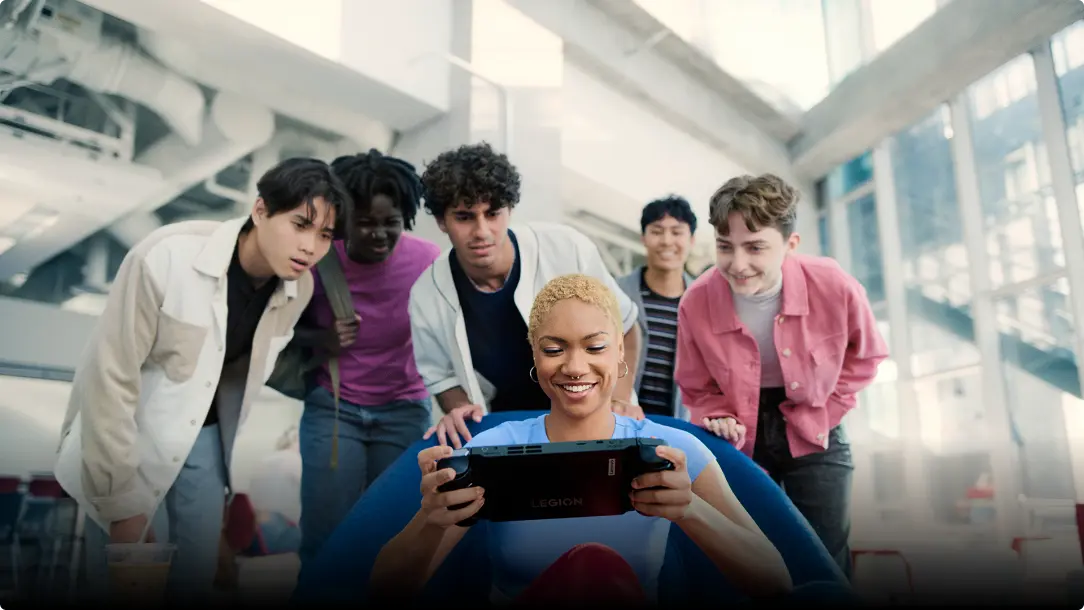 Handheld Mode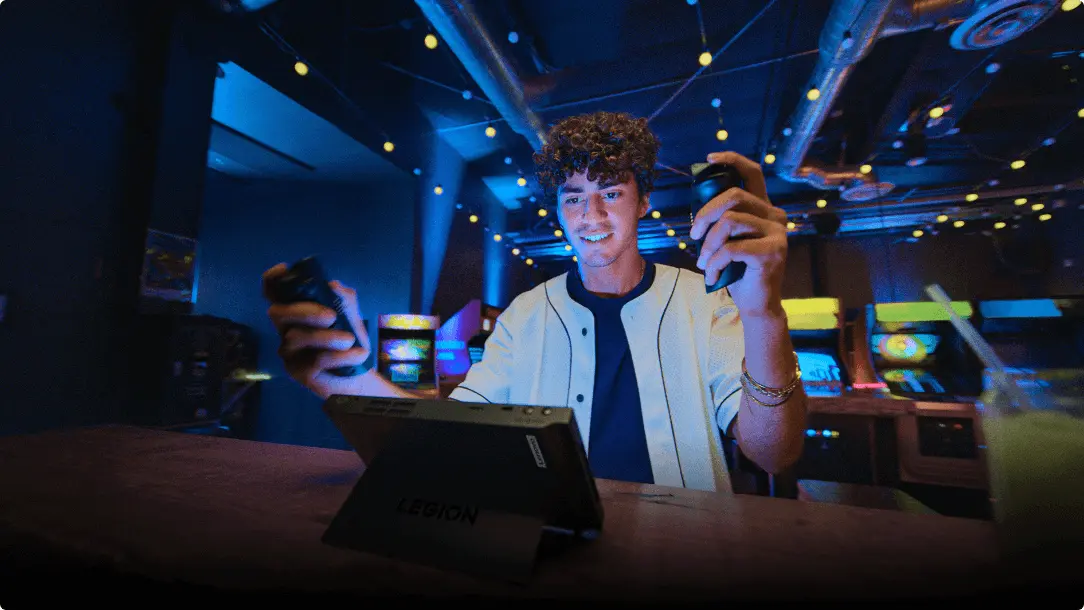 Detachable Mode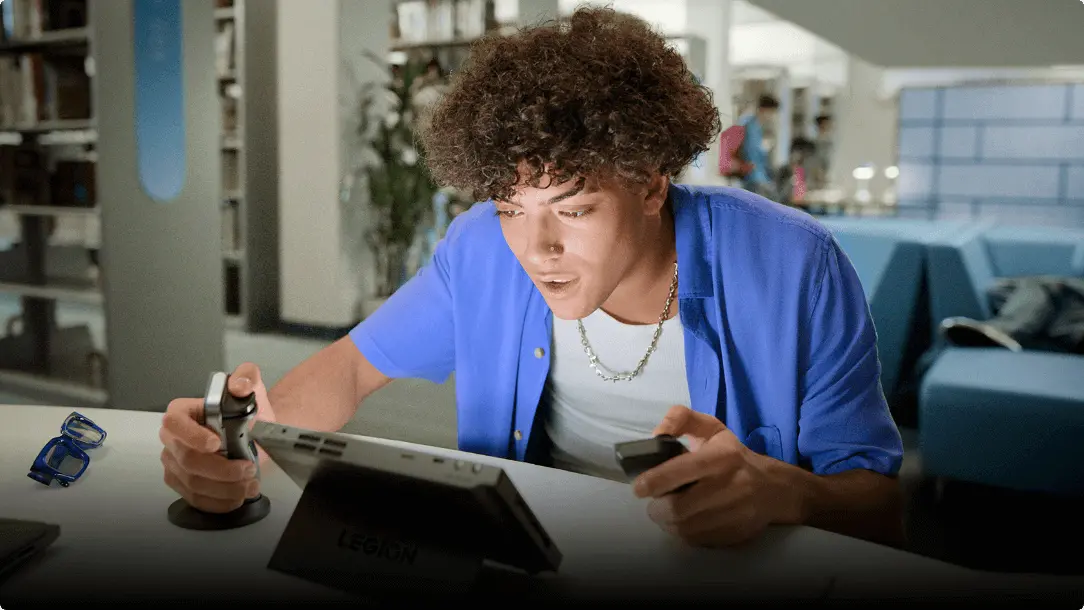 FPS Mode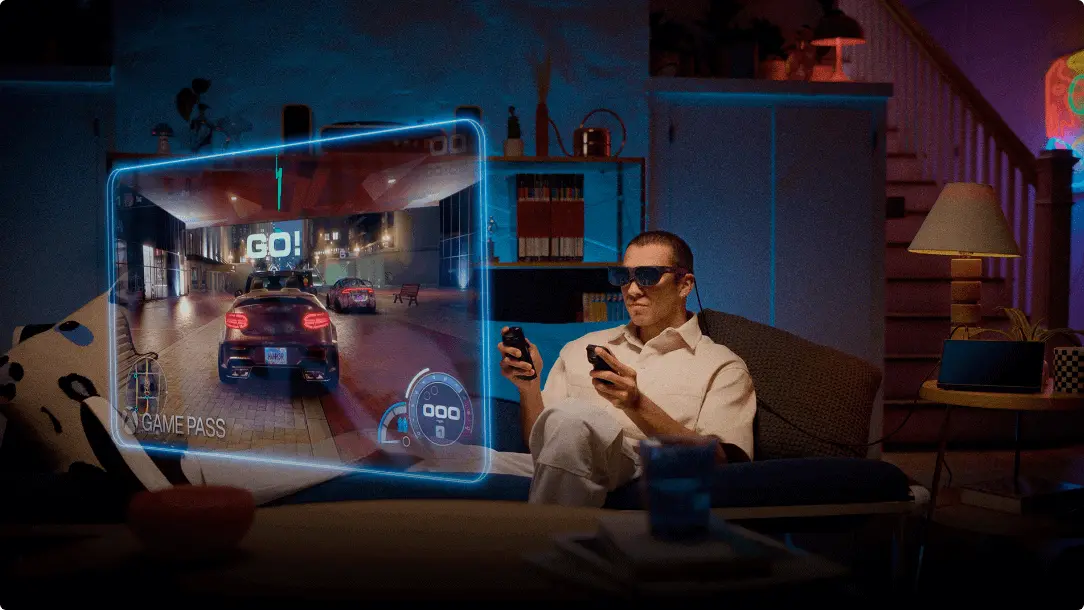 Legion Glasses
Unrelenting power in your palms
With the Lenovo Legion Go, mobile gaming reaches extraordinary heights. Our exceptional 8.8" QHD+ Lenovo PureSight Gaming display engulfs you in immersive visuals. You can dynamically tailor visual precision from 1600p to 800p, or adjust the refresh rate between a speedy 144Hz and an energy-saving 60Hz. All this comes to life on a responsive 10-point touchscreen.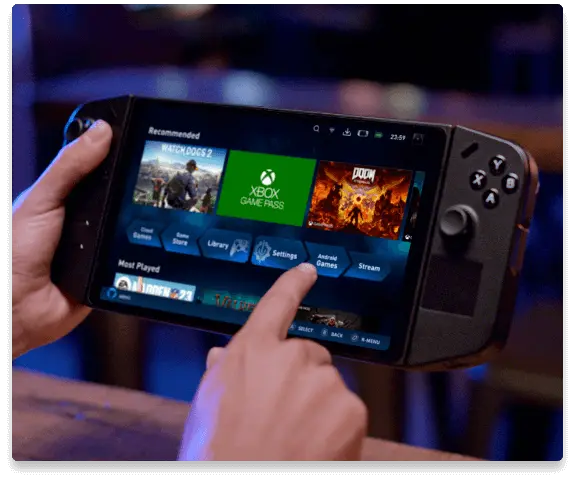 8.8″ 10-point touchscreen
Up to 144Hz
QHD+ Resolution
97% DCI-P3
500nit brightness
Immerse yourself in the unrivaled power and performance of Lenovo Legion Go. Powered by the all-new AMD Ryzen™ Z1 Series, enjoy industry-leading gaming experiences, incredible battery life, and immersive experiences. The AMD Ryzen™ Z1 Series brings to life breakthrough visuals so that you can bring your game, anywhere.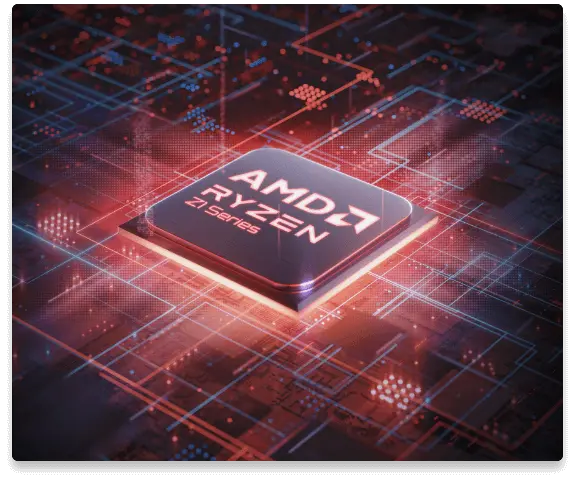 Zen 4 architecture
RDNA™ 3 graphics
8 cores, 16 threads (Z1 extreme); 6 cores, 12 threads (Z1)
4nm processors
Up to 8.6 TFLOPS (Z1 extreme); Up to 2.8 TFLOPS (Z1)
Experience smooth gameplay with Legion Go's advanced thermal design ensuring efficient cooling and generous airflow. Ultra-thin heatsink fins expertly dissipate heat for optimal performance. Remain immersed in your gaming world as our system stays cool and quiet, achieving the perfect balance between power and heat.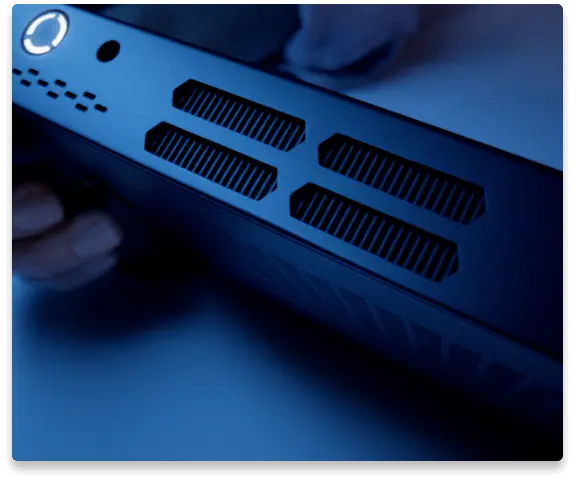 Legion Coldfront
Flexible Power Modes
6 sensors
Up to 30W TDP
Up to 25db in Quiet Mode
Seamlessly game on Legion Go with 16GB 7500Mhz LPDDR5X RAM and 512GB PCIe Gen4 storage ensuring smooth multitasking and ample space for games, media, and files. Easily expand with the micro-SD card slot, accommodating even more of your favorite games. Enjoy uninterrupted play with ample and expandable storage, eliminating the need to delete old games for new ones.
16GB 7500Mhz LPDDR5X
512GB PCIe Gen4 SSD up to 1TB PCle Gen4 SSD
A micro-SD card slot that supports up to 2TB cards
Game longer with Legion Go's 49.2Whr battery, offering extended play without frequent recharges. Swiftly refuel with Super Rapid Charge Express and keep gaming with Power Bypass Mode when plugged in. Eliminate heat concerns with thermal throttling, and enjoy our Battery Optimization Support for extended sessions.
49.2Whr battery capacity
Super Rapid Charge Express
Power Bypass Mode
Battery Optimization Support
Master every move
Legion Go's hall effect joysticks are RGB-lit trailblazers, leaving traditional joysticks behind. Say goodbye to joystick drift and hello to enduring, responsive control. Our detachable Legion TrueStrike controllers are designed for comfort and precision, with features like anti-slip texture, mappable controls, and an integrated trackpad. Transition smoothly from PC to handheld gaming, and for FPS enthusiasts, enjoy precise control with our unique FPS mode with an optional controller base. Thanks to our ergonomic design, game longer without discomfort. With Legion Go, play like a pro.
Enter the gamer-verse
Legion Space empowers the relentless gamer within you, assembling an expansive universe of games from top platforms in one seamless hub. Swap effortlessly from Xbox Game Pass to Gamesplanet, and beyond. Enjoy cloud gaming on the move, stream from your Legion PC, or dive into Android emulation. Customize your journey, harness your iterative spirit, and unlock limitless gaming potential. Plus, kickstart your adventure with three free months of Xbox Game Pass Ultimate, exclusive to Legion Go users. But that's not all - Legion Go is fully customizable, so you can tweak a myriad of settings to enhance your gaming experience and make it uniquely yours.